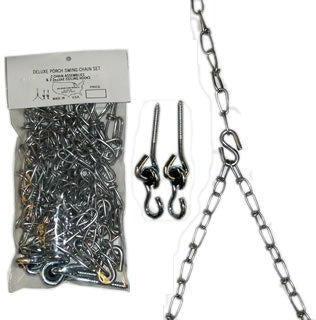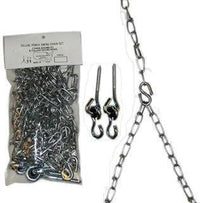 LA Cypress Inc.
HDCHAINS
LA Swings Inc Heavy Duty Chain Set - LEAD TIME TO SHIP (UNFINISHED 7 BUSINESS DAYS) - (FINISHED 15 BUSINESS DAYS)
Regular price
Sale price
$ 107.74
Unit price
per
Sale
Sold out
Free Shipping on All Products

FreeShipping*

30 DayGuarantee

100%Satisfaction

ExpertStaff
KEY FEATURES

ABOUT LA CYPRESS

Reviews

QUESTIONS & ANSWERS
This is a new pre-made, pre-packaged chain set for hanging a porch swing from the ceiling or anywhere you like; the chain set will accommodate ceilings up to 8 ft. high. 3/16 Gauge Heavy Duty Chain Sets, great for swings that need more support
It includes two deluxe ceiling hooks with neoprene washers and two "Y" type assemblies.
Each assembly consists of two 1/0 x 27" double loop chains and one 2/0 x 54" chain connected with a _ x 2_ S-hook.
The neoprene washers on the ceiling hooks prevent noise as well as metal to metal contact. It is galvanized to prevent rust!
The chain set is ready to hook to your swing and has a weight limit of 800 pounds.
WHY CYPRESS
Cypress has a natural preservative oil known as cypressene, which gives the wood natural resistance to insects and decay. With a suitable surface treatment, cypress wood offers has superior durability, holding paint well and resisting weather. Cypress is a beautiful, distinctive, and durable wood that assures years of trouble-free satisfaction and its uses reflect that. In addition to rugged outdoor furniture, cypress is regularly used in building construction, posts, beams, decks, docks, porch flooring, greenhouses and siding. Because of its durability, cypress can be used in many of the same products as cedar and redwood. Cypress is all but indestructible. It is a close-grain wood that resists checking and warping, and it is long-lasting as well as weather-resistant. Cypress can be easily painted and holds paint longer than other wood. If you choose to paint this product, you should use an exterior oil-based primer (white or gray) followed by an exterior oil or latex paint of your choice. If you choose to have the product remain natural, you should apply a natural oil-based stain or preservative annually or as needed. Note: Cypress is a dense wood and the drying process may take several days depending on humidity and temperature. Small cracks called weather checking may appear in the wood. This is a natural process and will not affect the useful life of this product.
The Brooks family, officially opened Louisiana Cypress Swings and Things Inc. 2006 years ago, turning our backyard hobby into a full blown business. We have always felt that swings are the perfect way to bring the entire family together. This desire to be together with our family is the reason that we're in business. We want everyone to share this experience of spending quality time relaxing with the family, and this feeling is demonstrated in our motto: "We believe the world would be a kinder, gentler place if more people had a porch swing."
QUESTIONS & ANSWERS
Have a Question?
Be the first to ask a question about this.
Ask a Question