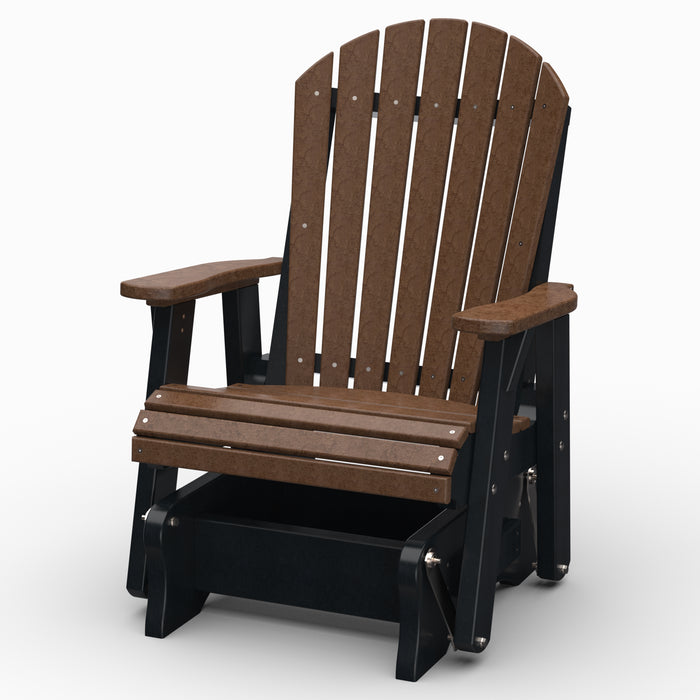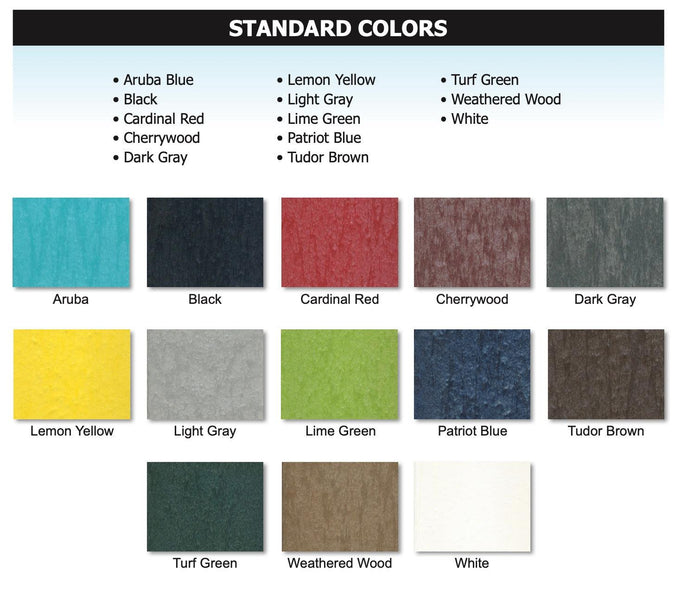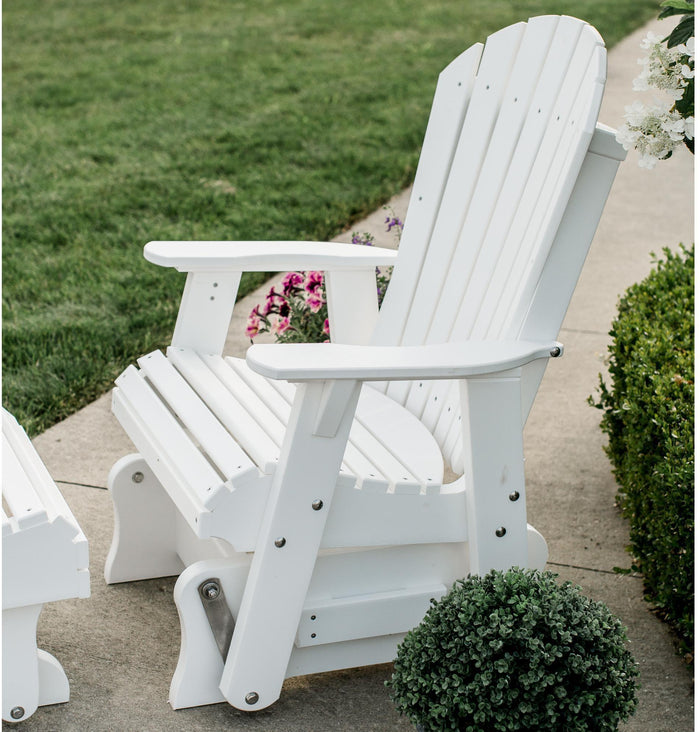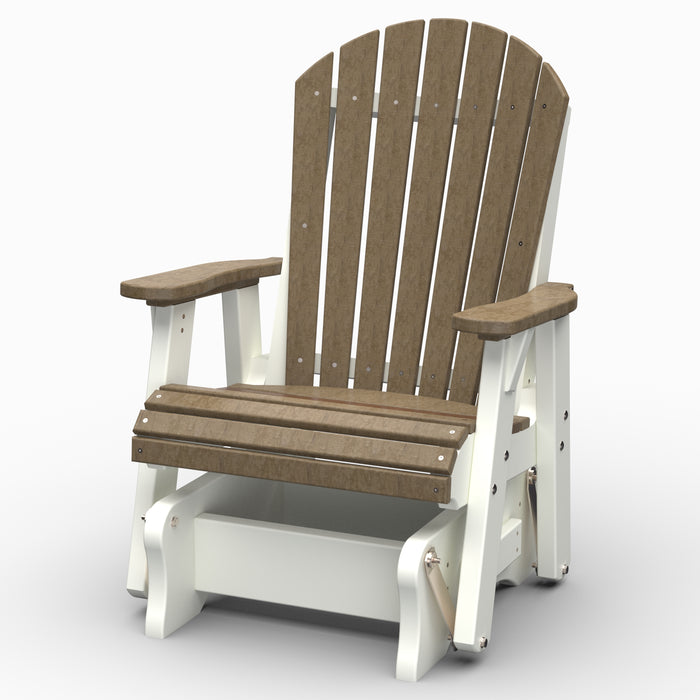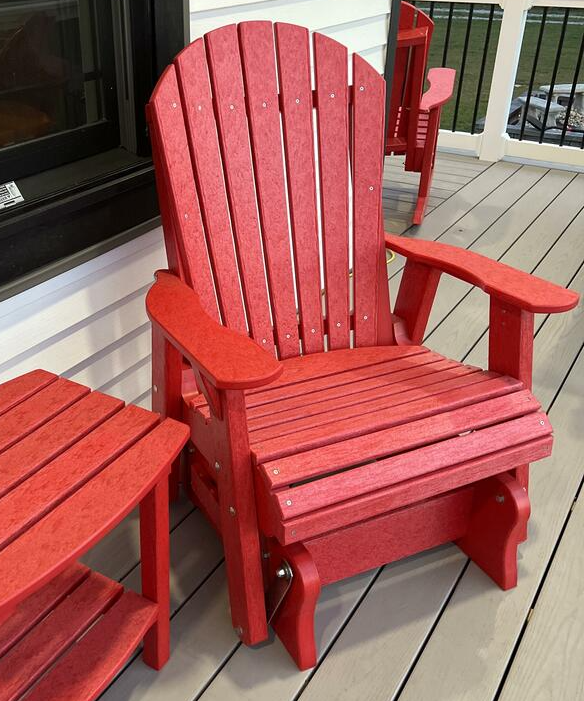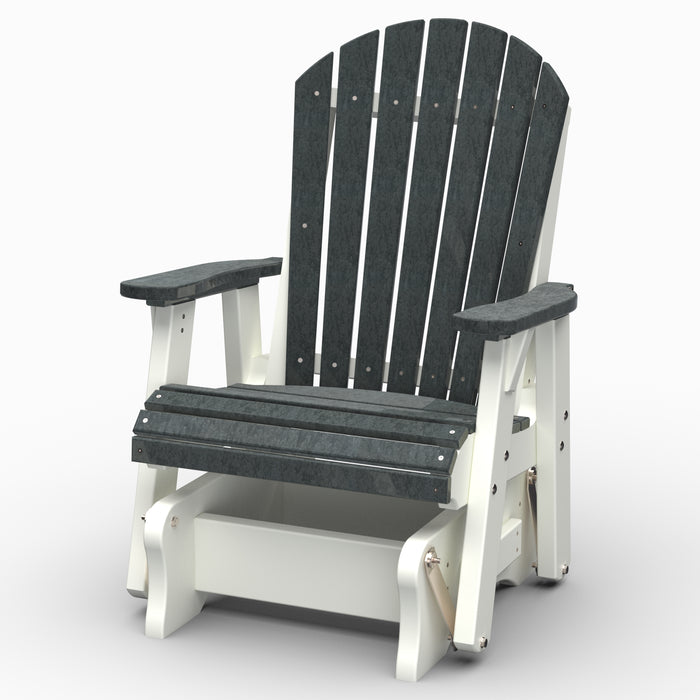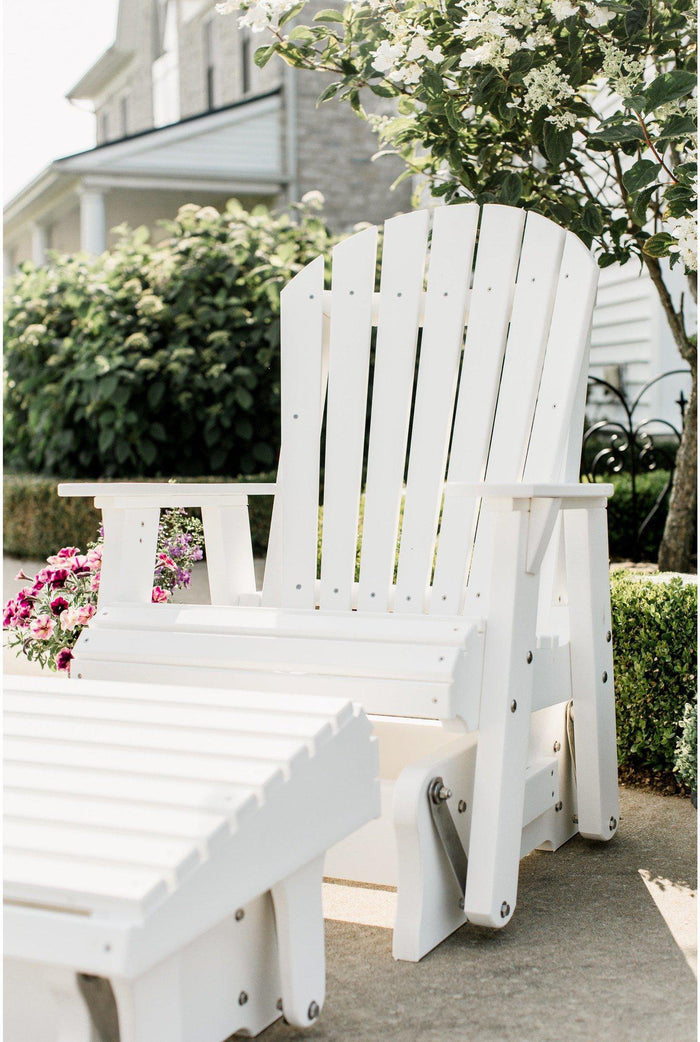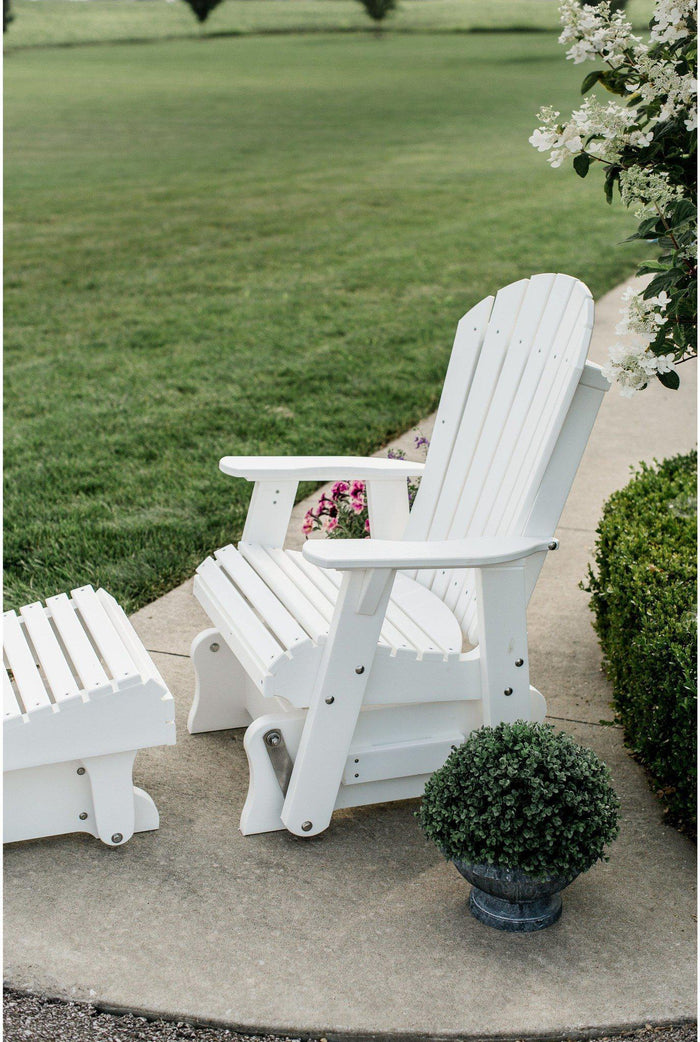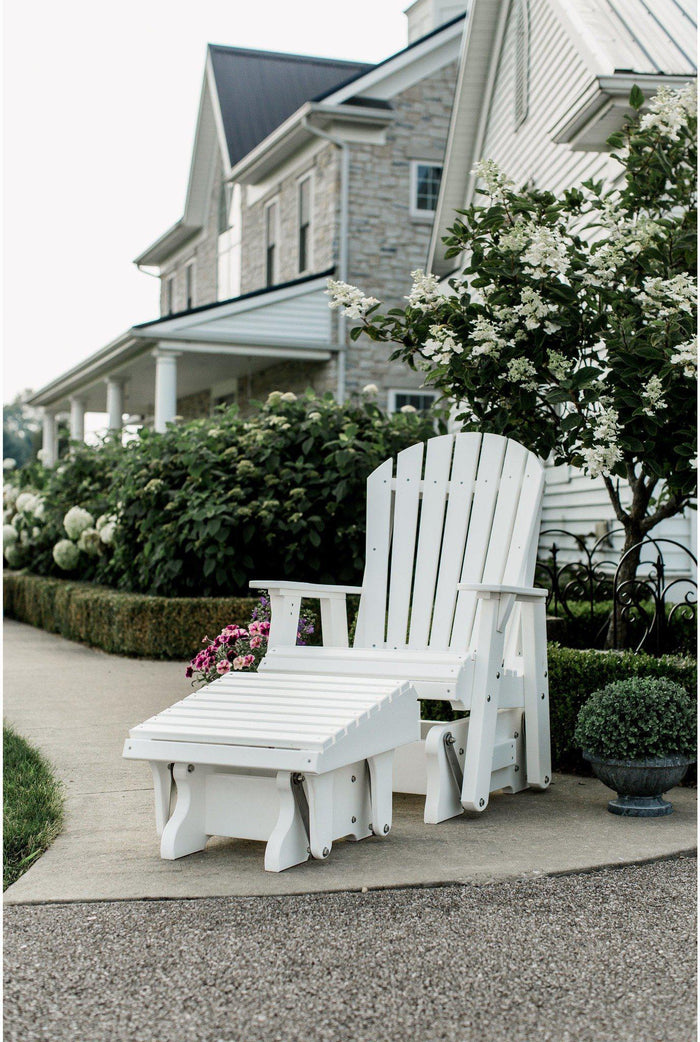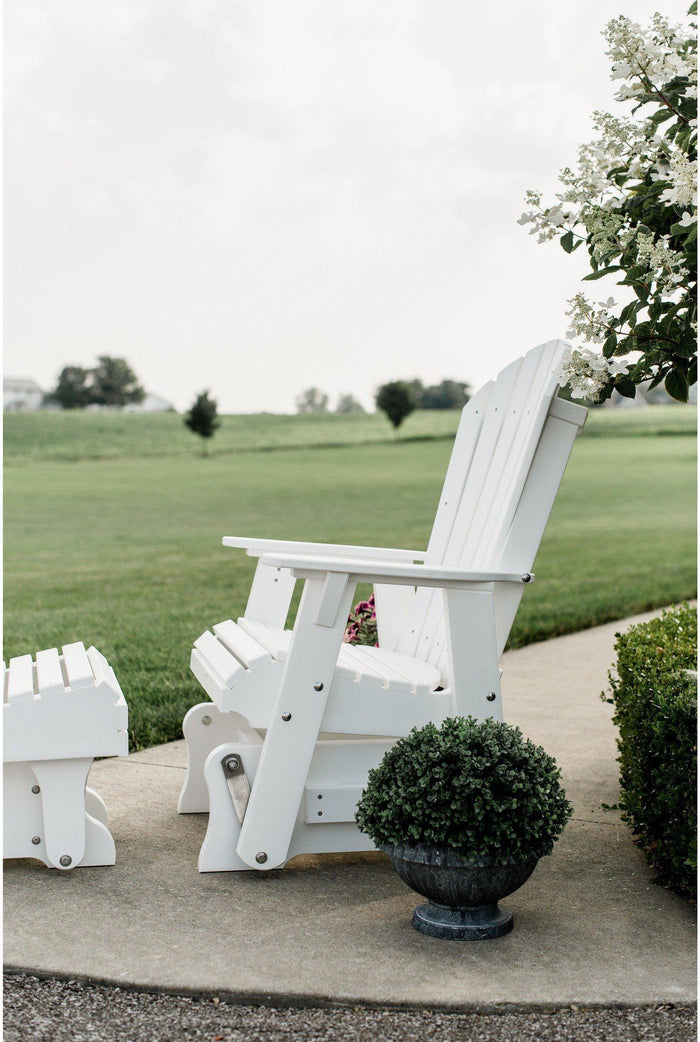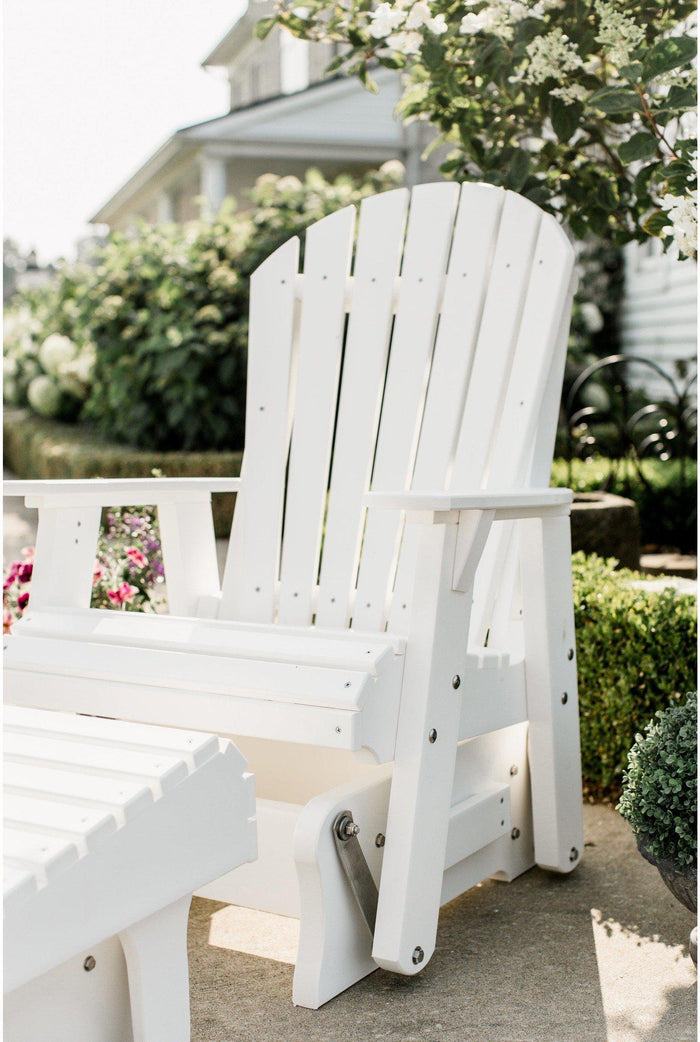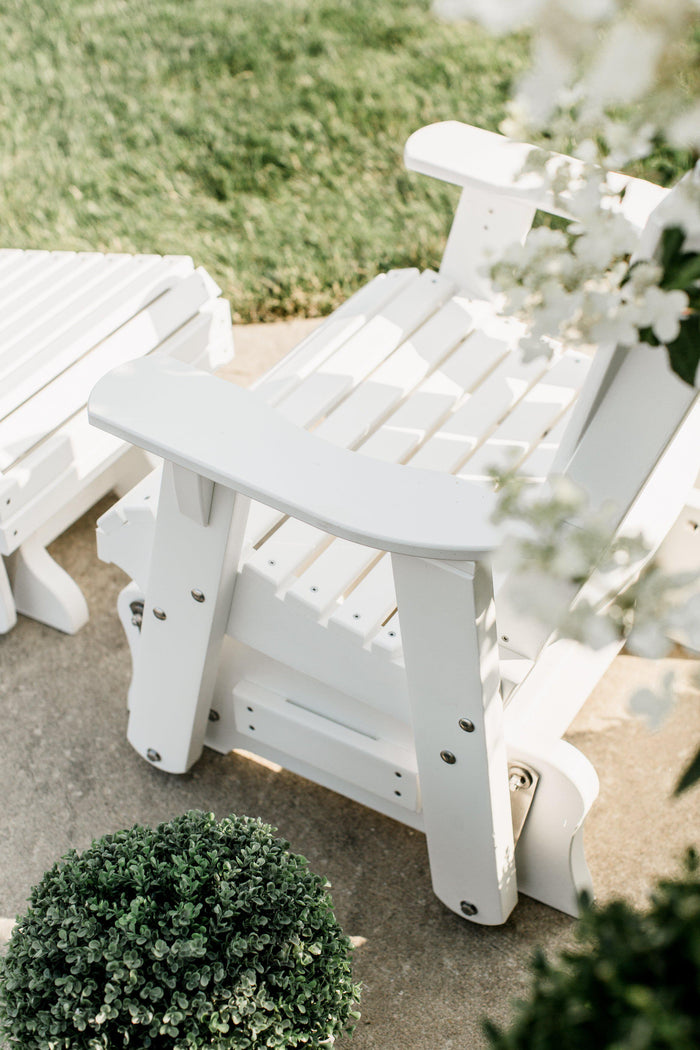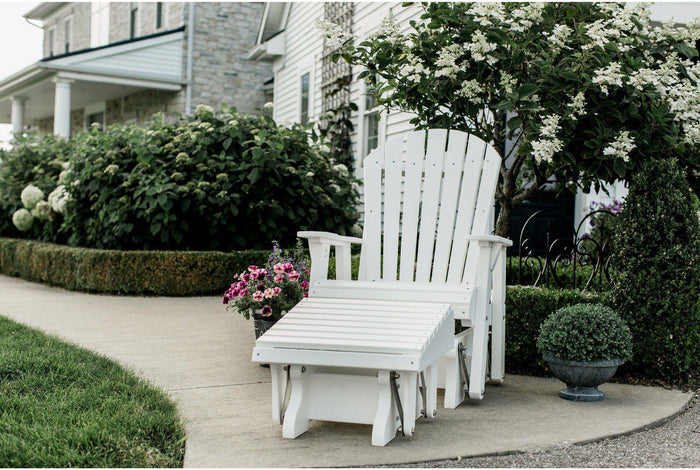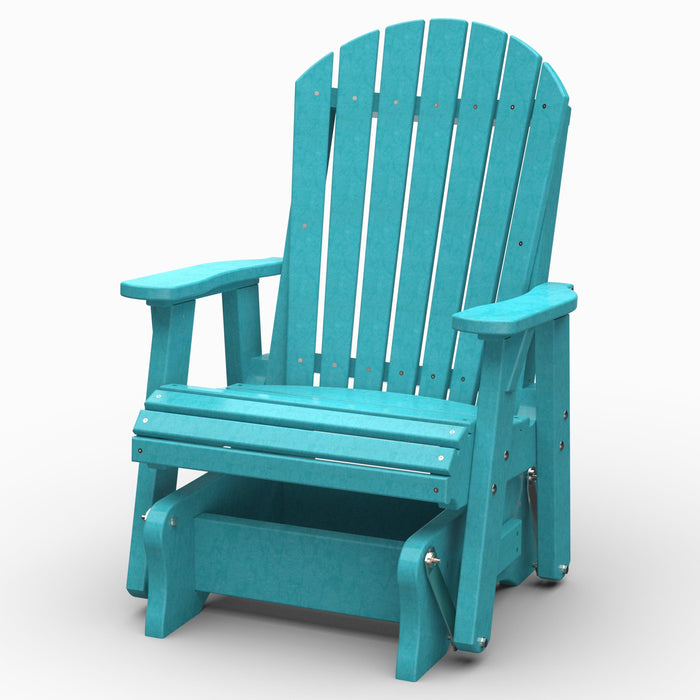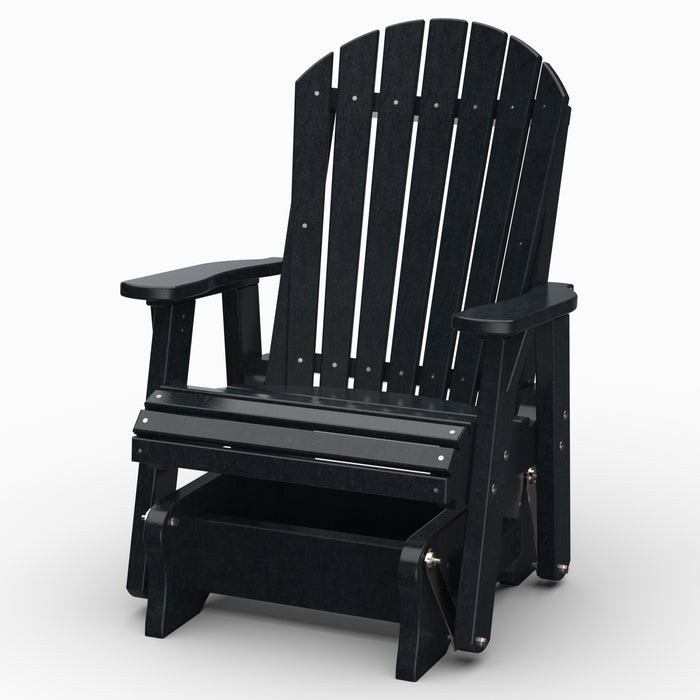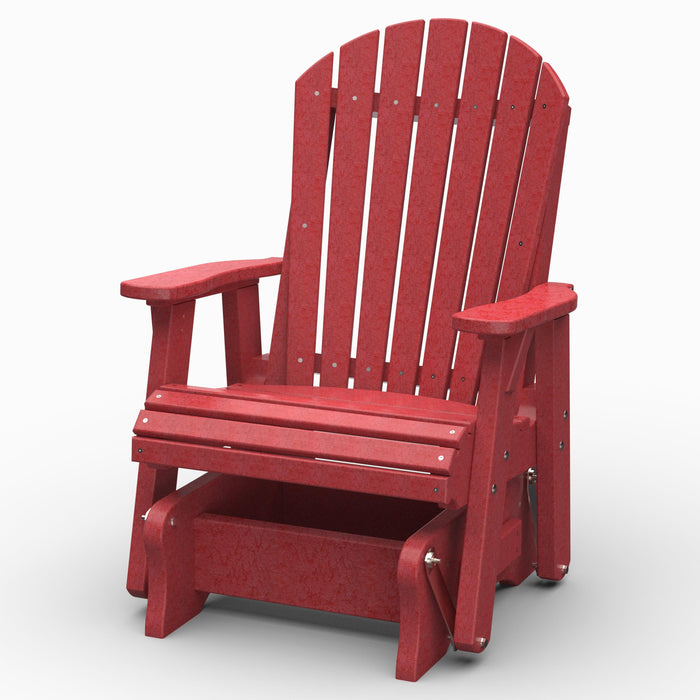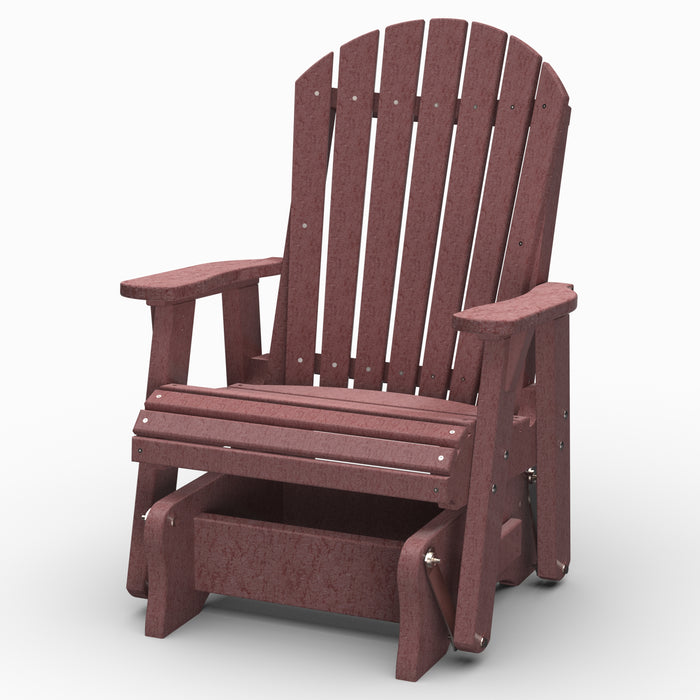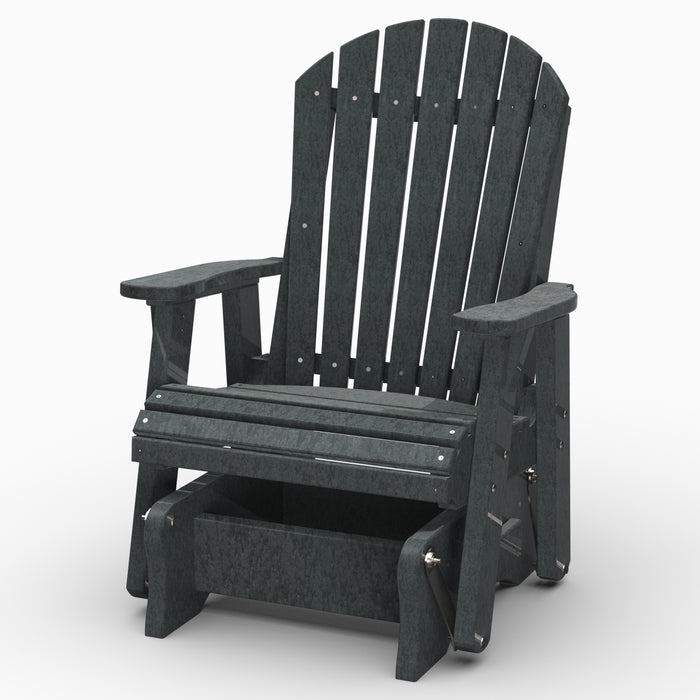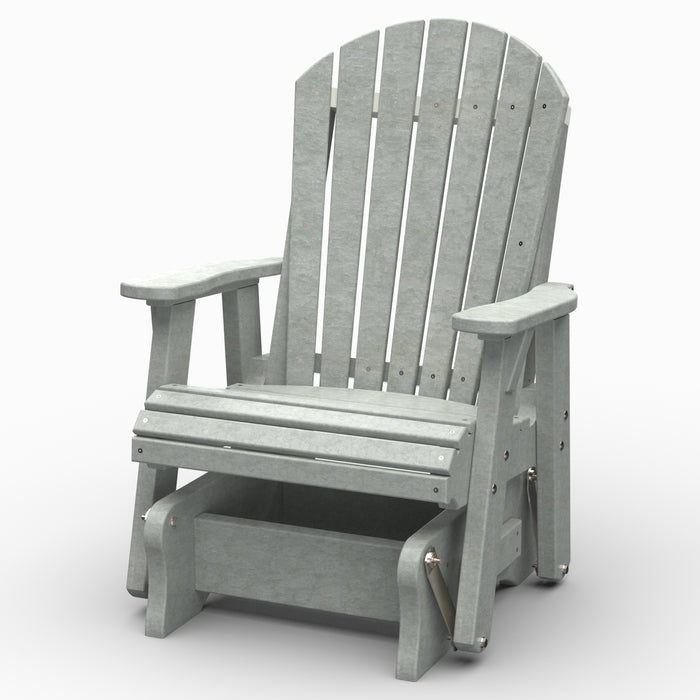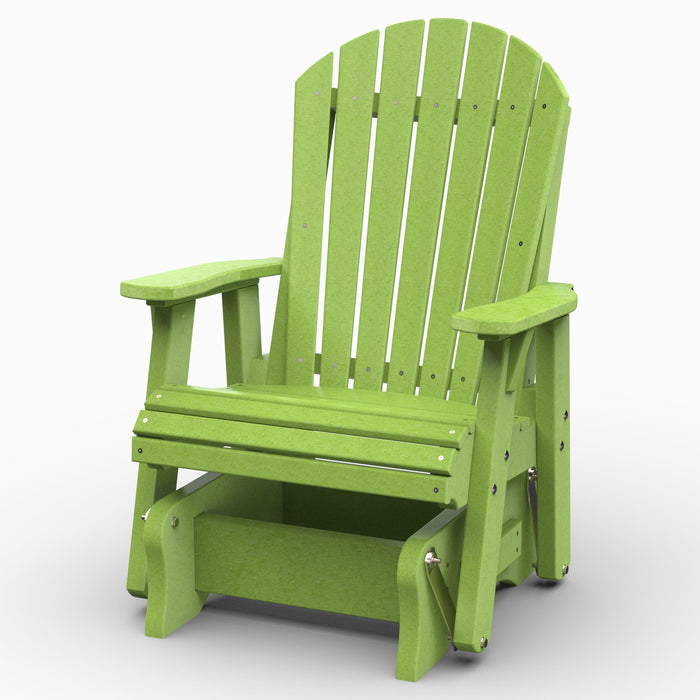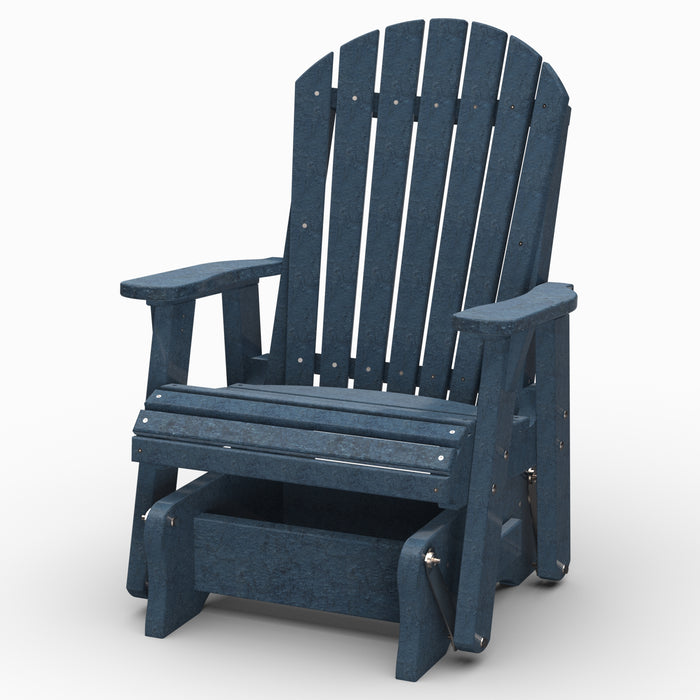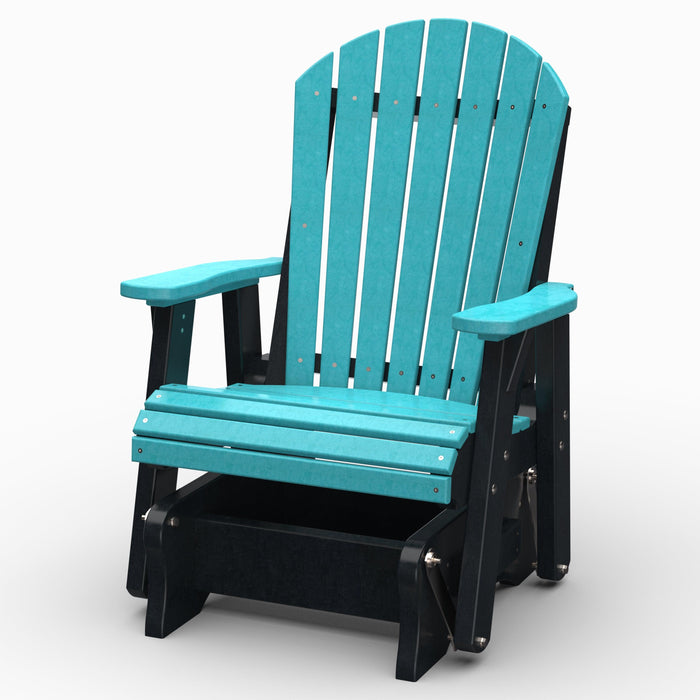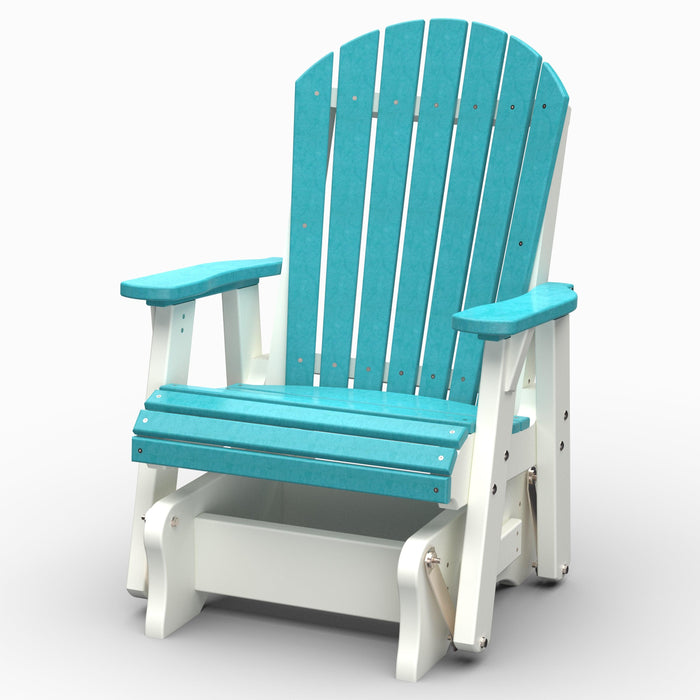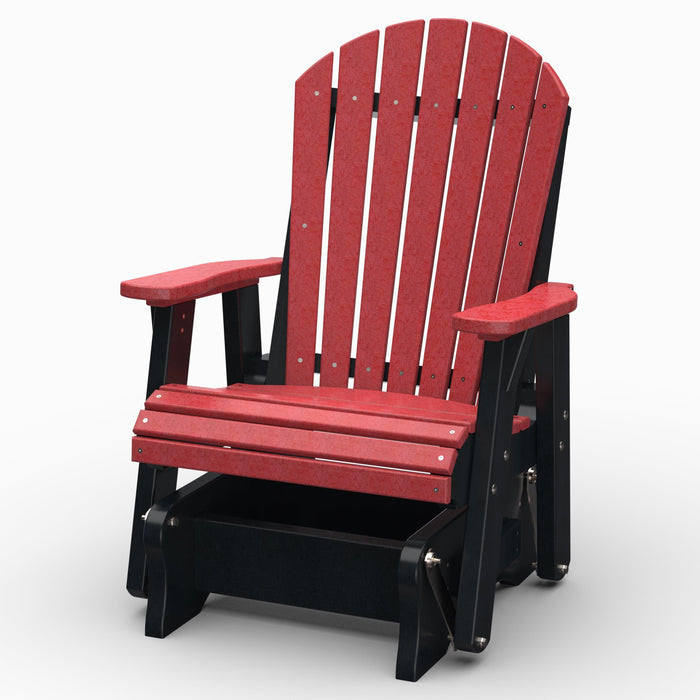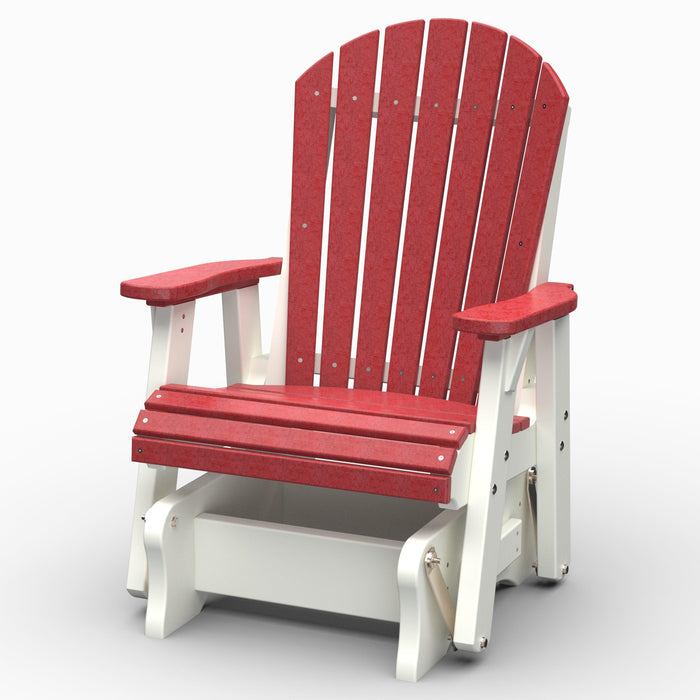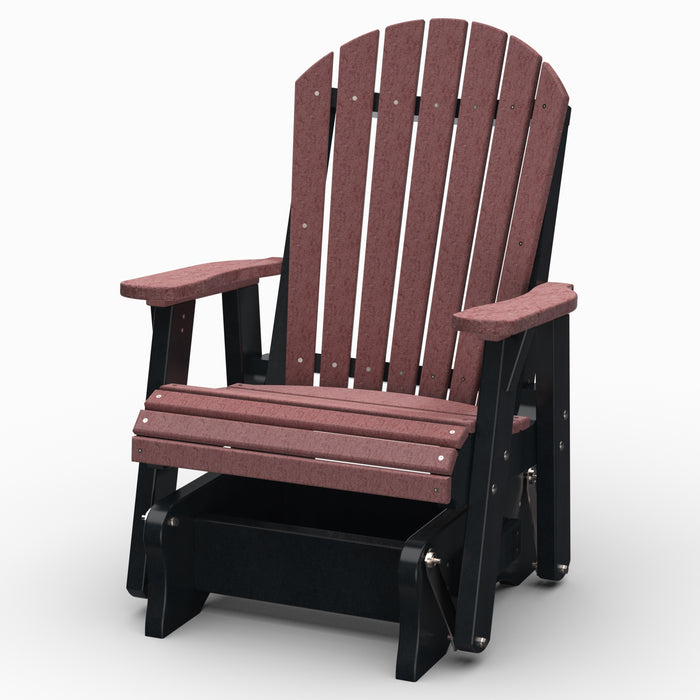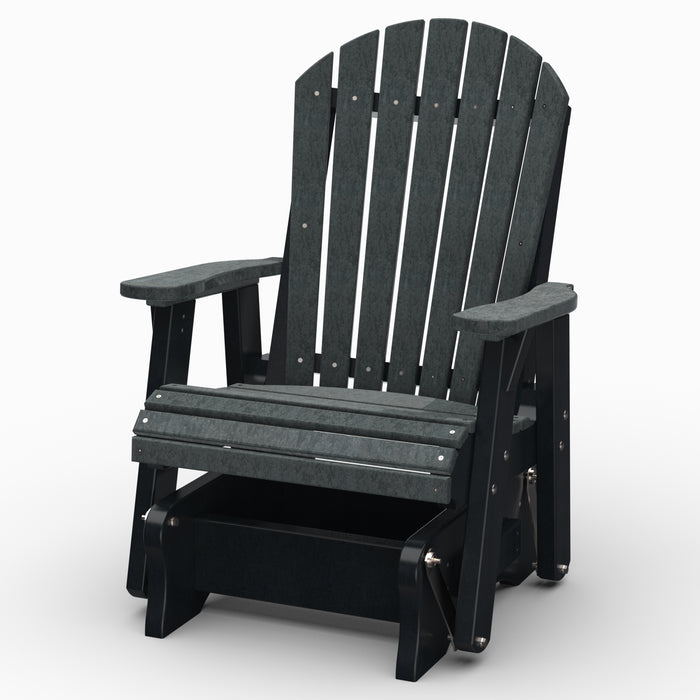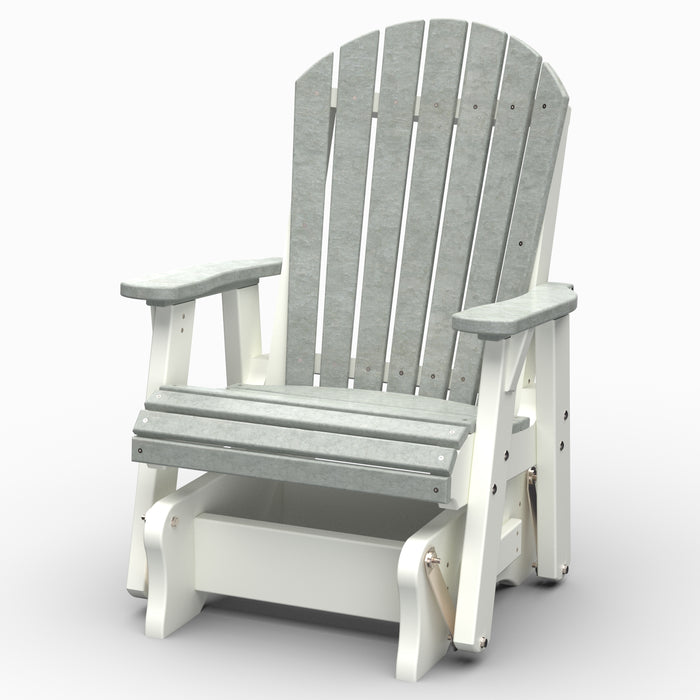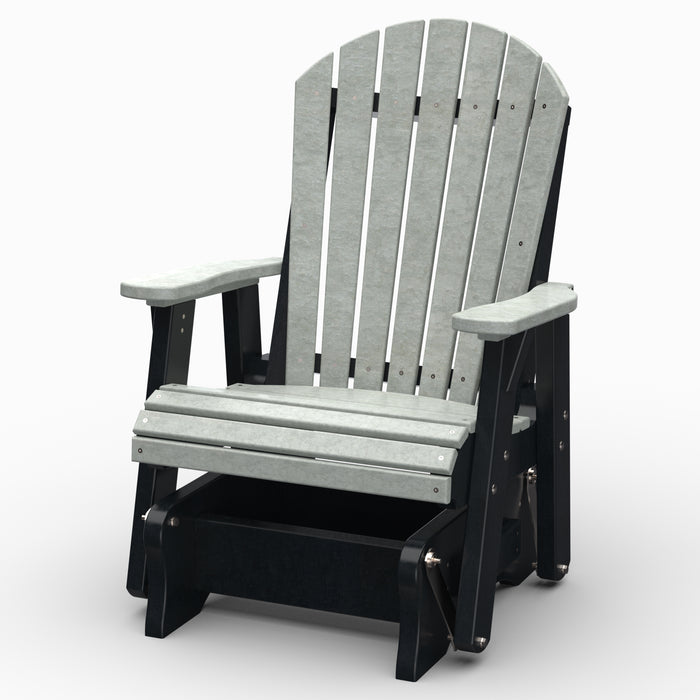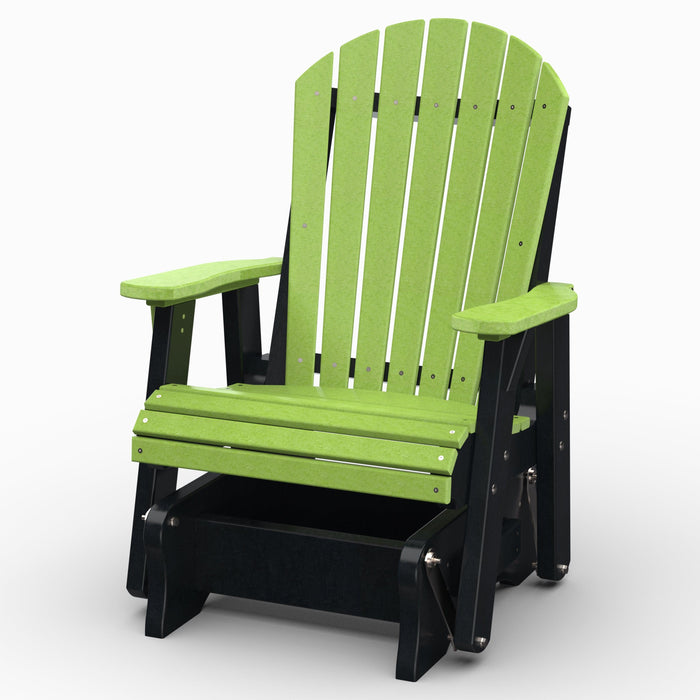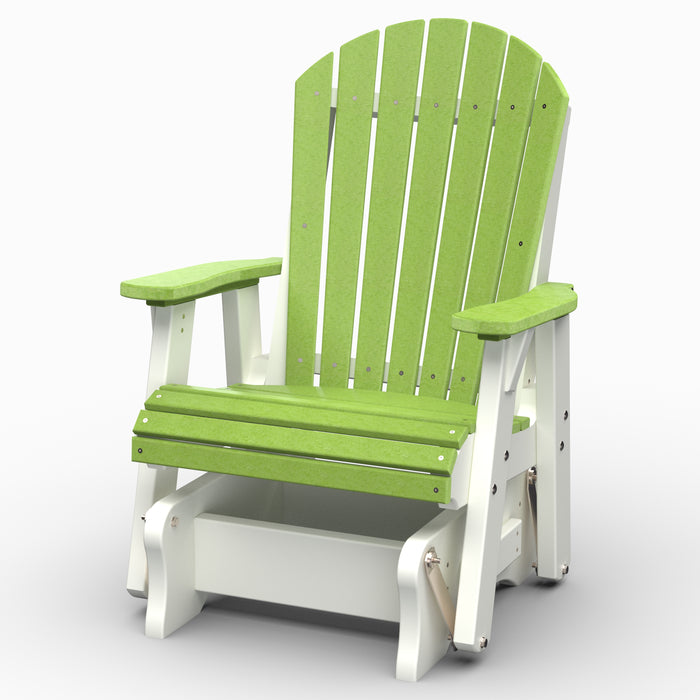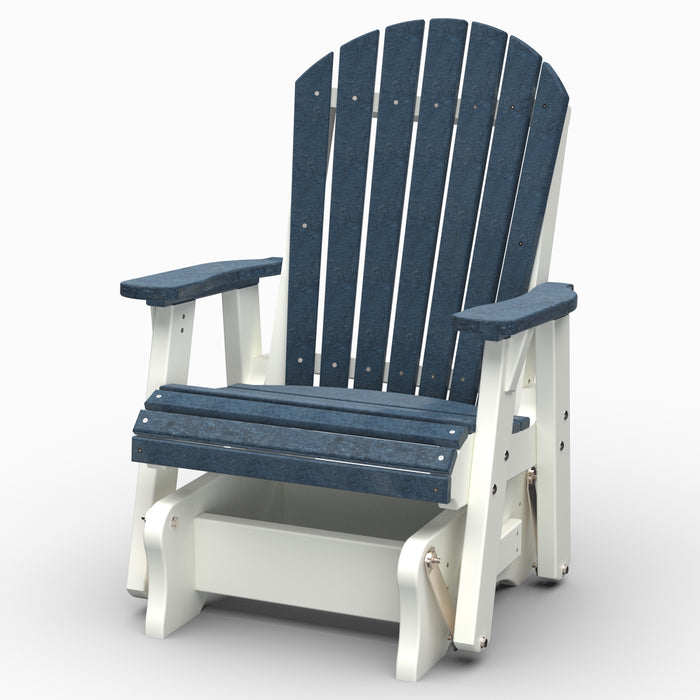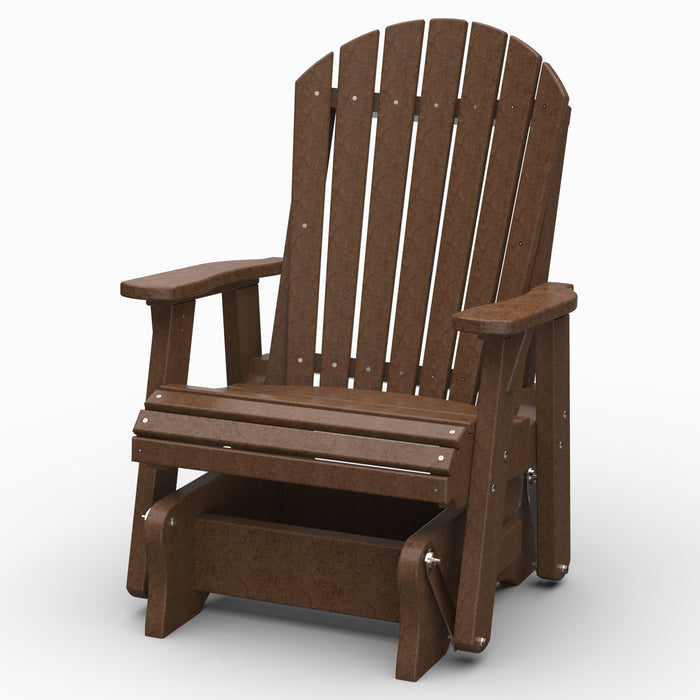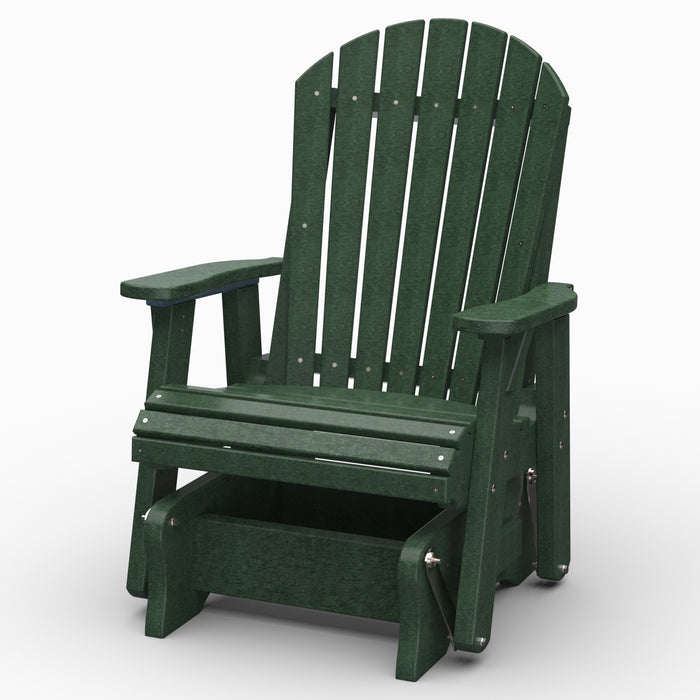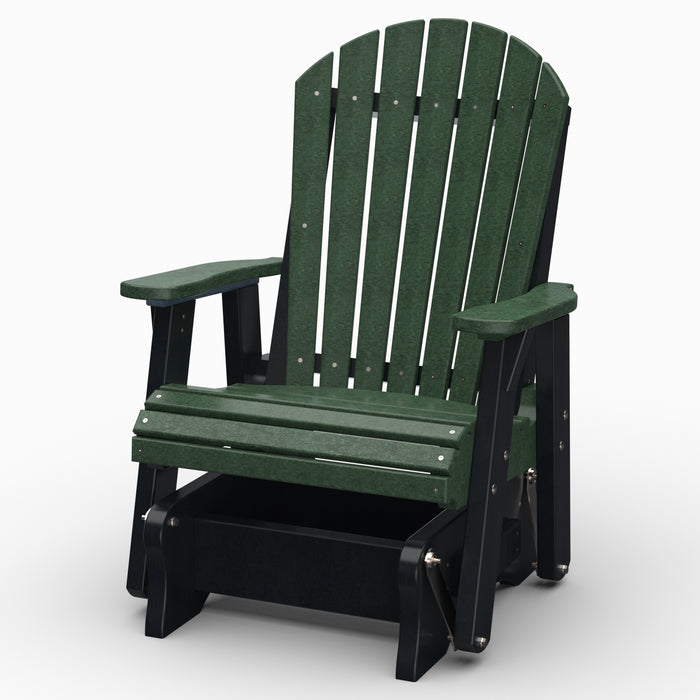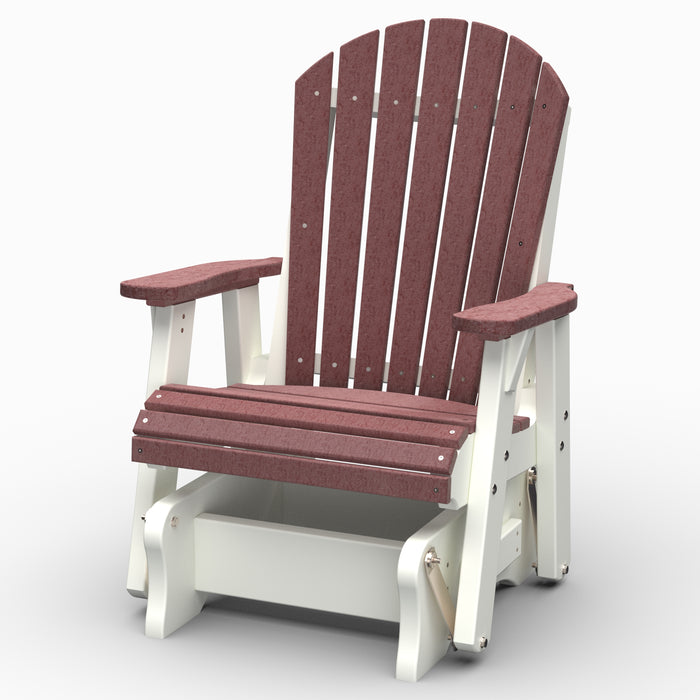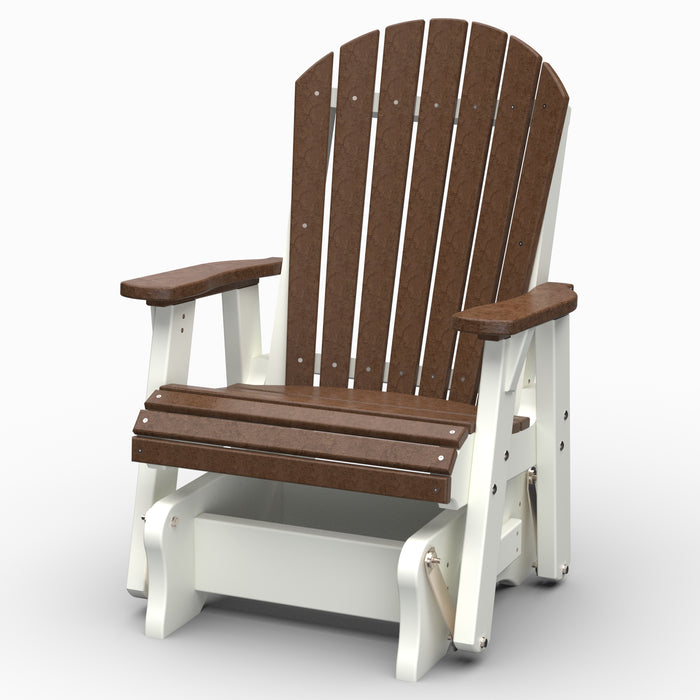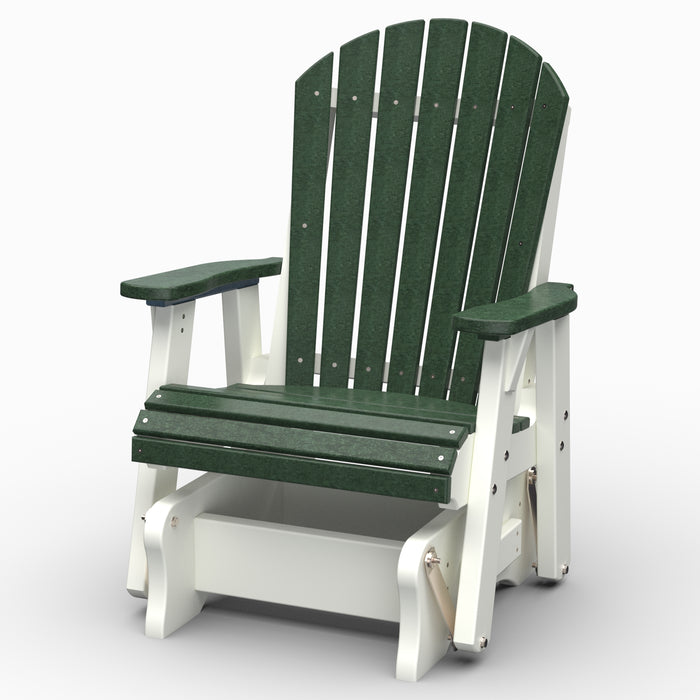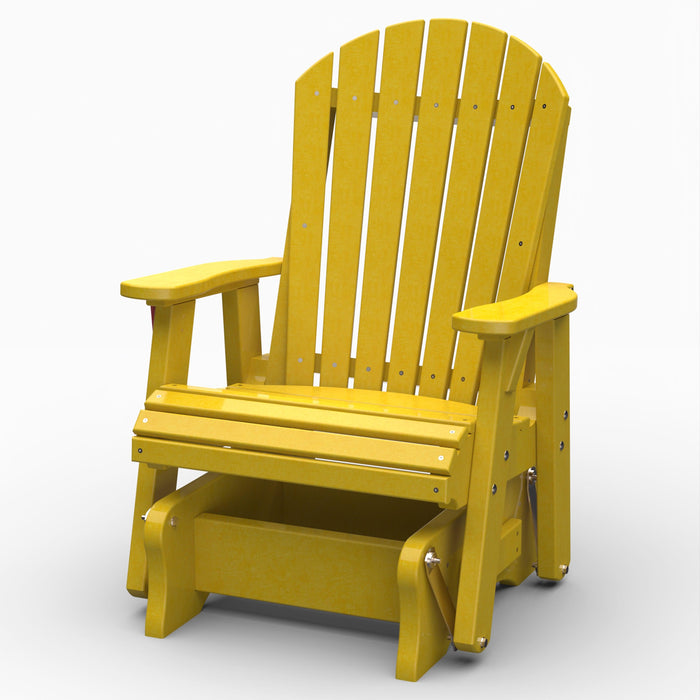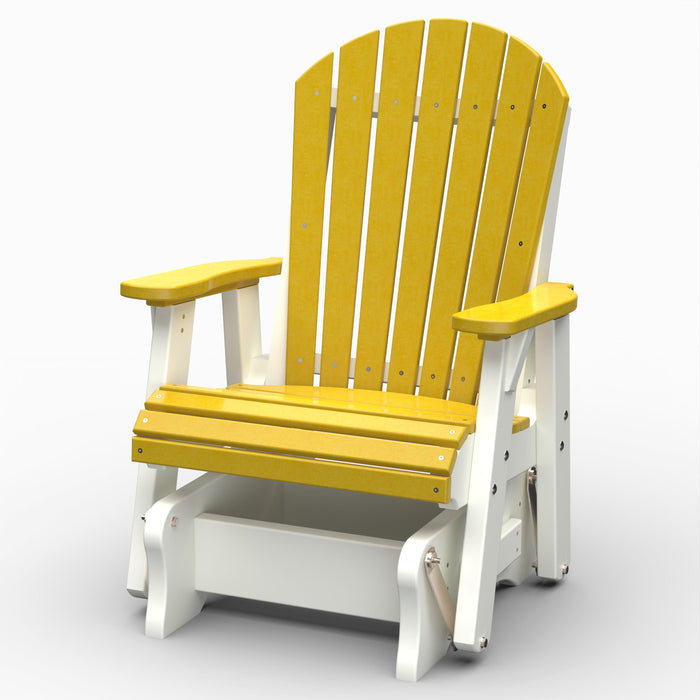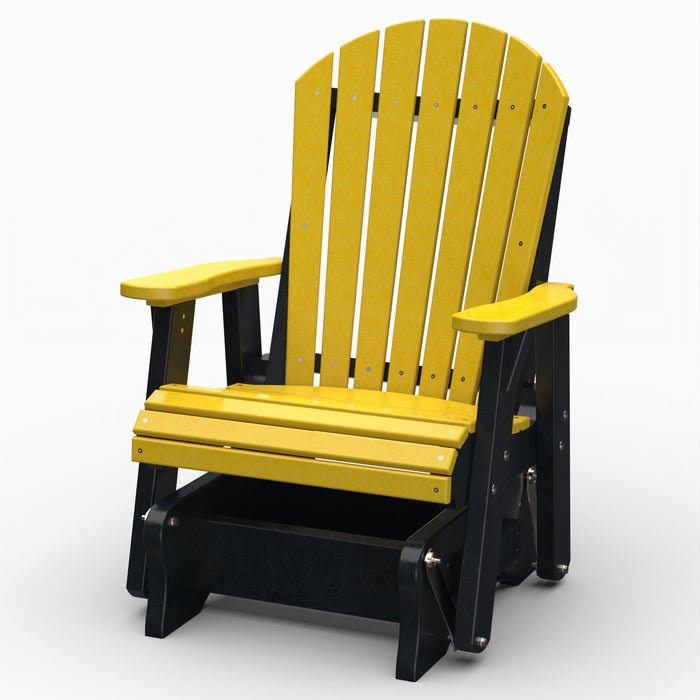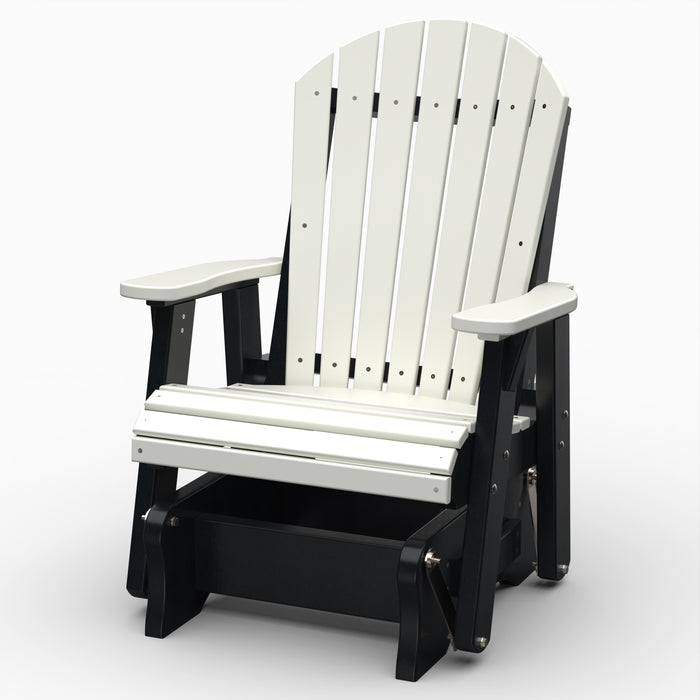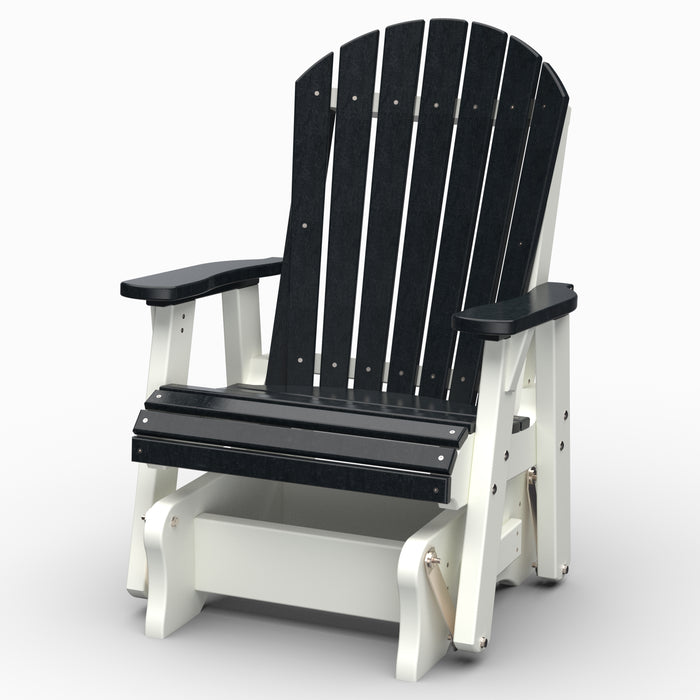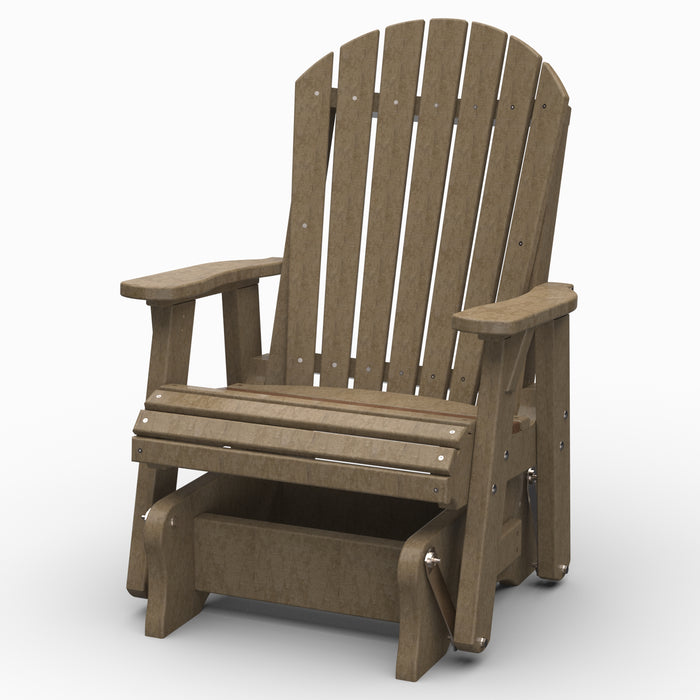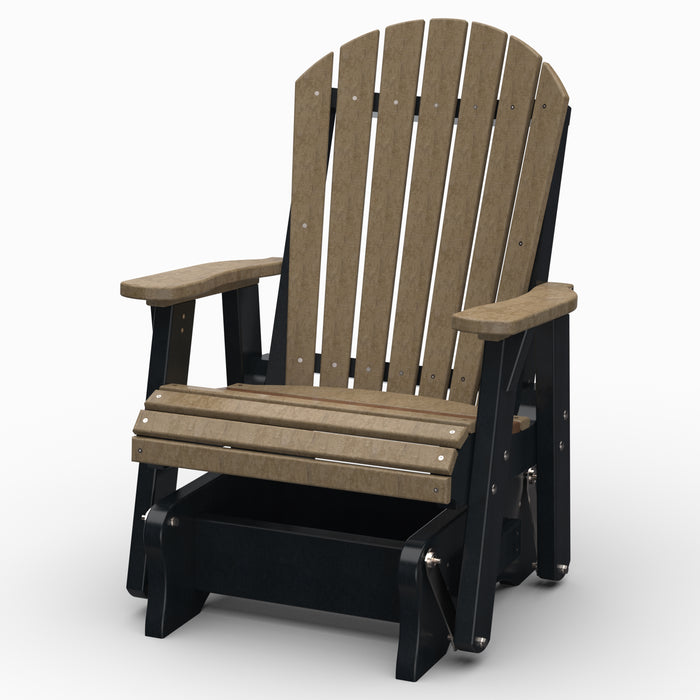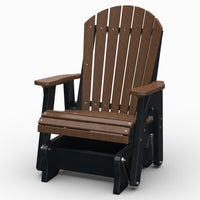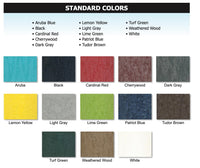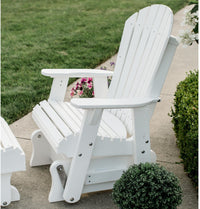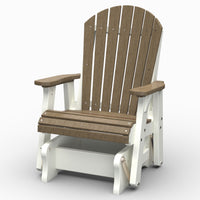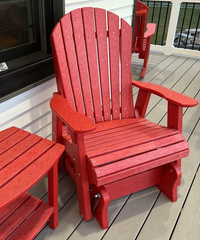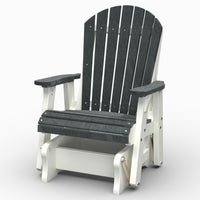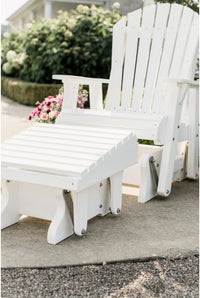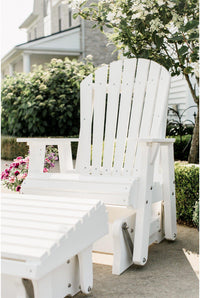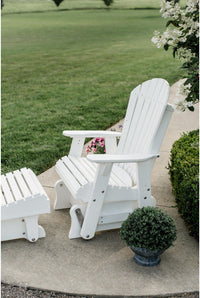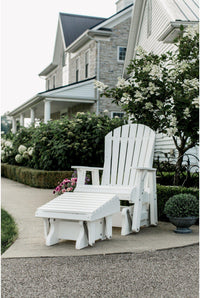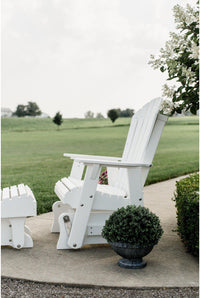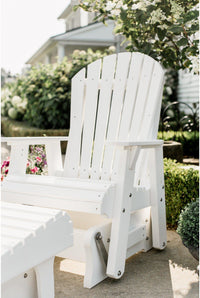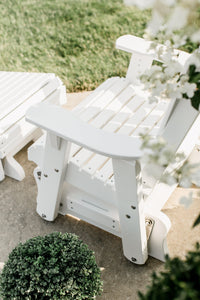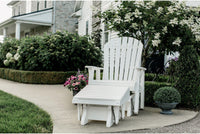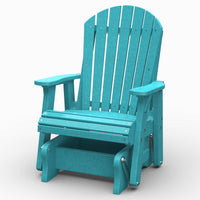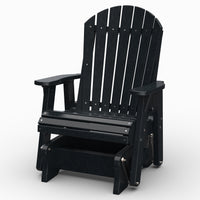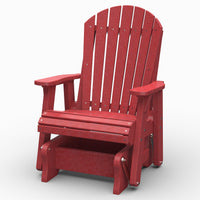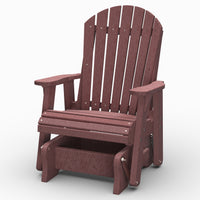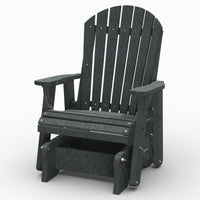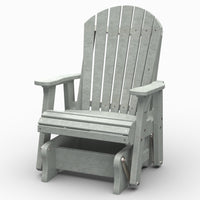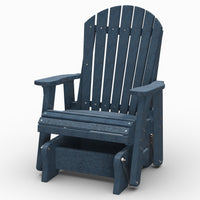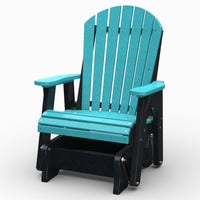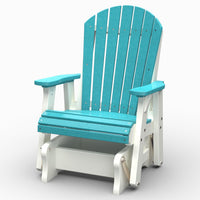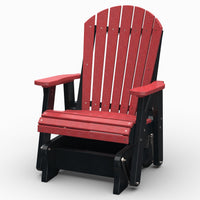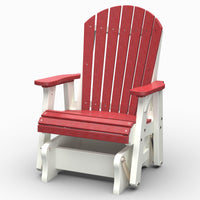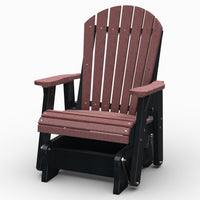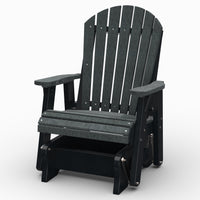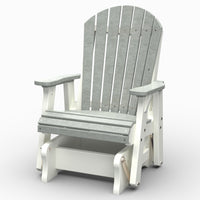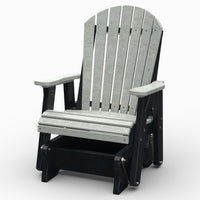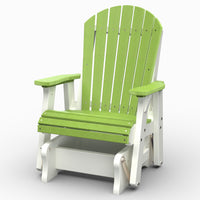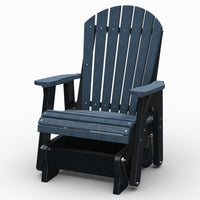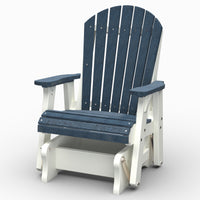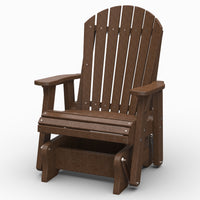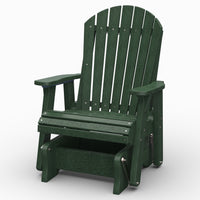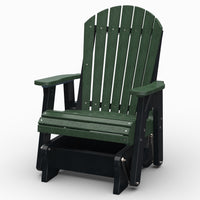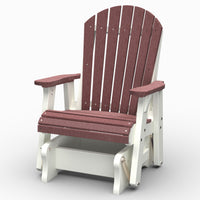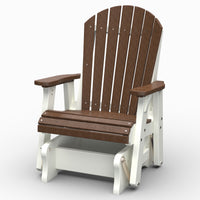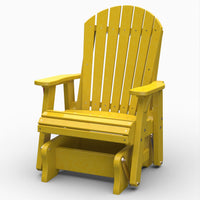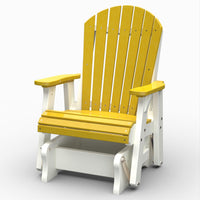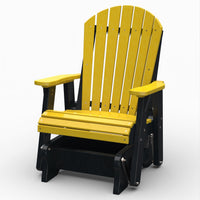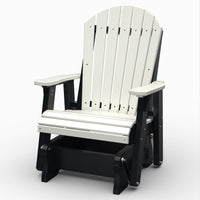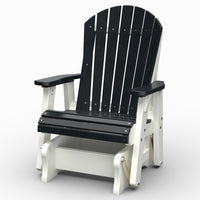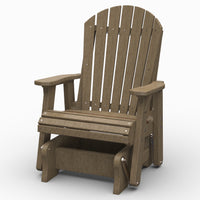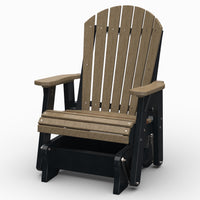 Wildridge
LCC-106-White
Wildridge Outdoor Recycled Plastic Heritage 2' Adirondack Glider (QUICK SHIP) - LEAD TIME TO SHIP 3 TO 4 BUSINESS DAYS
Regular price
Sale price
$ 696.00
Unit price
per
Sale
Sold out
Free Shipping on All Products

FreeShipping*

30 DayGuarantee

100%Satisfaction

ExpertStaff
DESCRIPTION 

WHAT IS POLY LUMBER?

Reviews

QUESTIONS & ANSWERS
Designed with warm summer evenings in mind, the Wildridge Heritage Adirondack Glider Chair is a great addition to your porch or patio. Its smooth-gliding motion offers the ultimate in comfort, while the Adirondack-style back is a truly timeless charmer. The glider is crafted of durable HDPE resin that's easy to clean, virtually maintenance-free, and held together with top-quality 316 marine grade fasteners. Best of all, you'll get to choose from a full range of finish options -- find your favorite, or order several and mix and match. Made in the USA.
CLICK HERE For Matching Accessories
CLICK HERE  For Product Catalog
CLICK HERE  For Assembly Instructions
| | |
| --- | --- |
| Dimensions | 42"H x 30"W x 31"D |
| Arm Height | 24" |
| Inside Seat Dimensions | 23.5"W x 19"D |
| Seat Height From Floor | 17"H |
| Weight Capacity | 350 lbs. |
| Material | HDPE Resin, Stainless Steel |
| Style | Transitional |
| Warranty | Manufacturer 5 Years Limited Commercial, Manufacturer 20 Years Limited Residential |
| Commercial Grade | Yes |
| Assembly | Assembly Required |
Adirondack backrest styling for superior comfort
Smooth / Gentle rocking motion
Recycled plastic is an eco-friendly choice
Impervious to the effects of weather
Available in multiple color options including two tone options
High-quality 316 marine grade fasteners
Made in the USA
Requires minor assembly
20 Year Residential & 5 Year Commercial Limited Warranty 


WILDRIDGE | PURVEYORS OF QUALITY POLY FURNITURE


Quality. Service. Innovation.


Wildridge® was created to exemplify these in a way that redefines what qualifies as a truly premium product. Our industry-leading poly furniture features quality materials, master craftsmanship, and superior construction that yield a product with undeniable quality and the service to go along with it. The child of a company that was born in 1999, Wildridge® has sought not only to create a quality product and service but to do so in a way that innovates and brings you something you'll be hard pressed to find anywhere else...

Wildridge® Brand furniture is manufactured by Little Cottage Co.
On a wild ridge of the Appalachian foothills, arose the dream of superior furniture for modern lifestyles. The dream on that wild ridge was to blend contemporary recycling and sustainability with old-style benefits of comfort, durability, lightweight, and ease of care. The dream came true in Wildridge® Poly Furniture, crafted in Holmes County, home to the largest Amish community in the world, combining old-world artistry with modern day style and sustainability.

As a brand of Little Cottage Co., the tradition of Quality, Service, and Innovation continues when you choose Wildridge® Poly Furniture.
Poly lumber (PL) is an innovative form of lumber made entirely of virgin or recycled plastic. Ours uses 95% recycled plastics, making it an eco-friendly lumber choice. It is also 100% recyclable after its original use. Exceptionally strong and durable, poly lumber resists cracking, splitting, and weathering yet remains remarkably lightweight due to its high strength-to-density ratio. Also hailed for its versatility, poly lumber can be produced in countless shapes and colors.
| POLY LUMBER -VS- WOOD |
Poly lumber is easily molded to meet almost any desired shape, a major advantage over wood. Poly lumber works similarly to wood – it can be shaped using conventional woodworking tools. At the same time, it is waterproof, stain-proof, and resists all types of rot and mold. Poly lumber never needs to be painted or re-painted, as the final lumber product can be manufactured in a broad range of colors, including simulated wood grain details. Poly lumber is highly weather-resistant, though it is not recommended for extremely hot climates as it could deform slightly in extreme heat.
THE POLY LIFE CYCLE
Made with mostly recycled plastics that would otherwise be wasted, poly furniture is perfect for not only enjoying the outdoors but respecting them as well! Poly lumber is composed of virgin or waste plastics including HDPE, PVC, PP, ABS, PS, and PLA. The plastic material is rendered into powder or pellets, mixed to a dough-like consistency at roughly 400 °F (204 °C), and then extruded or molded to the desired shape. Additives such as colorants, coupling agents, stabilizers, blowing agents, reinforcing agents, foaming agents, and lubricants help tailor the end product. Pre-distribution testing ensures the highest level of accuracy and reliability. This HDPE resin based furniture keeps plastics out of landfills and harmful fumes out of the environment so our furniture is not only stylish, comfortable, and durable but is also environmentally friendly! What's not to love?!
INDUSTRY LEADING
Poly lumber continues to make headlines as long-lasting, eco-friendly material taking the outdoor furniture industry by storm. Wildridge leads the way by striving to sustainably produce innovative, high quality products.

ECO-FRIENDLY
Plastic pollution is a serious health hazard for humans and animals and recycling plastics is one way to address that concern. Wildridge is committed to using poly lumber made from 95% recycled plastics.
INNOVATIVE
Not only is it kinder to the environment, but poly lumber produces a superior furniture product in terms of durability and longevity. There's simply no better alternative for outdoor furniture that lasts.
Enjoying the Product
We are enjoying these gliders and the accompanying table on our dock. They are solid pieces and we have no fear of losing them in high wind storms, as we can experience at this location. The Aruba Blue color is great too. The only concern is that I had to visit the hardware store to pick up extra 5/8 inch washers for the chairs and additional screws for the table, as there was insufficient quantities in the shipped materials to complete the job.
Great purchase
These chairs and table are beautiful. Exactly what I was looking for. Well made, sturdy and attractive! They were even shipped earlier than promised. Very happy customer here!
Thought about one but ended up Purchasing Two
I bought these for a narrowish front porch. Very Comfortable. Very well made. As represented on the website. No surprises!
Outstanding Quality
We ordered two black ones and they are stunning. Outstanding craftsmanship and the quality is easily detected before even sitting on them. We are so pleased with the purchased!
Wildridge glider chairs
Excellent product easy to follow assembly instructions took me approximately one hour to assemble two chairs
Is there a weight limit on the single or double gliders?

Hello Becky
The Wildridge single Adirondack glider is rated for 350 lbs. The Wildridge double Adirondack glider is rated for 600 lbs.  Please let us know if there is anything else we can assist you with. - Jeffrey