Key Features

Reviews

QUESTIONS & ANSWERS
CLICK HERE FOR MATCHING ACCESSORIES 
CLICK HERE  For Free Poly Color Samples
The Luxcraft Adirondack Swivel Glider is Rocking Furniture's best selling Poly Glider by far. Customers repeatedly tell us that the Glider is extremely comfortable and really helps them to relax. Be sure to read the reviews to get a better idea of the quality of this Swivel Glider chair. Here is a customer review that sums up the Luxcraft swivel glider. "It Swivels, It Glides, And it lasts a lifetime! PLUS LIFETIME WARRANTY!!! I love it, I love it! Bought a couple of them a year ago and they are AMAZING!!!!!!"
ASSEMBLY AND REVIEW VIDEO
BENEFITS: The Soothing Gliding Motion Will Easily Help you To Relax while being able to rotate 360 degrees.
FEATURES: Adirondack backrest styling, Smooth / Gentle rocking motion, Smooth swivel motion Stainless steel hardware,Virtually maintenance free durable 100% recycled plastic will not crack, splinter, warp, or rot - U.V. stabilized for fade-resistance
WARRANTY: Lifetime Residential Warranty, 5 Year Commercial Warranty, MADE IN USA!
CLICK HERE for Assembly Instructions
Dimensions:

 31" W x 30"D x 43"H in.

Inside Seat Dimensions:

 23"W x 18"D - 

Backrest height from seat to top 28"

Floor to Seat Height: 

17.75"

Weight Capacity:

275 lbs

Chair Weight:

94 lbs

Assembly:
Assembly Required ,
Material:

100% recycled plastic  / Stainless steel hardware


ABOUT THE MANUFACTURER
Founded in 1990 Luxcraft began as a small business in the corner of a barn, exclusively manufacturing outdoor wood furniture. In the years that followed, as Luxcraft's product line expanded to include porch swings, rocking chairs, rocker gliders and adirondack chairs, our facilities and dealer base grew accordingly. Flash forward to present day and you'll find our products being made in a 56,000 square-foot shop before being distributed to hundreds of dealers throughout the US and Canad
a. 

So what distinguishes LuxCraft from other outdoor product manufacturers? Our first priority is quality, and all structures are built to last. With 60,000 square feet of warehouse space we stock over 30,000 items for immediate shipment year round.

Although LuxCraft is now operating on a much larger scale, our core values remain the same. Each transaction is handled with integrity and focus on customer service. We build our products with emphasis on durability and longevity, then price it accordingly. Best of all, LuxCraft products are made right here in America so buying our products you're not only improving your outdoor space, but boosting the US economy as well.
Awesome chairs!!!
We ordered two of the Luxcraft swivel gliders. We got the coastal grey on black. We also ordered the side table to match. Quality is hands above other brands I have seen and sat in. The coastal wood finish is awesome and looks like real wood. You can feel the quality when you sit down and glide. They were very easy to put together and packaged very well. We loved them so much we have already ordered 2 more and another table.
Excellent customer service
Love love love our swivel rocker chairs. Quality, comfort and style all awesome. The original ones I picked out didn't work out. Jeff suggested these, should of asked in first place. Customer service is beyond anything I can imagine!
Swivel Glider and table
The products were super easy to assemble. This high quality furniture last forever. The sales staff and communication was outstanding, very pleasant experience. I will buy all of my Luxcraft items here.
Very nice swivel rockers
We really like these chairs. Great even without cushions. Rocking Furniture is the best to work with. Would highly recommend this company and these Luxcraft chairs.
Gliders, chairs and end tables
We ordered 2 swivel gliders, 4 adirondack chairs and 4 side table on August 8th and they arrived on August 17th. Gliders and tables were easy to assemble and the chairs just unfolded out of the box. We are really pleased with how they look and sit.
Do you sell cushions for the glider rocker

Hello Mike

Here is a link to the matcching seat cushion
https://www.outdoorsrockingchair.com/collections/luxcraft-glider-chair-accessories/products/luxcraft-2-sunbrella-outdoor-chair-cushion


Please let us know if there is anything else we can assist you with

Have a great weekend 

Jeffrey

Hi, we are interested in ordering LuxCraft Recycled Plastic 2' Adirondack Swivel Glider Chair. Are you able to order it in the solid slate gray? On your website I see the two tone dove and slate. We'd also want to order some end tables to match if possible.

Warren

Yes we can do a special order for you.  There is a $40 upcharge and the lead time for special orders is 3.5 weeks

Give us a call 888-412-2269 and we can set you up

Jeffrey

Dimensions of the Adirondack swivel glider

SPECIFICATIONS

| | |
| --- | --- |
| Dimensions: |  31" W x 30"D x 43"H in. |
| Inside Seat Dimensions: |  23"W x 18"D -  Backrest height from seat to top 28" |
| Floor to Seat Height:  | 17.75" |
| Weight Capacity: | 275 lbs |
| Chair Weight: | 94 lbs |
| Assembly: | Assembly Required , |
| Material: | 100% recycled plastic  / Stainless steel hardware |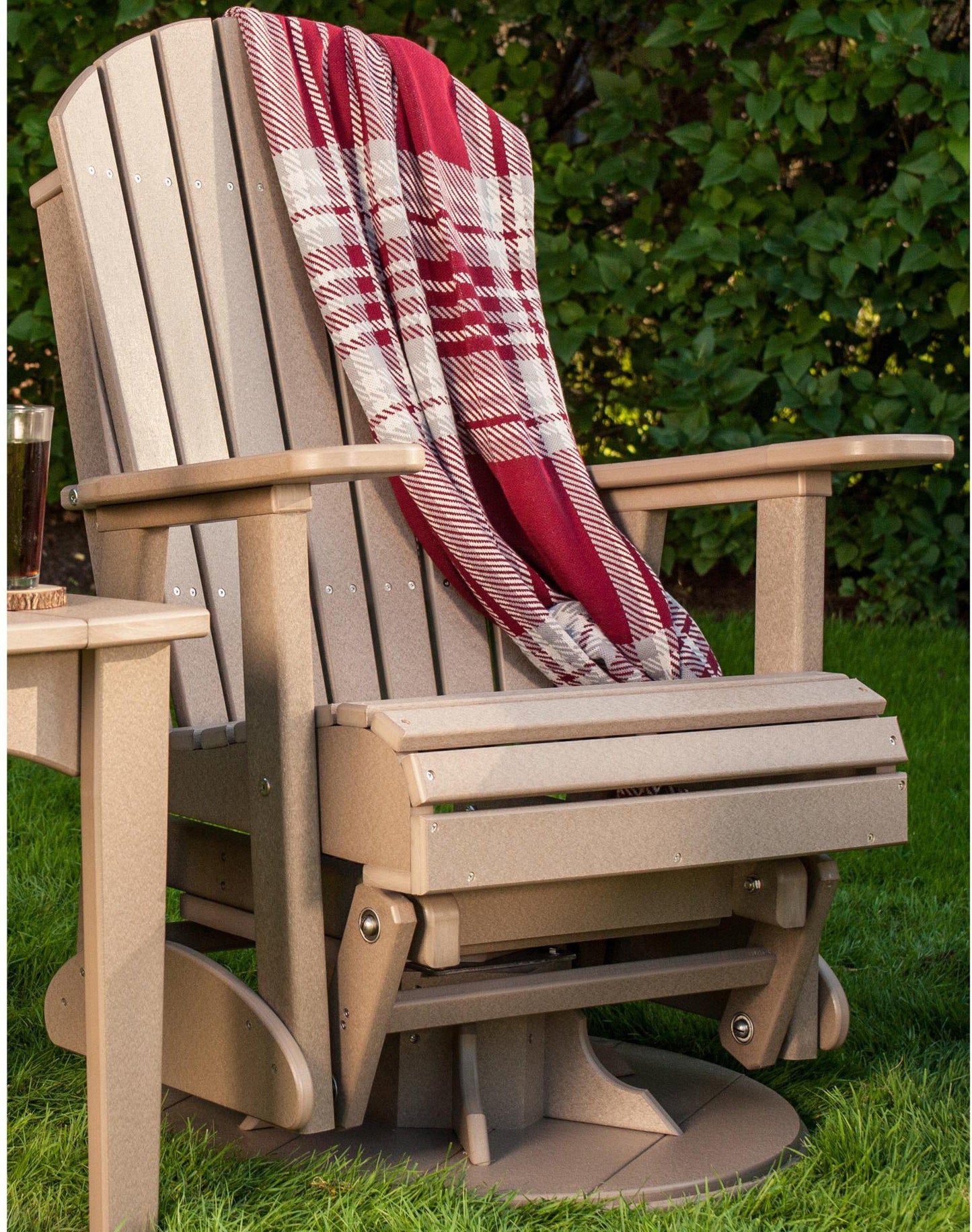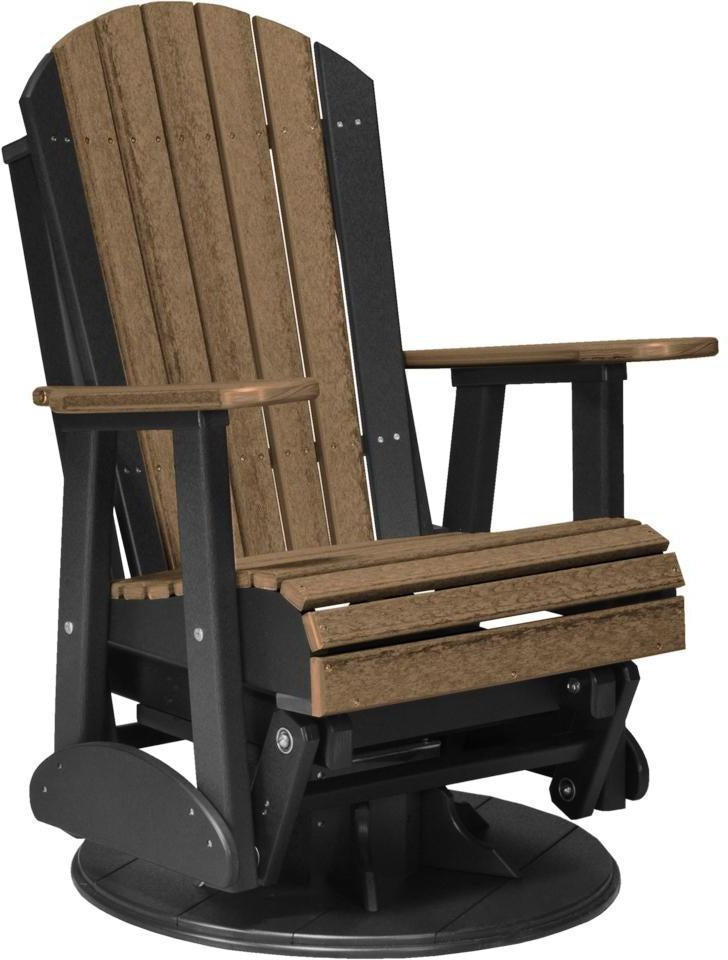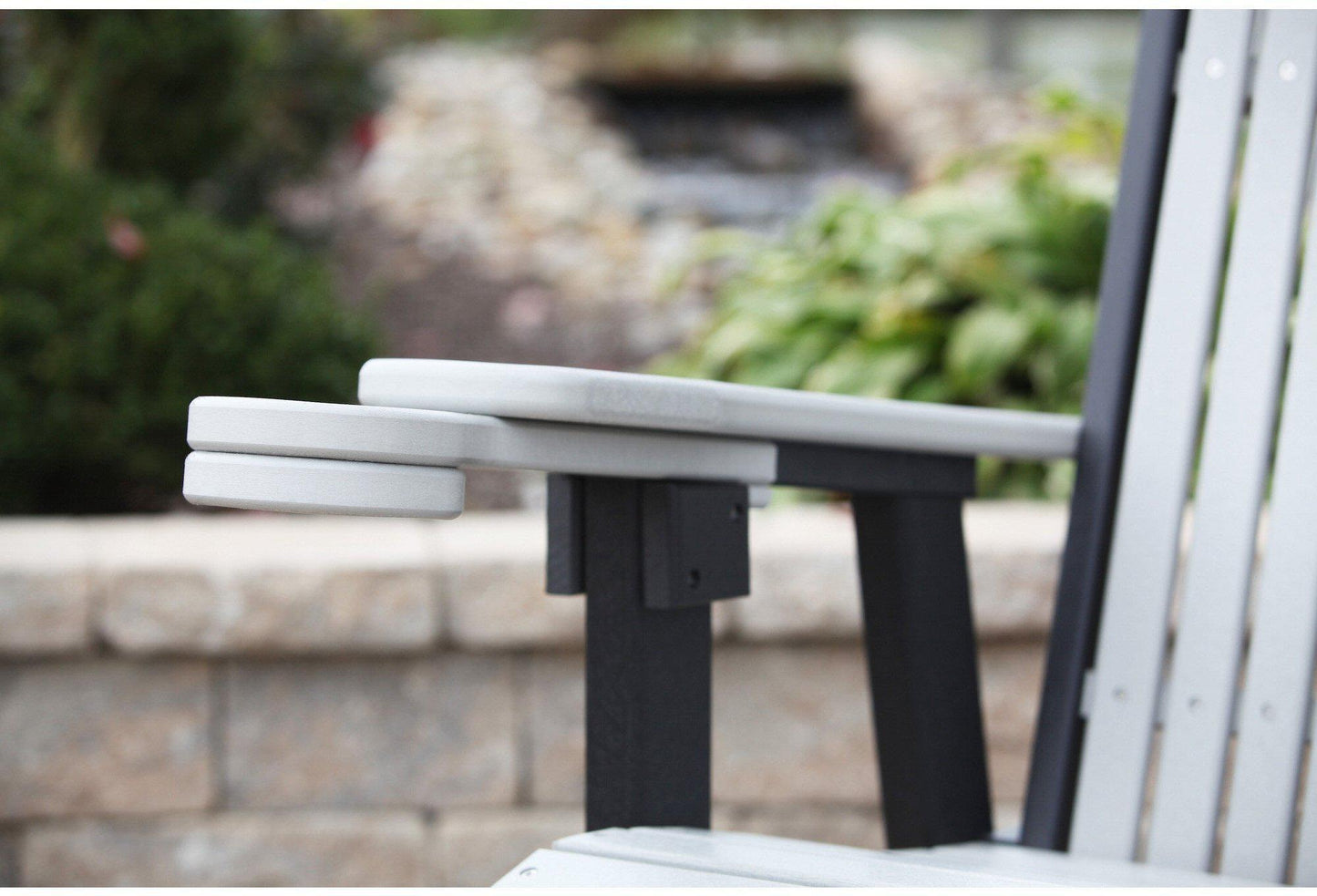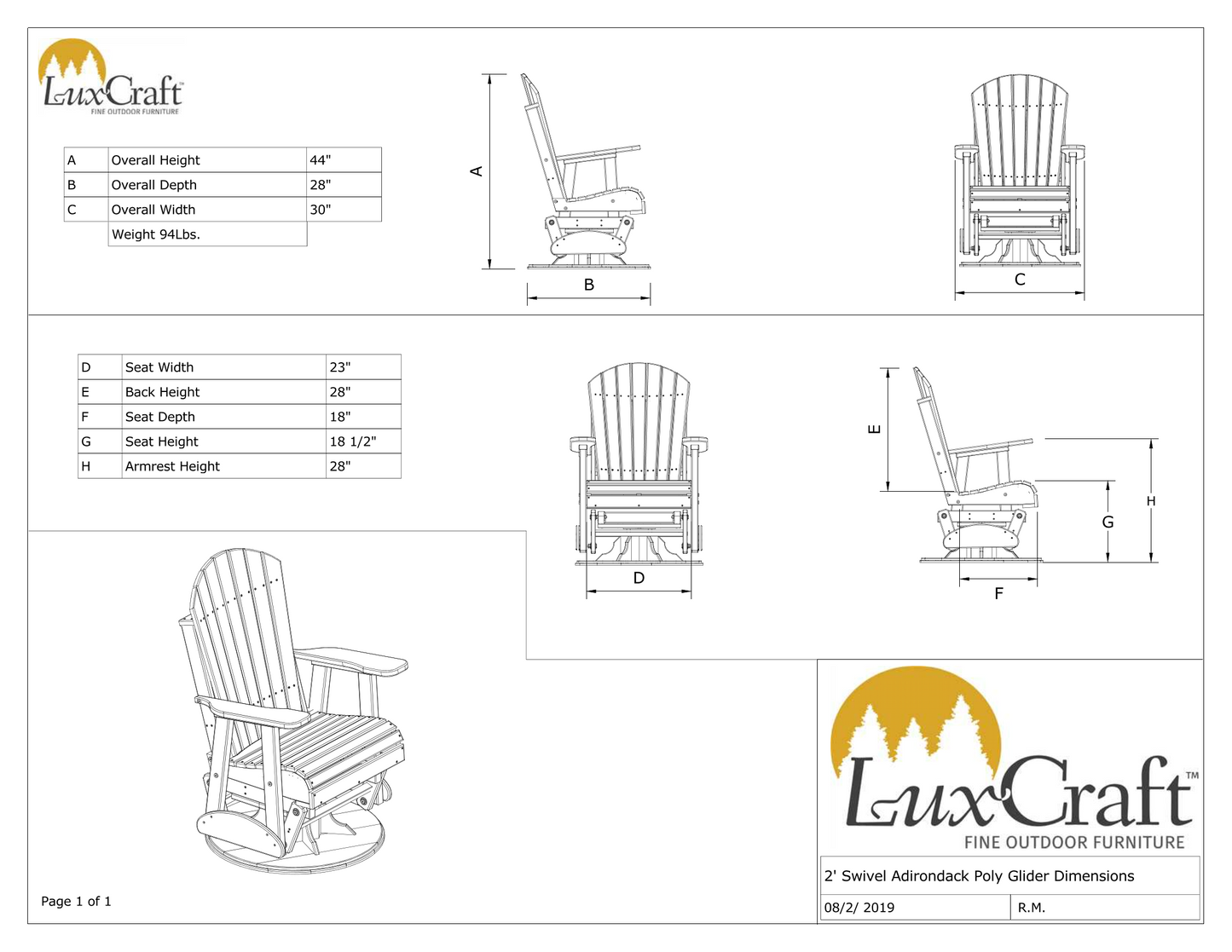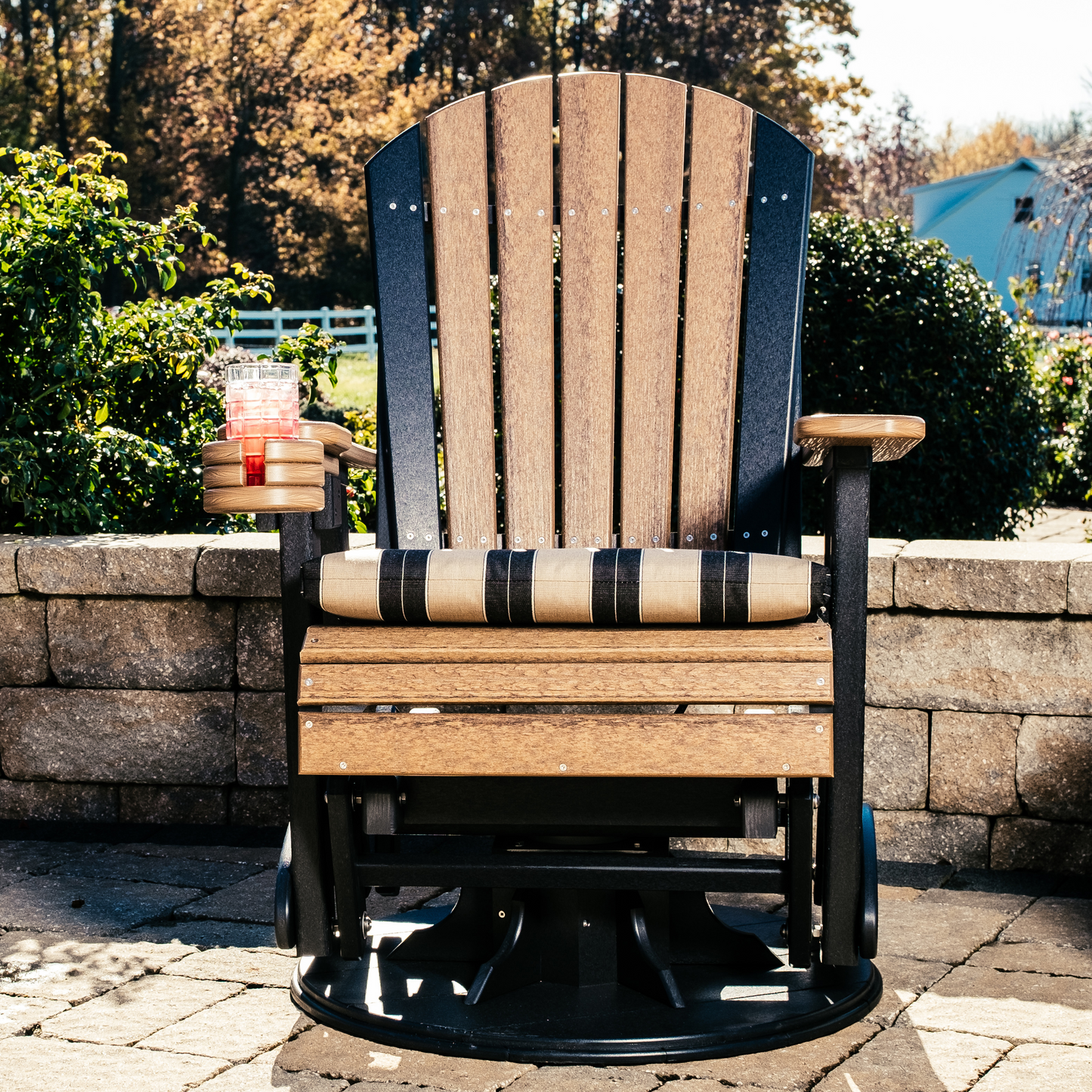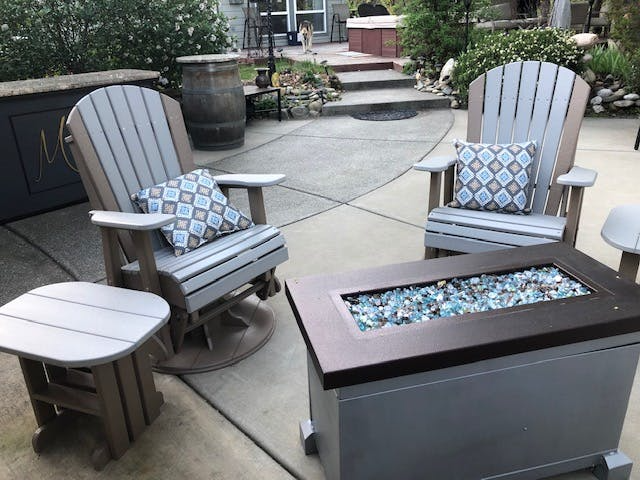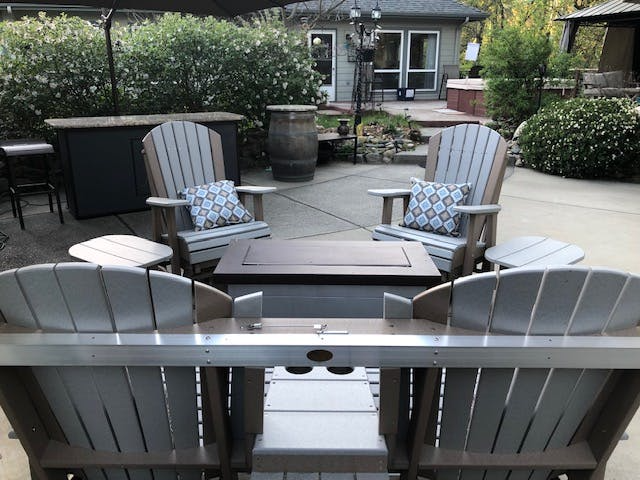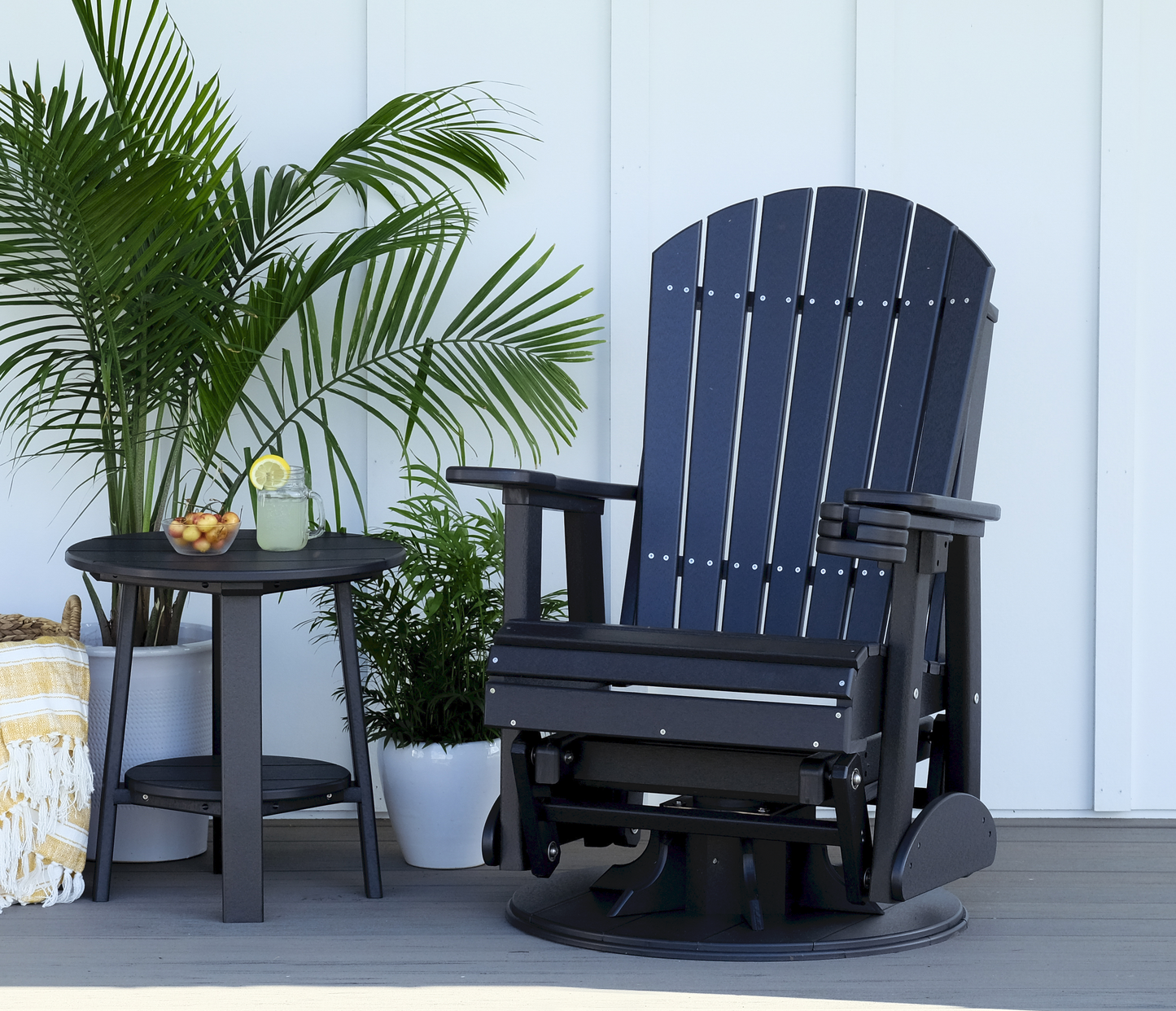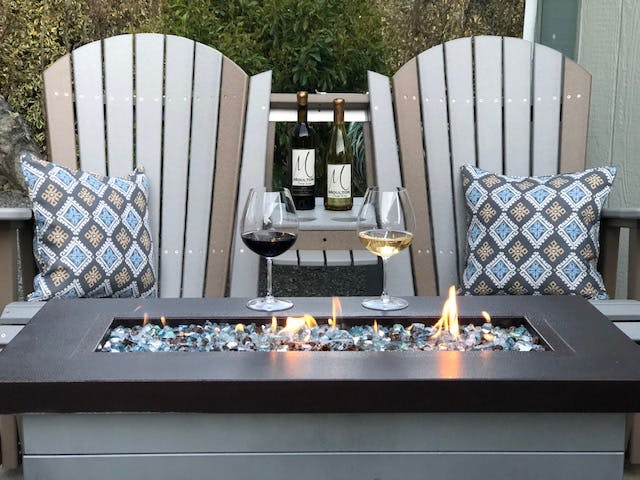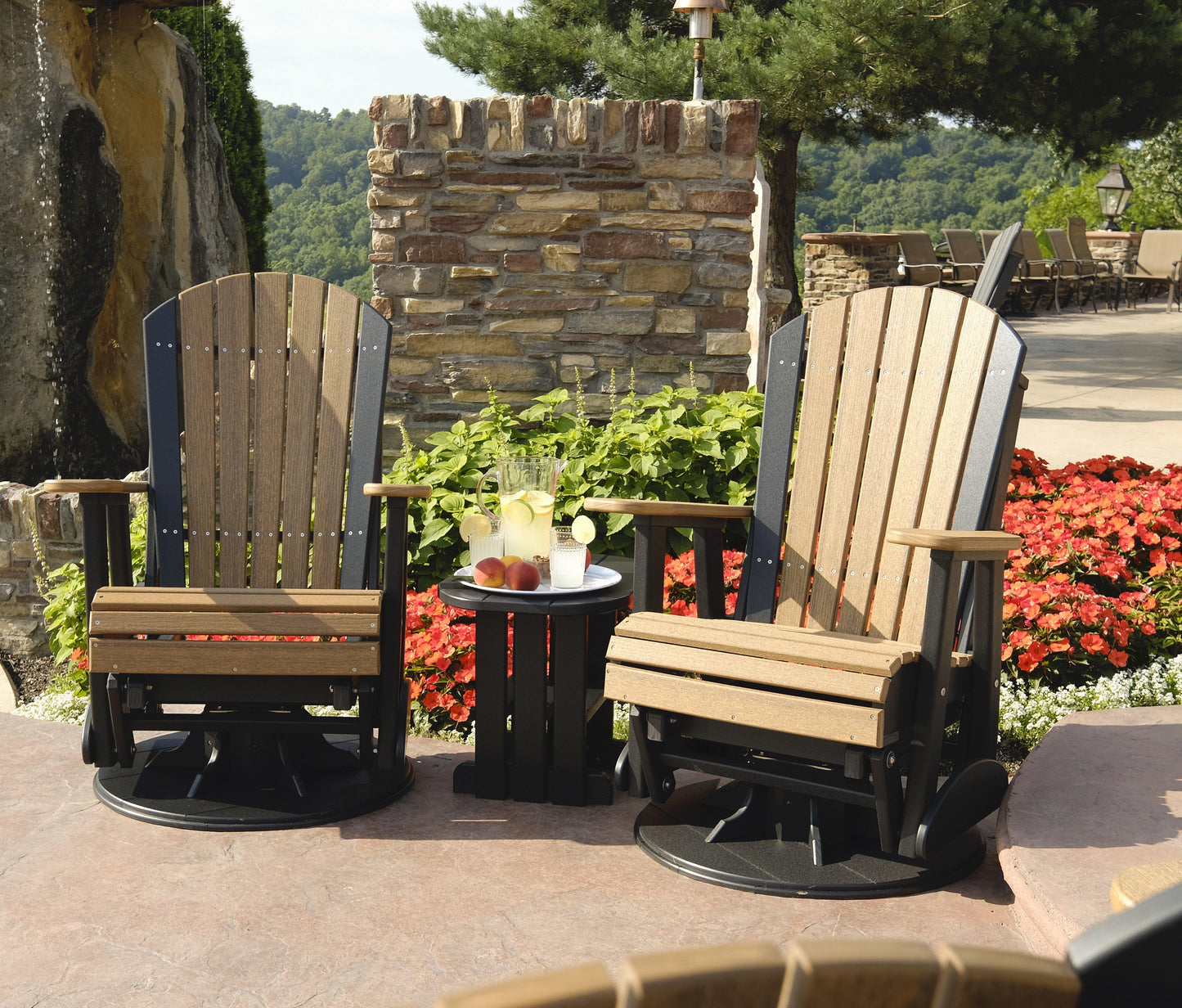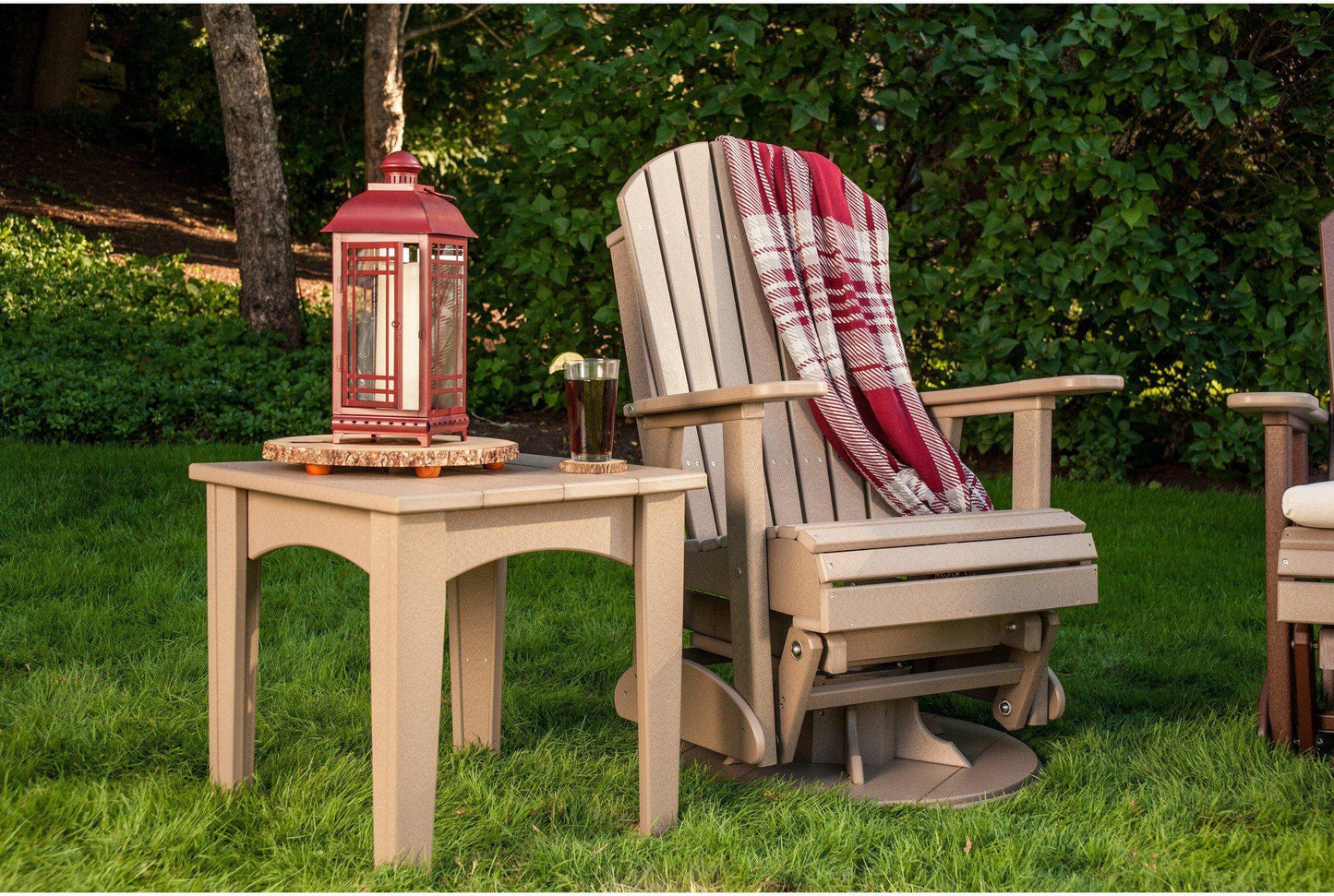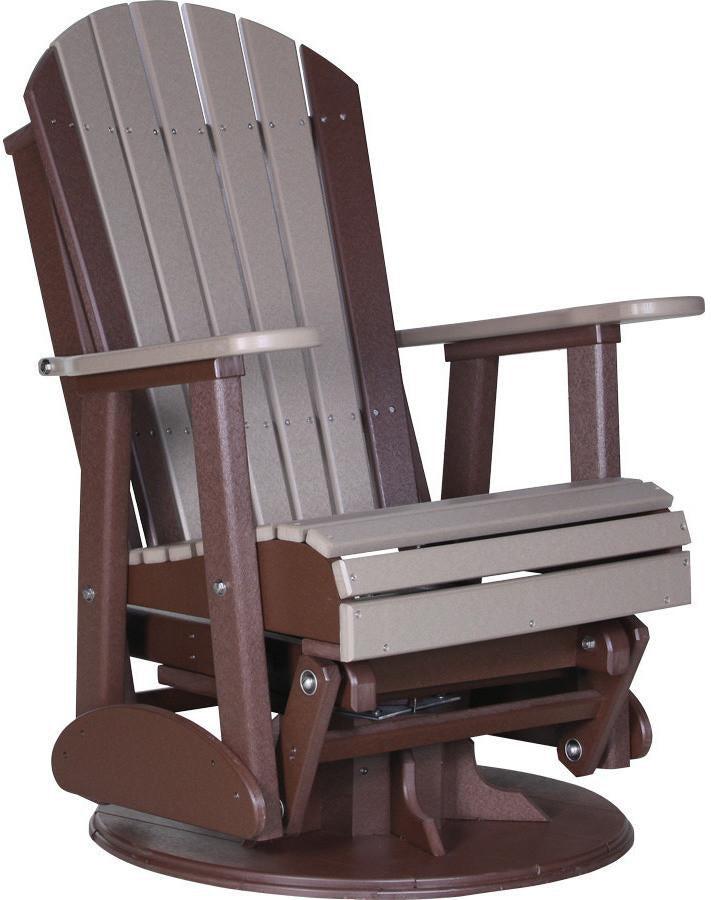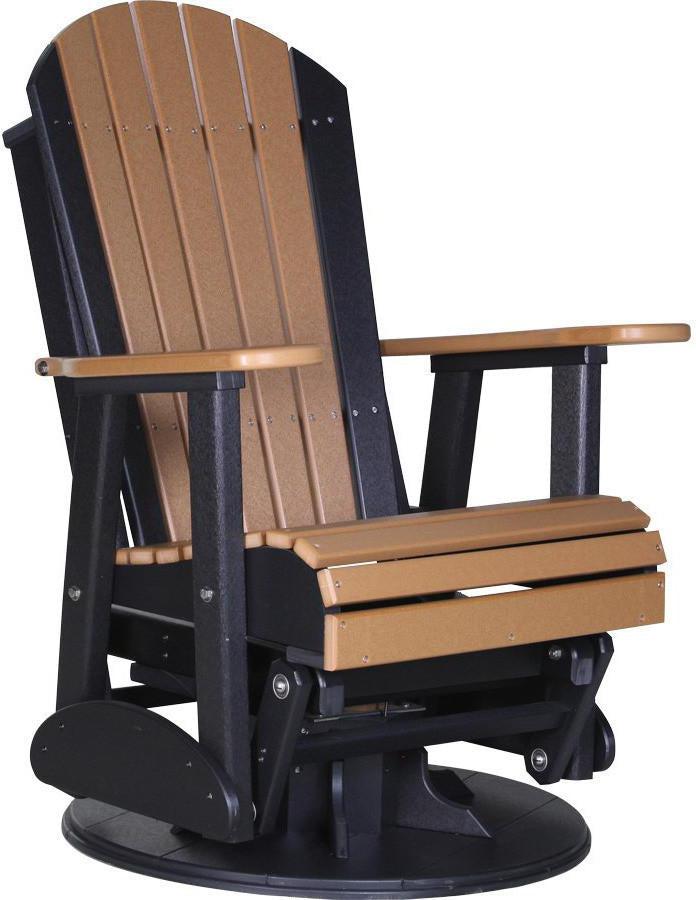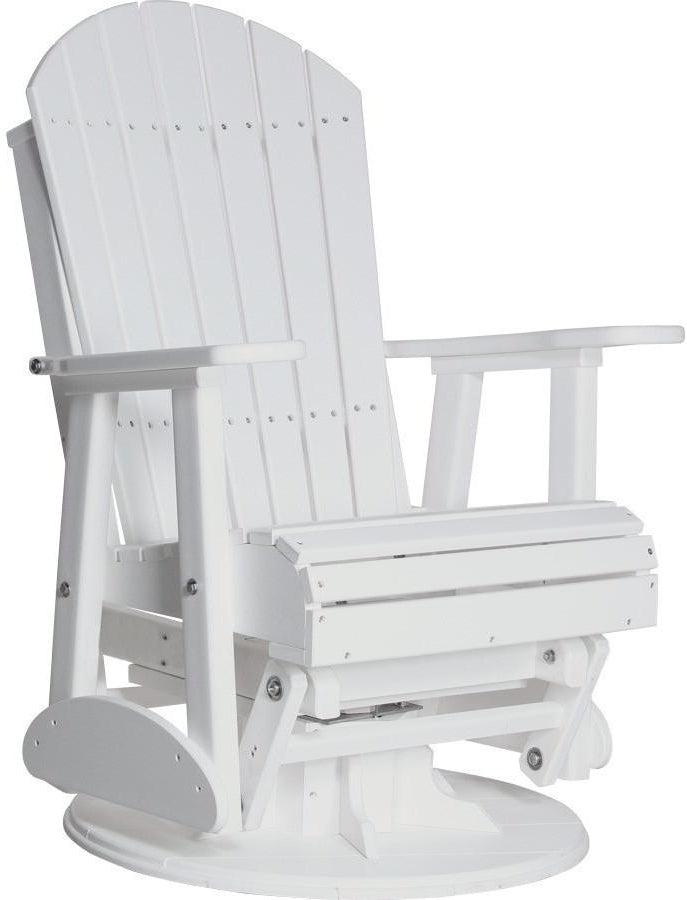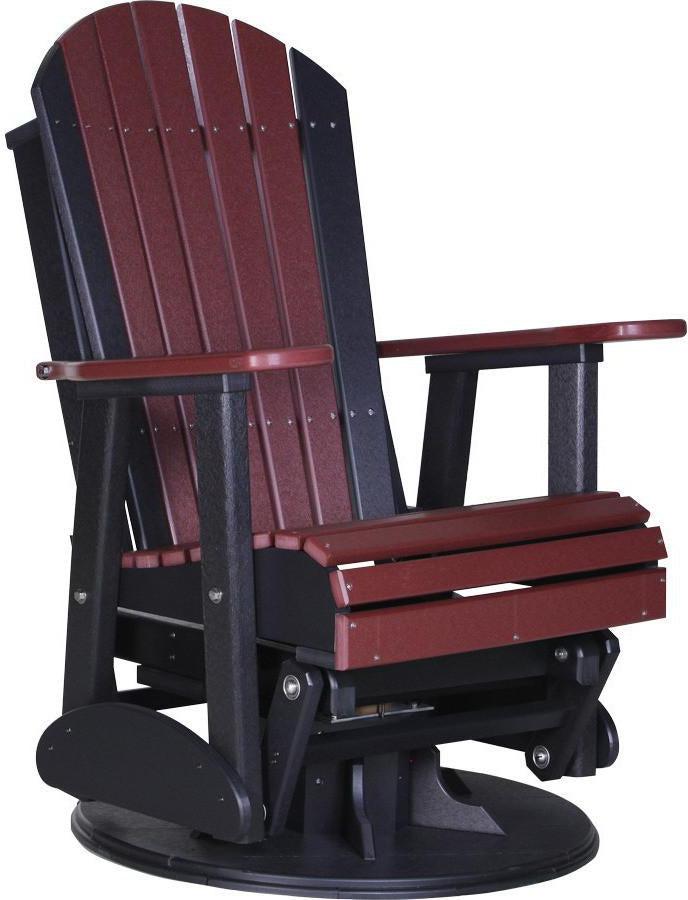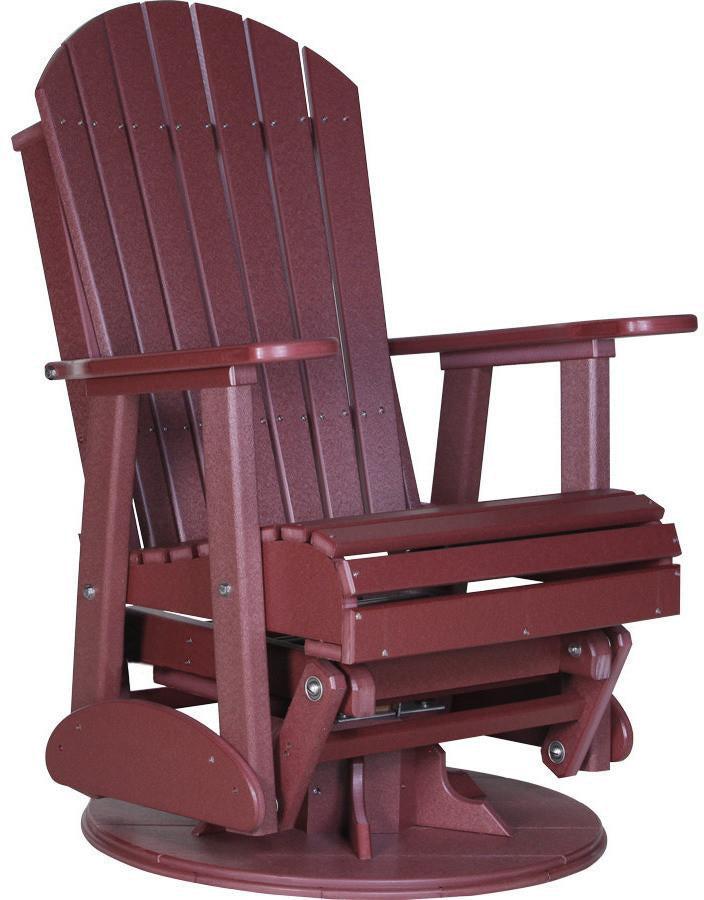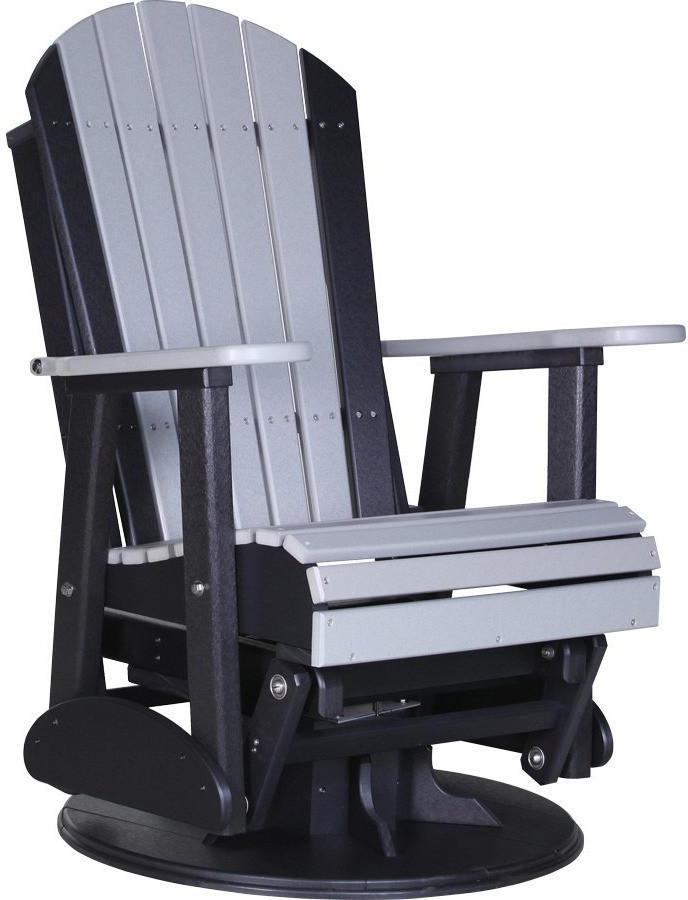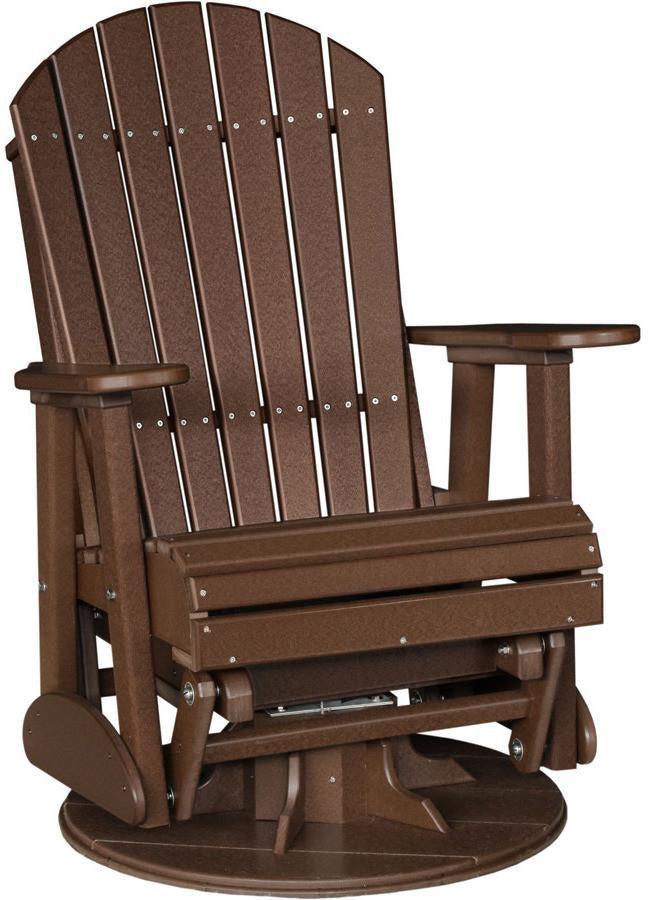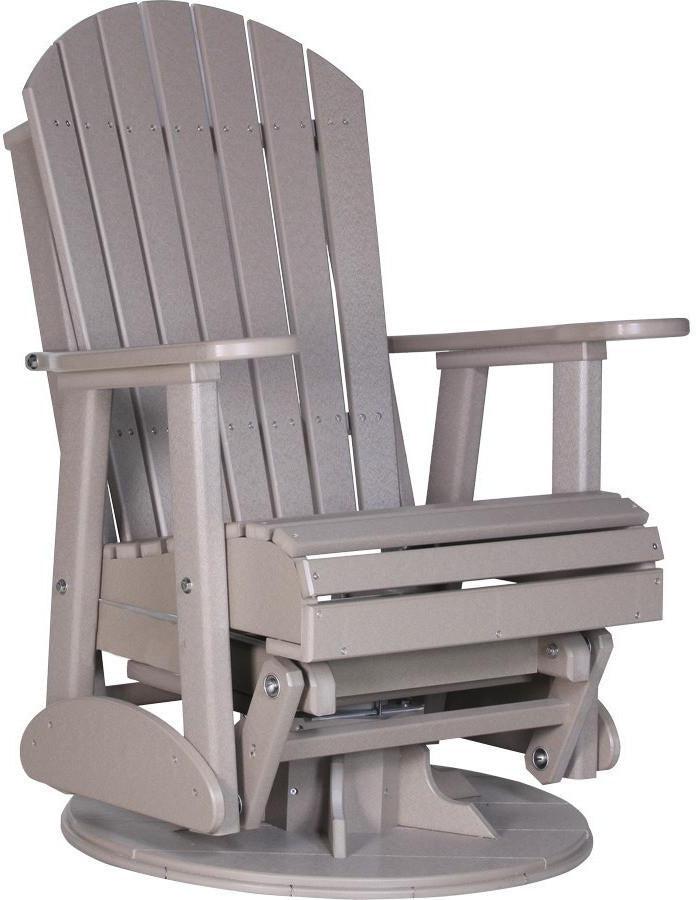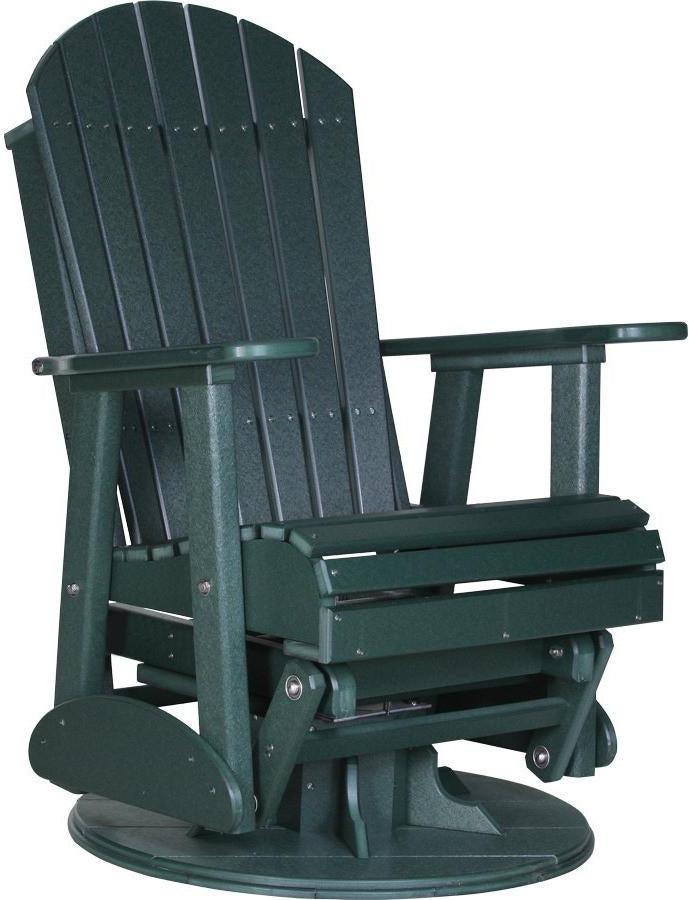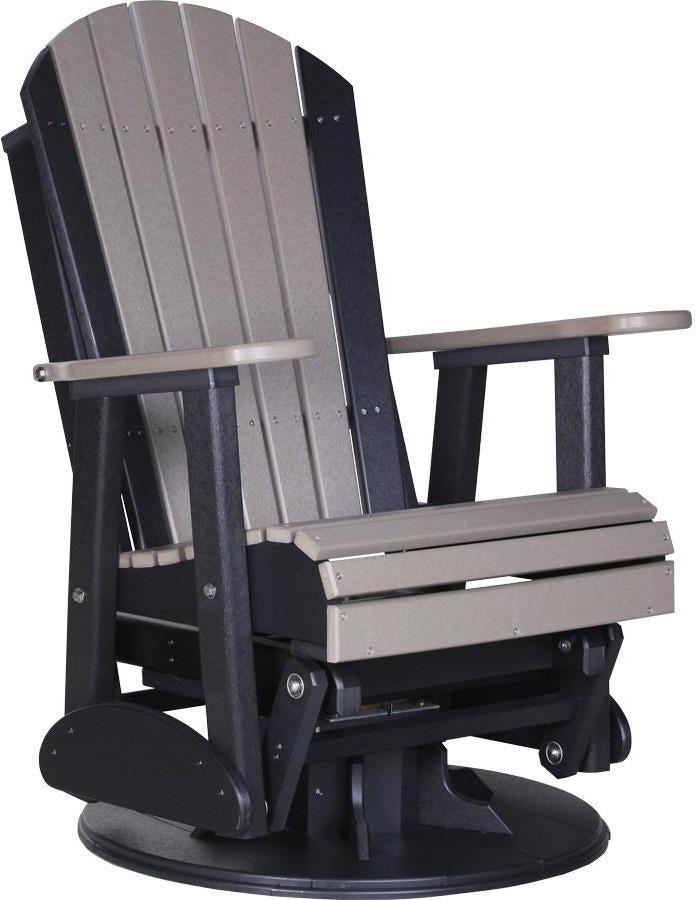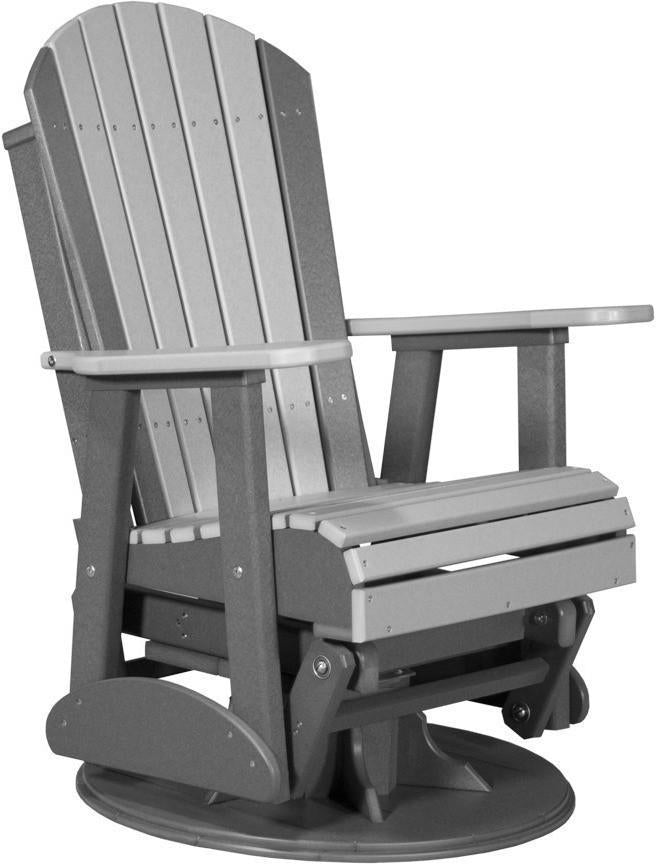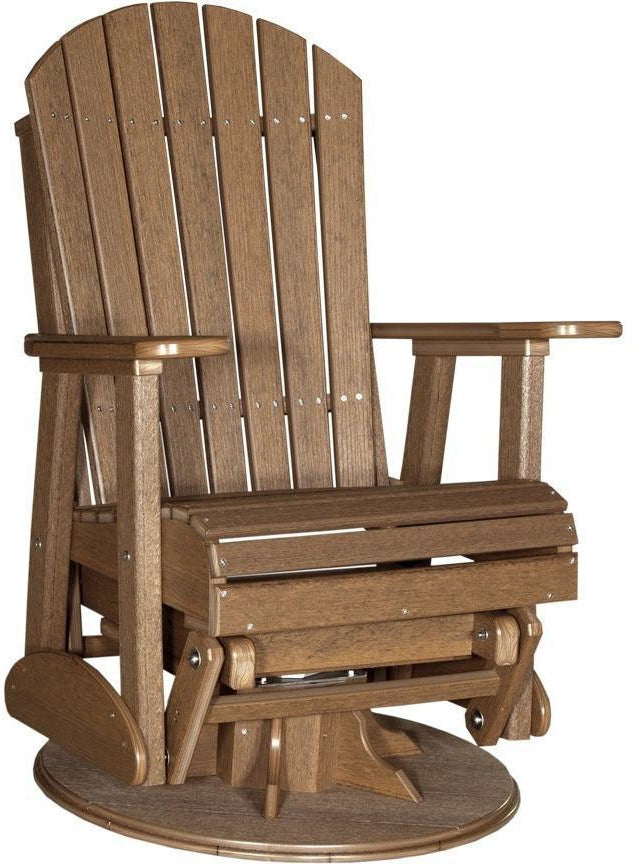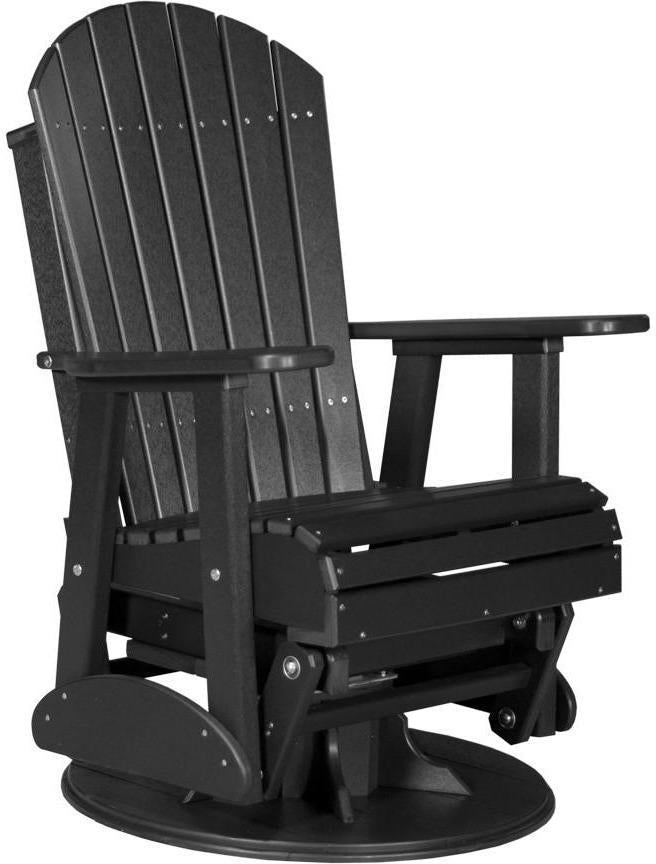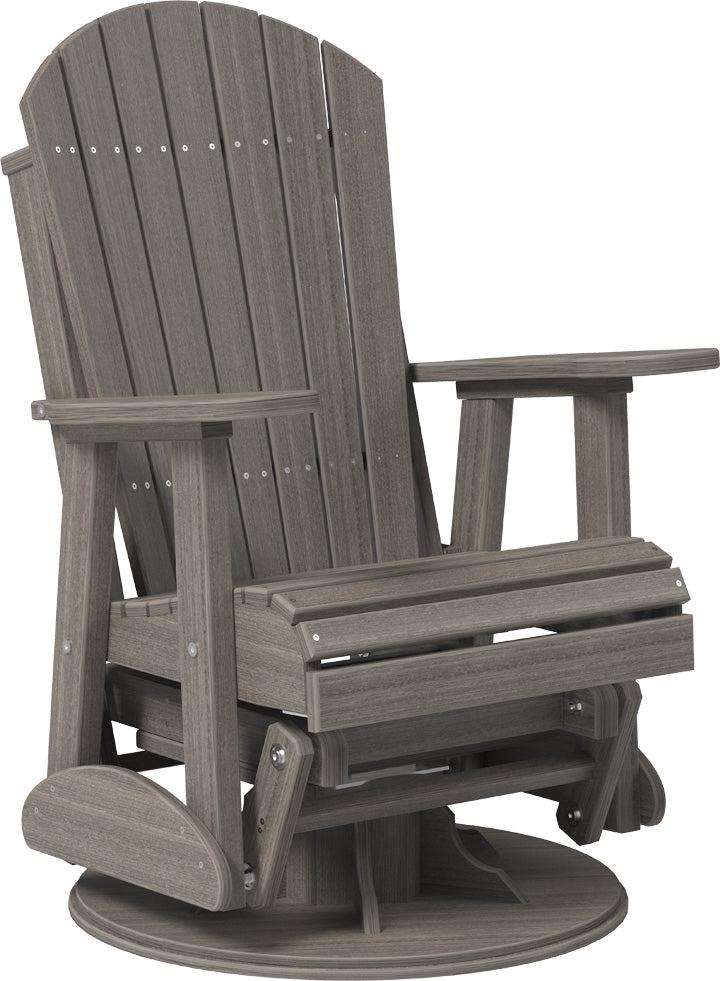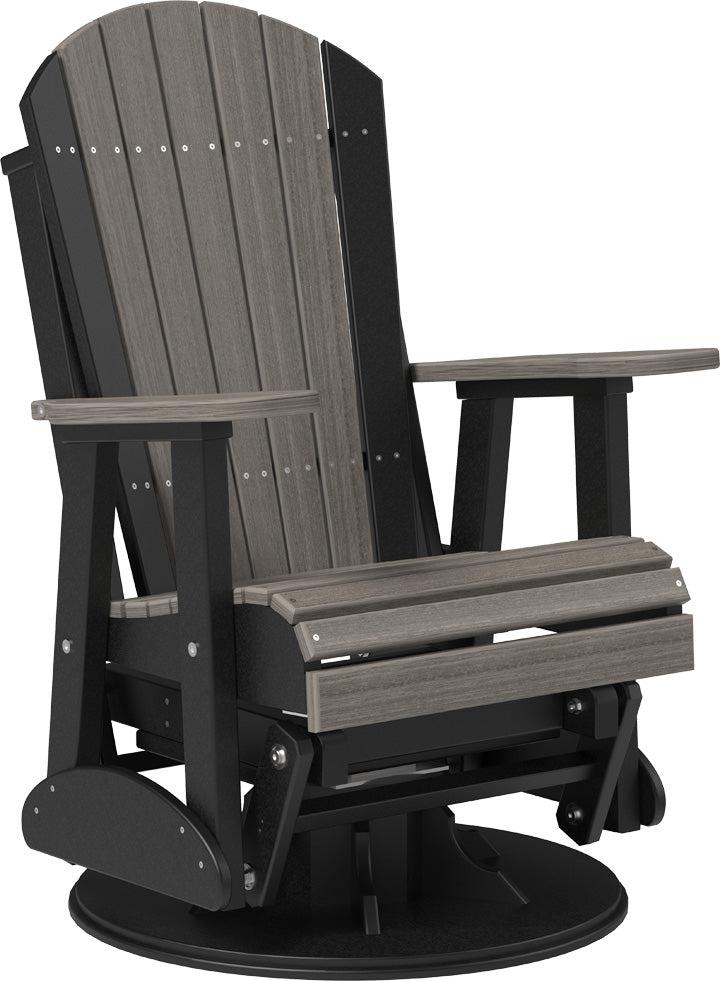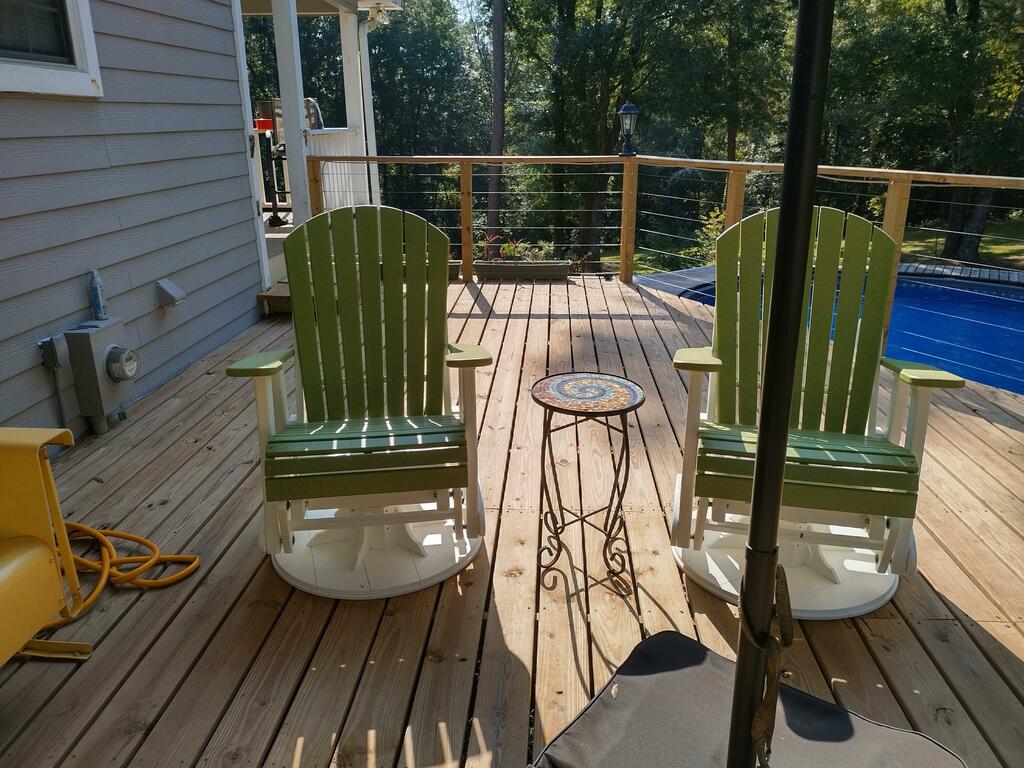 FREQUENTLY ASKED QUESTIONS
Are glider rockers good for your back?

Yes, glider rockers work amazing for your back as they relieve back pain and arthritis. Rock your chair back and forth to increase blood flow- resulting in a chain reaction of sending oxygen to your joints. 

Can I stop a swivel chair from turning?

Yes, you can stop a swivel chair from turning. You can use the in-built lock. If your chair doesn't have a lock, you can fit a small rubber wedge under the chair and hammer it gently into the base to create a seal between the chair's base and the pole. The wedge will cause friction, limiting the chair's range of motion.

How do you lubricate a swivel chair?

You can use oil, silicon, spray, or grease oil to lubricate a swivel chair. 

How do you stop a swivel chair from squeaking?

Chairs squeak when there is a rusty spring, wheel, screw, or bolt. You can fix your squeaking chair by removing the rust from time to time with oil or lubricant. 

Why does my swivel chair keep sinking?

Ensure that you have locked the position of your swivel chair properly. If the chair is sinking even after that, there are huge chances that the cylinder is no longer working.