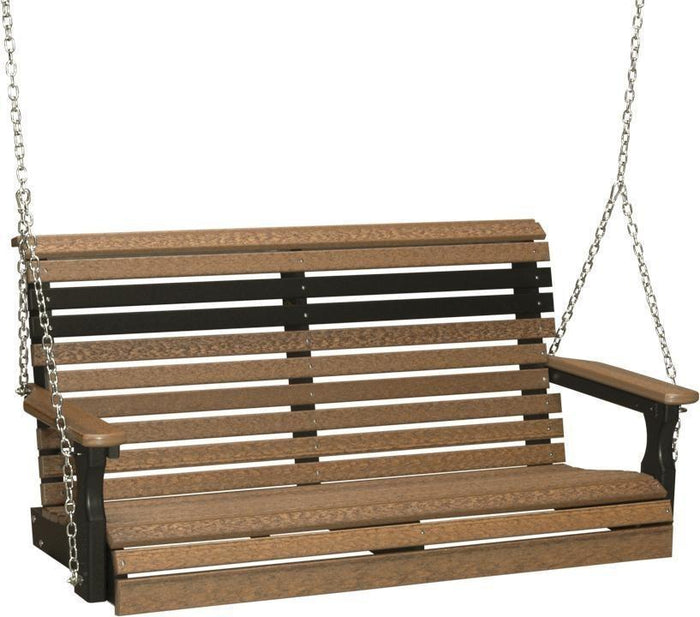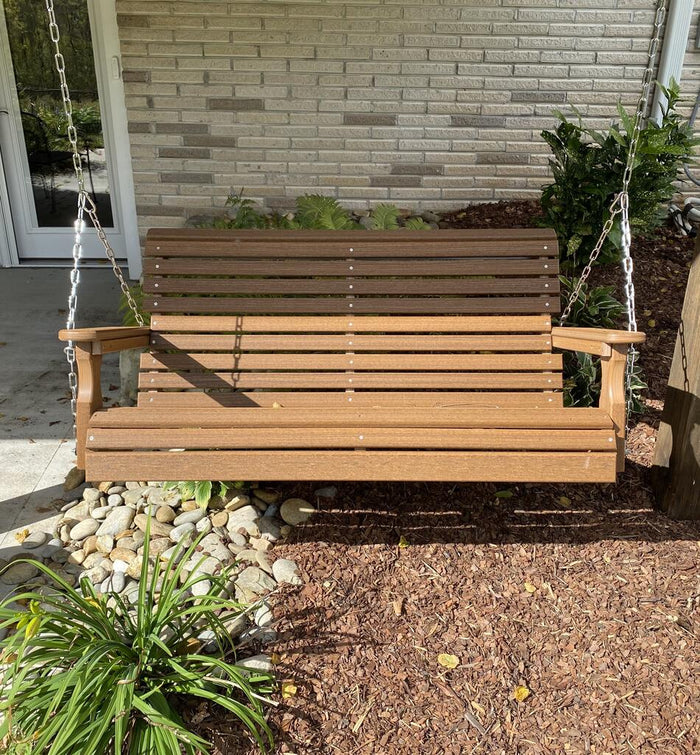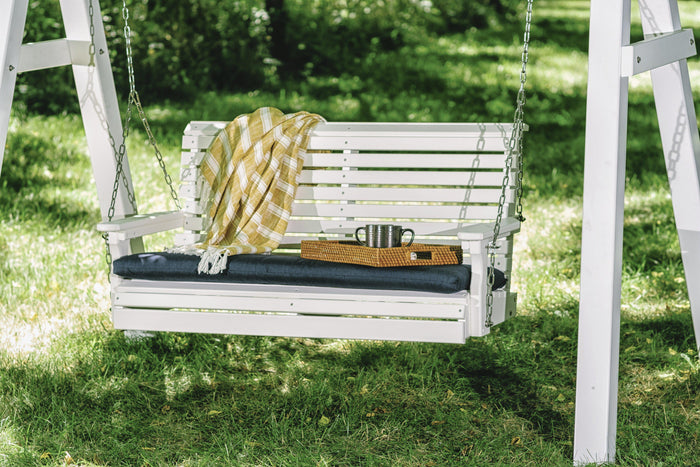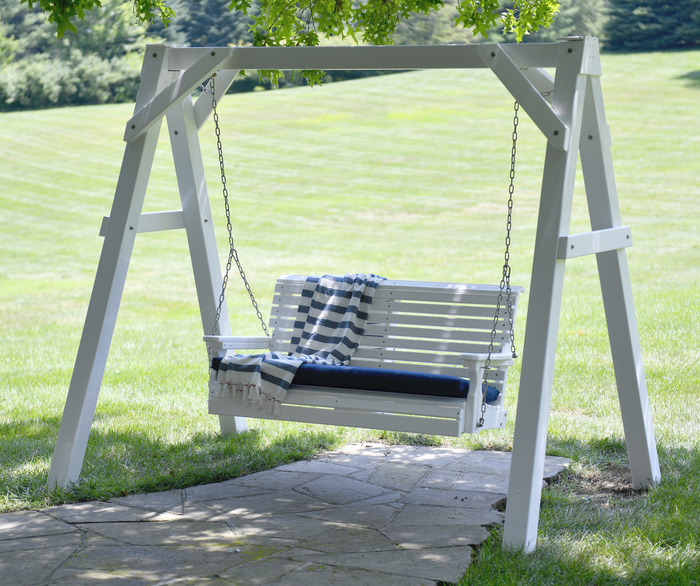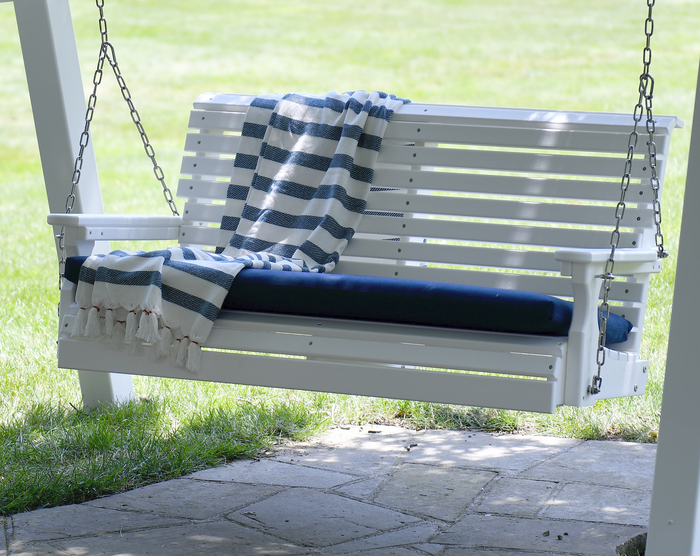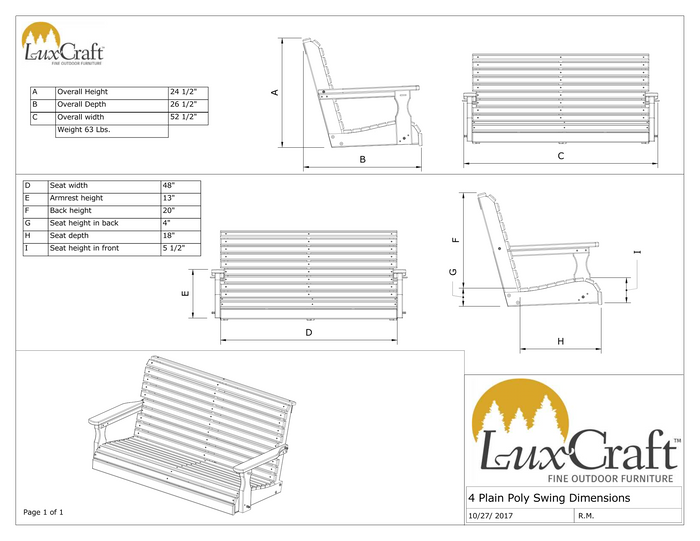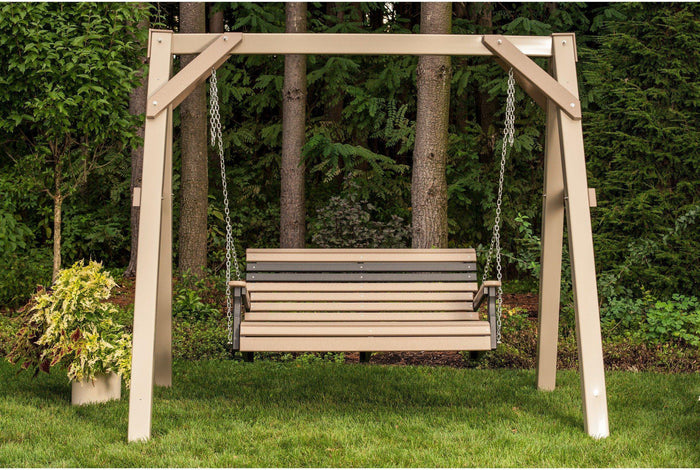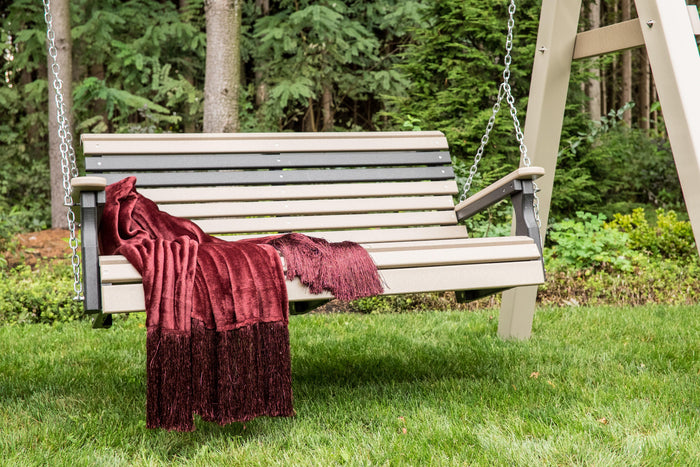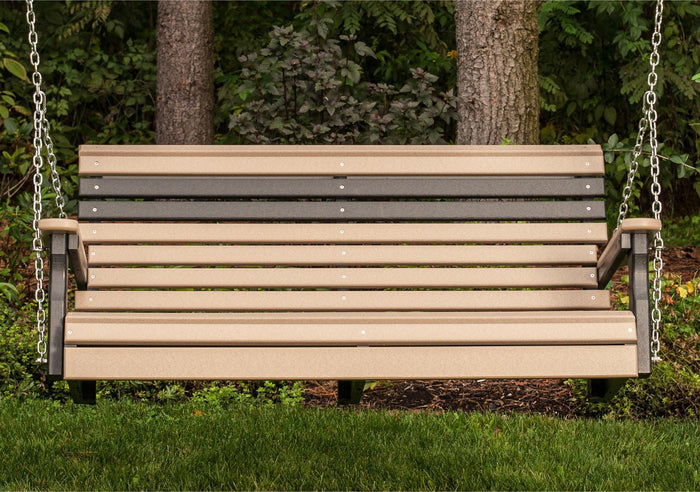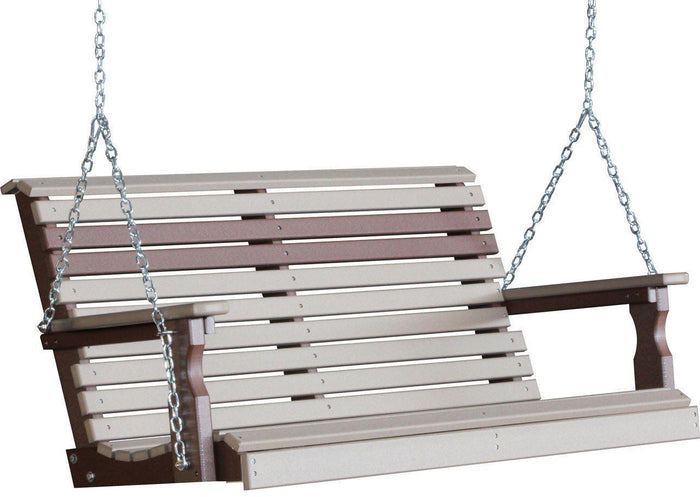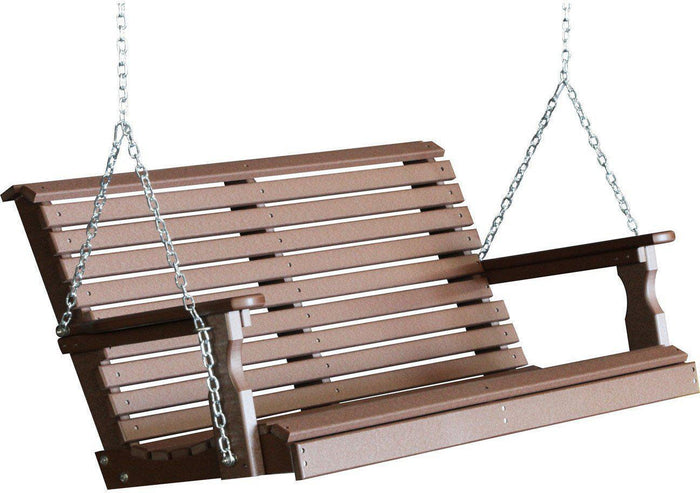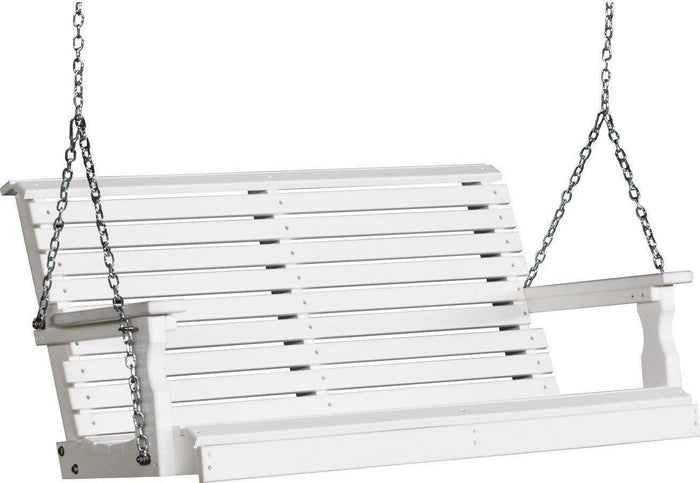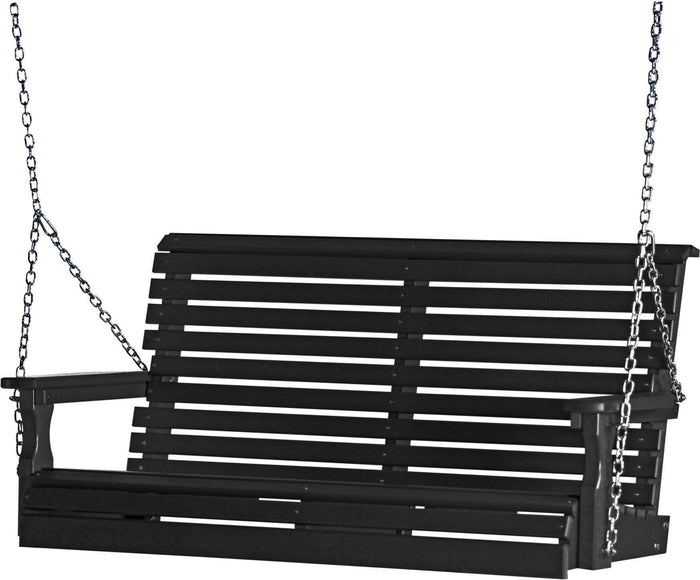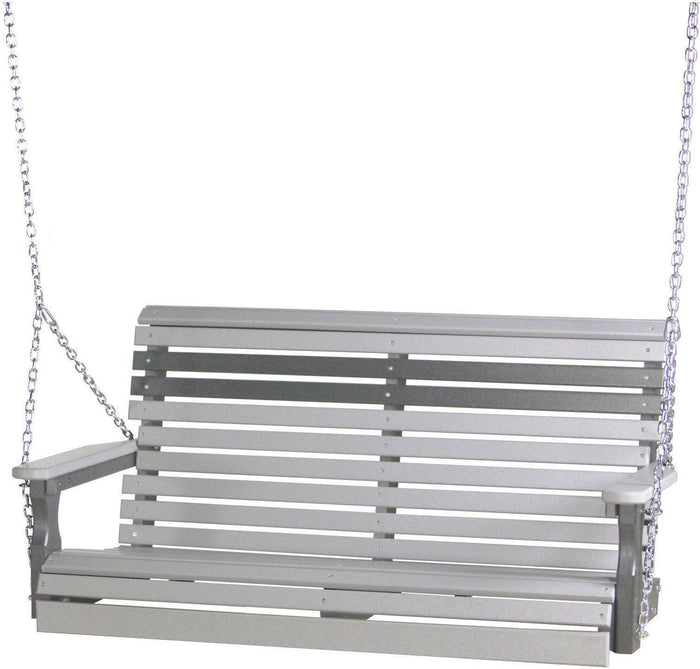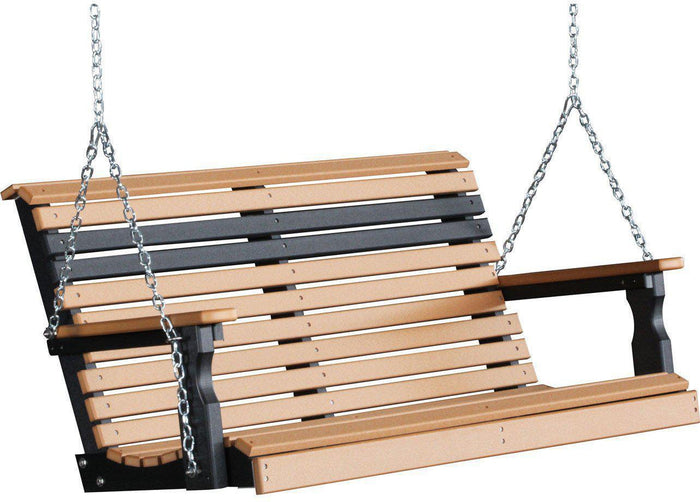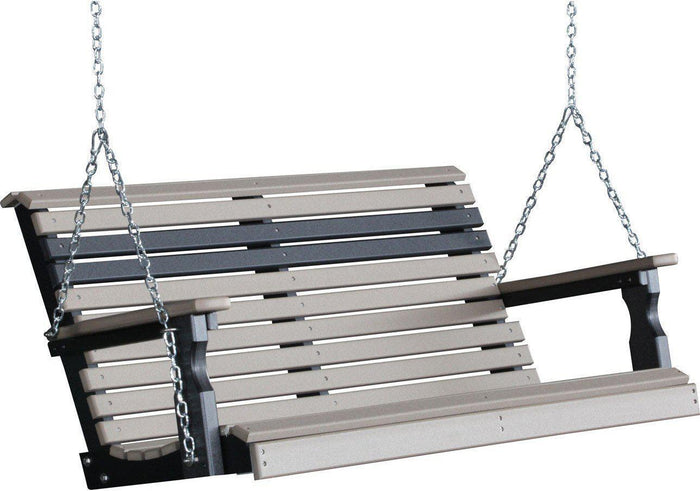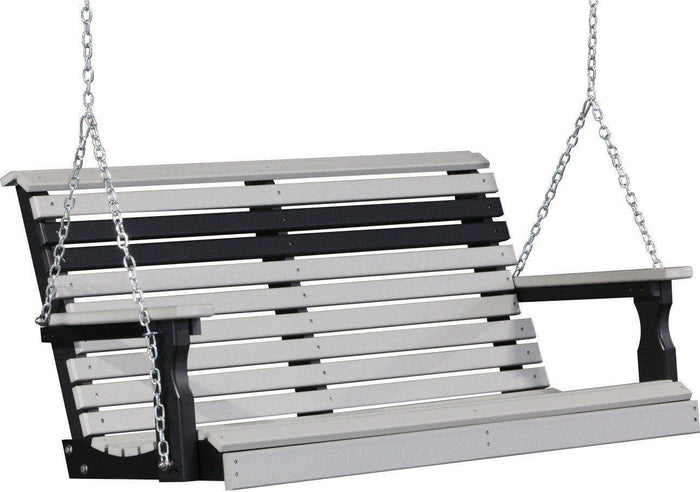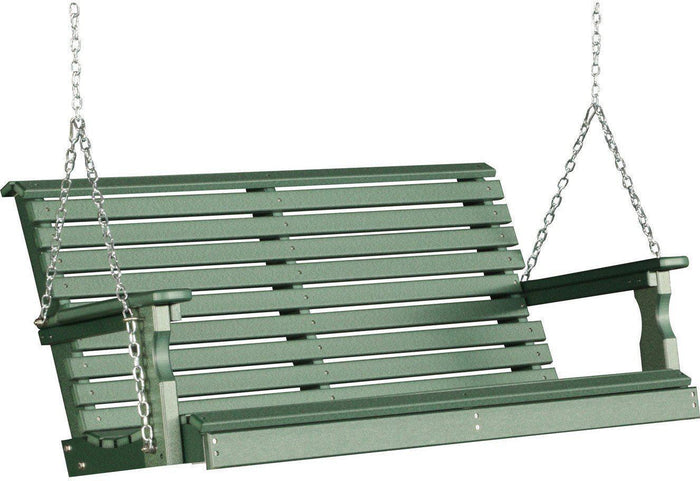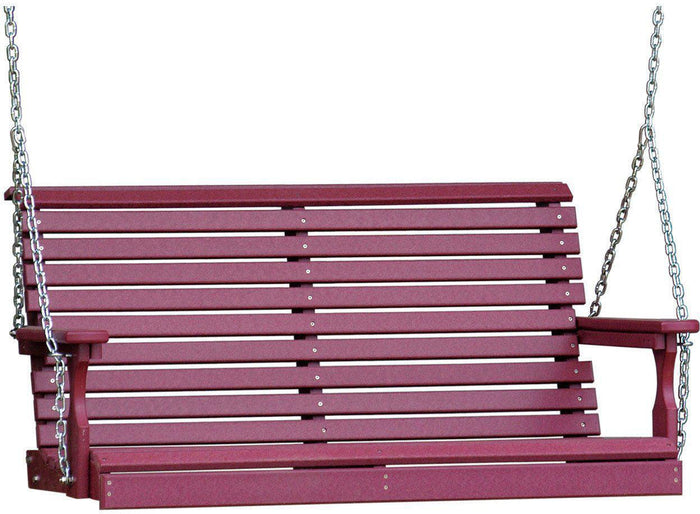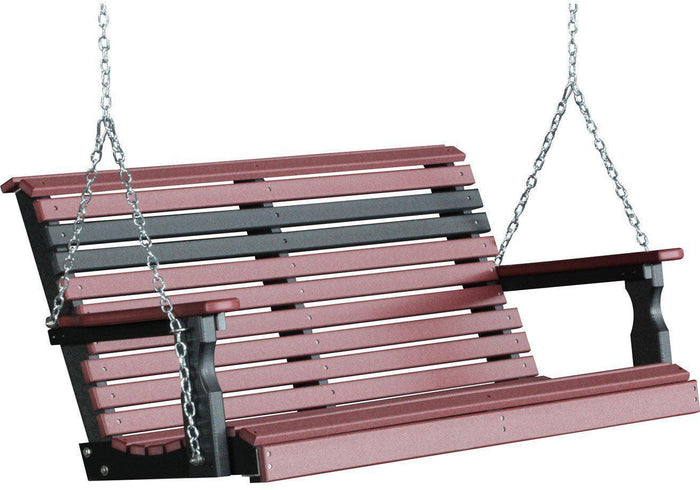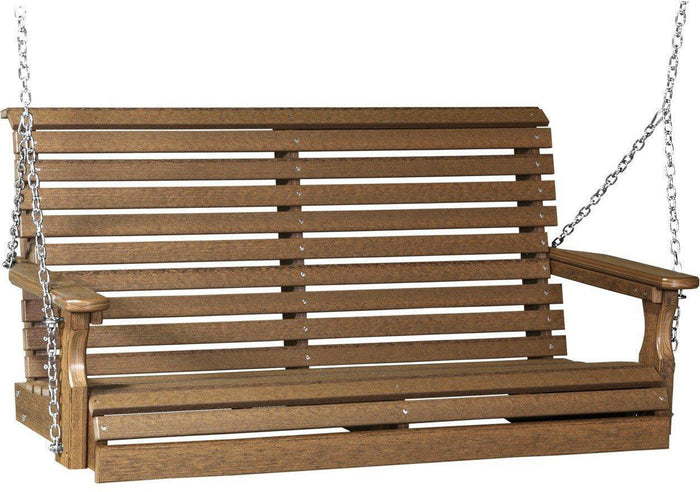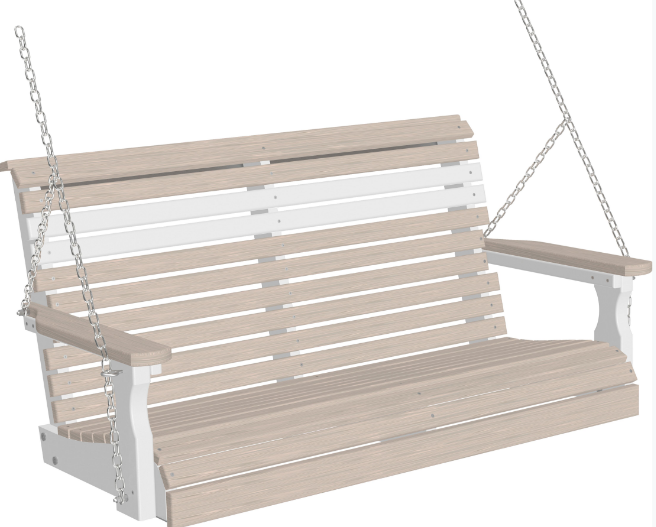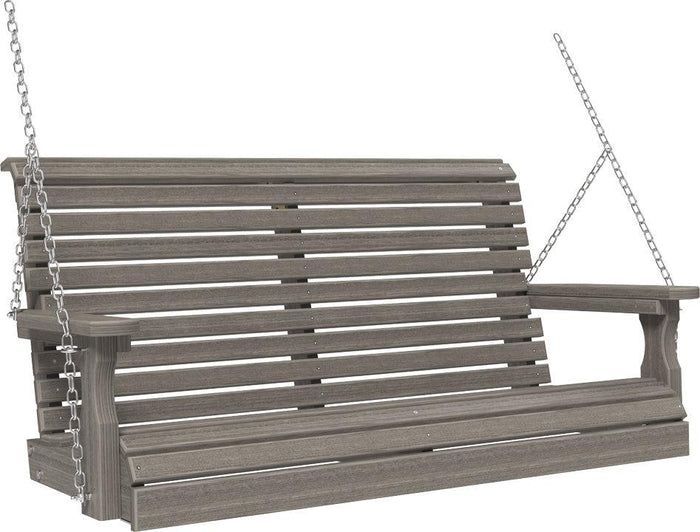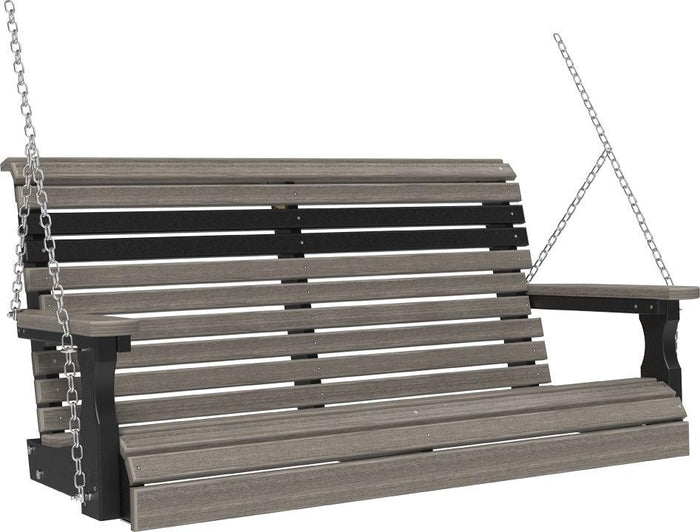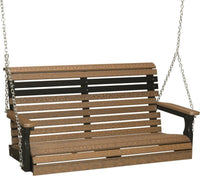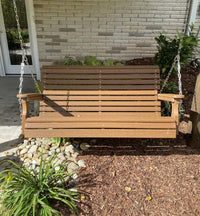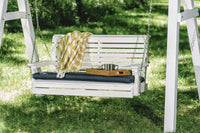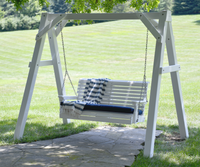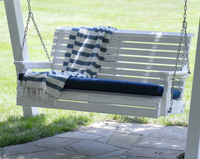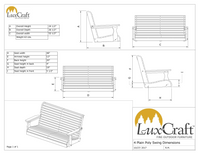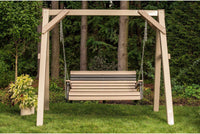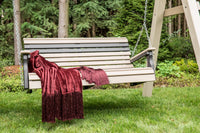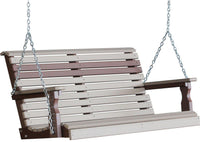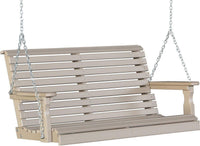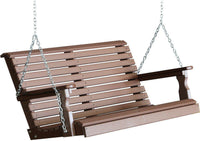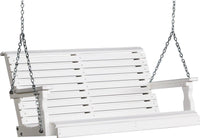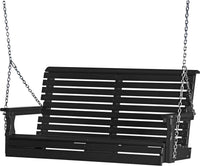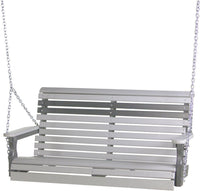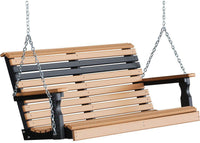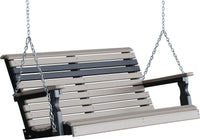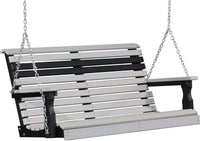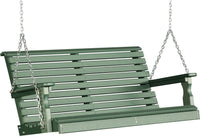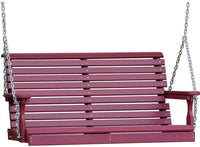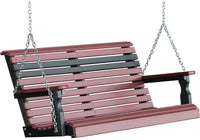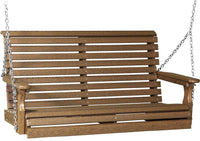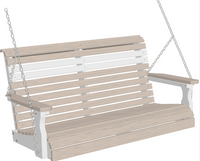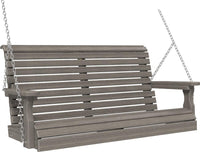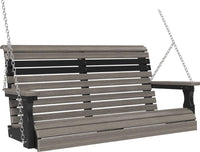 Luxcraft
4PPS-Weatherwood-on-Black
LuxCraft Rollback 4ft. Recycled Plastic Porch Swing - LEAD TIME TO SHIP 10 TO 12 BUSINESS DAYS
Regular price
Sale price
$ 642.17
Unit price
per
Sale
Sold out
Free Shipping on All Products

FreeShipping*

30 DayGuarantee

100%Satisfaction

ExpertStaff
KEY FEATURES

Reviews

QUESTIONS & ANSWERS
CLICK HERE  For Free Poly Color Samples
It's simple; it's elegant; it's effortlessly beautiful and it's ready to play a central part in your outdoor living space. The Luxcraft Rollback 4' Poly Porch Swing is perfect when you want a haven that will blend in nicely with the lush surroundings without calling attention to itself, letting you sit back, relax , and enjoy all that Mother Nature has to offer. (HANGING HARDWARE SOLD SEPARATELY)
CLICK HERE for Matching Cushions and Accessories
BENEFITS:

 Seats 2 with Room To Spare, Rolled seat and backrest for superior comfort.

FEATURES:

  8' Heavy Duty Stainless Steel Hanging Chains Included, Reinforced with aluminum angle braces for added strength, Stainless steel hardware,Virtually maintenance free durable 100% recycled plastic will not crack, splinter, warp, or rot -U.V. stabilized for fade-resistance

WARRANTY:

 Lifetime Residential Warranty, 5 Year Commercial Warranty, ..... MADE IN USA!
CLICK HERE for Assembly Instructions
CLICK HERE for Spec Sheet
| | |
| --- | --- |
| Dimensions: | 53W x 29D x 23.5H in , |
| Inside Seat Dimensions: | 48W x 18D in , |
| Armrest Height: | 8.5 in ,  |
| Weight Capacity: | 800 lbs per side |
| Weight: | 63 lbs , |
| Assembly: | Assembly Required , |
| Material: | 100% recycled plastic  / Stainless steel hardware |
WHAT EXACTLY IS POLY?
Environmentally-Friendly
Poly is High Density Polyethylene (HDPE), a recyclable plastic derived from post-consumer waste such as milk and detergent bottles. This material is cleaned in a decontamination process to a purity level of over 99% HDPE, then compounded into solid board stock material. The resulting product contains over 90% recycled post consumer waste by weight.
Will Not Deteriorate
Exceptional resistance to moisture, fading, insects, splinting, warping and other hazards of environmental exposure common to wood or wood fiber composite products.
Retains Vibrant Look
High color stability UV pigment systems which minimize material breakdown from prolonged sun and weather exposure.
Essentially Maintenance-Free
Requires no waterproofing, staining, or other similar recurring maintenance other than an occasional washing with soap and water.
ABOUT THE MANUFACTURER
Founded in 1990 Luxcraft began as a small business in the corner of a barn, exclusively manufacturing outdoor wood furniture. In the years that followed, as Luxcraft's product line expanded to include porch swings, rocking chairs, rocker gliders and adirondack chairs, our facilities and dealer base grew accordingly. Flash forward to present day and you'll find our products being made in a 56,000 square-foot shop before being distributed to hundreds of dealers throughout the US and Canad
a. 

So what distinguishes LuxCraft from other outdoor product manufacturers? Our first priority is quality, and all structures are built to last. With 60,000 square feet of warehouse space we stock over 30,000 items for immediate shipment year round.

Although LuxCraft is now operating on a much larger scale, our core values remain the same. Each transaction is handled with integrity and focus on customer service. We build our products with emphasis on durability and longevity, then price it accordingly. Best of all, LuxCraft products are made right here in America so buying our products you're not only improving your outdoor space, but boosting the US economy as well.
Great product!
Easy to assemble, incredibly durable, easy to clean, and has a super solid build. Because of the material it is made from it is to the heavy side for a porch swing, so having someone to help you hang it is handy. Highly recommend!
Great porch swing!
Super solid build. Great looking! Instructions for putting it together were well done.
So far we are very happy
Our rocking furniture porch swing was easy to put together and hang. The only issue was that because of the height of our porch ceiling the chains were too short. We called Jeffrey at Rocking Furniture and they were able to send us chain extensions for $37. We recommended that they add the length of the chains to the website to avoid such issues in future. The swing looks great, it is comfy and we are very happy with it! The best part- we don't ever have to paint it!
Thank you Claudia. We have enhanced our product description. Thank you for your review and thank you again for your order.
Have a great weekend
Jeffrey
Luxcraft Porch Swing
This was my first experience with Rocking Furniture but it will not be my last. From the time my order was placed to receipt on my door step was three days. The swing came in four pieces and was a snap to put together. I am very pleased with my Luxcraft swing. The build quality is excellent and I expect to get years of service out of the swing. I'm very glad I did not go with a wooden swing option, and opted to buy this swing. Excellent overall experience.
Love Our New Deck Swing!
We needed a recycled plastic swing over a wooden swing because it's out in the open on our deck. Ordered samples - which were free of charge - and they were shipped within a few days. That really helped me determine my color choice as well as see the quality of the material of this product (LuxCraft). So order samples if you want to see what this swing is made of. I got the weatherwood color and it's the perfect match for the wood on my deck. I like the style of this swing - it's just your basic swing - and the comfort of the rounded edge of the swing seat plus the fact that the chain doesn't go through the arms. I ordered the swing on Tuesday and by Saturday we had it up! The assembly was pretty quick and easy. We didn't get the springs and I don't think we will need them. We already had hooks in place from a previous swing so we didn't ordered them either. Looking forward to many years enjoying this maintenance free swing. Made in the USA and a lifetime warranty - always a plus!
Do you have 5 ft swings plus cup holders

Hello Sara
Please find below links to Luxcrafts 5' Porch Swings with flip down center cupholder console. You can also add cupholders tto the armrests if you wanted.  Please let us know if we can answer any other questions. 
Have a great week
Jeffrey


https://www.outdoorsrockingchair.com/collections/luxcraft-fine-outdoor-furniture/products/luxcraft-adirondack-5ft-recycled-plastic-porch-swing

https://www.outdoorsrockingchair.com/collections/luxcraft-fine-outdoor-furniture/products/luxcraft-rollback-5ft-recycled-plastic-porch-swing

https://www.outdoorsrockingchair.com/collections/luxcraft-fine-outdoor-furniture/products/luxcraft-classic-highback-5ft-recycled-plastic-porch-swing

What are the dimensions

HERE IS A LINK TO THE SPEC SHEET
https://cdn.shopify.com/s/files/1/0814/7461/files/4_Plain_Poly_Swing_Dimensions_1.pdf?v=1584171117





Dimensions:
53W x 29D x 23.5H in ,
Inside Seat Dimensions:
48W x 18D in ,
Armrest Height:
8.5 in , 
Weight Capacity:
800 lbs per side
Weight:
63 lbs ,
Assembly:
Assembly Required ,
Material:
100% recycled plastic  / Stainless steel hardware

| | |
| --- | --- |
| Dimensions: | 53W x 29D x 23.5H in , |
| Inside Seat Dimensions: | 48W x 18D in , |
| Armrest Height: | 8.5 in ,  |
| Weight Capacity: | 800 lbs per side |
| Weight: | 63 lbs , |
| Assembly: | Assembly Required , |
| Material: | 100% recycled plastic  / Stainless steel hardware |