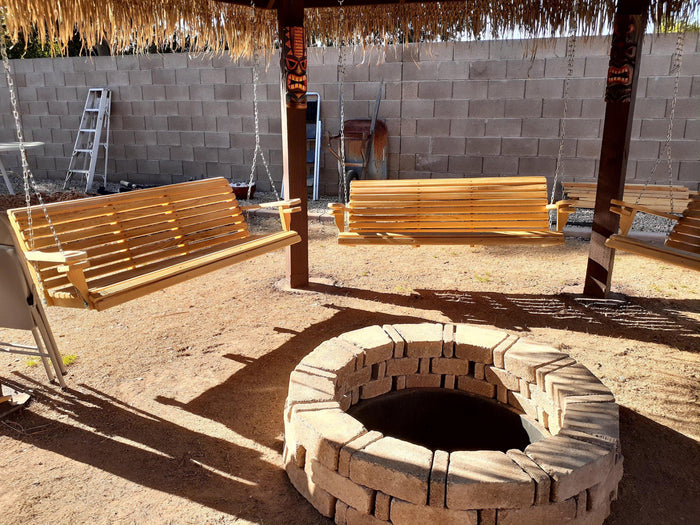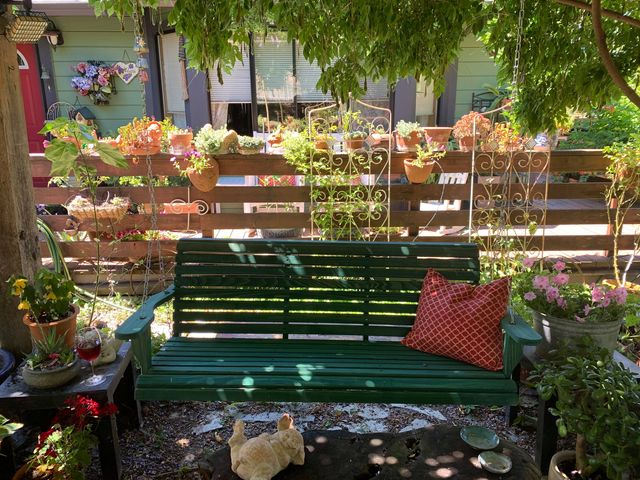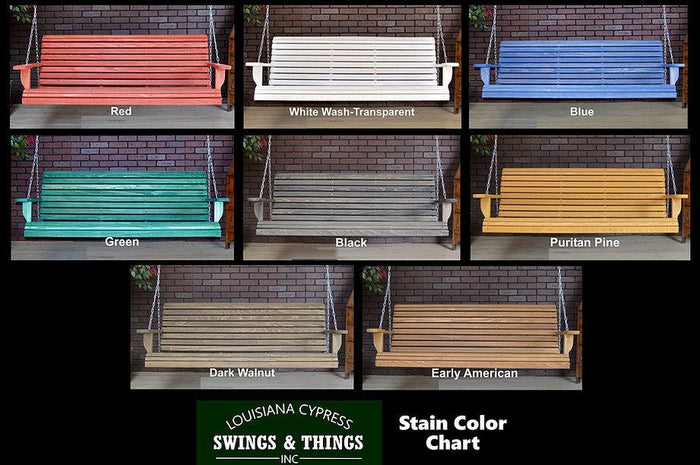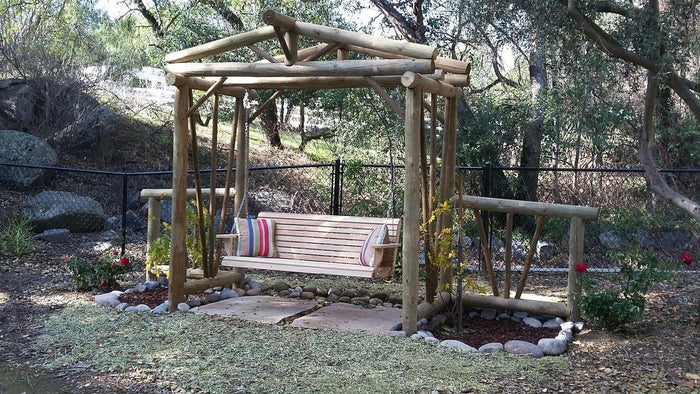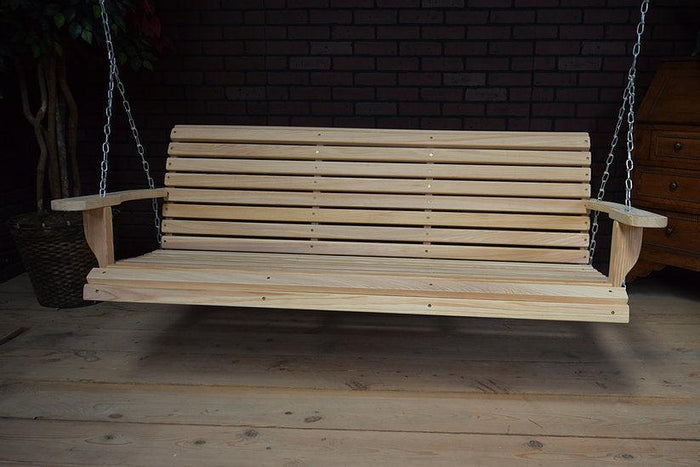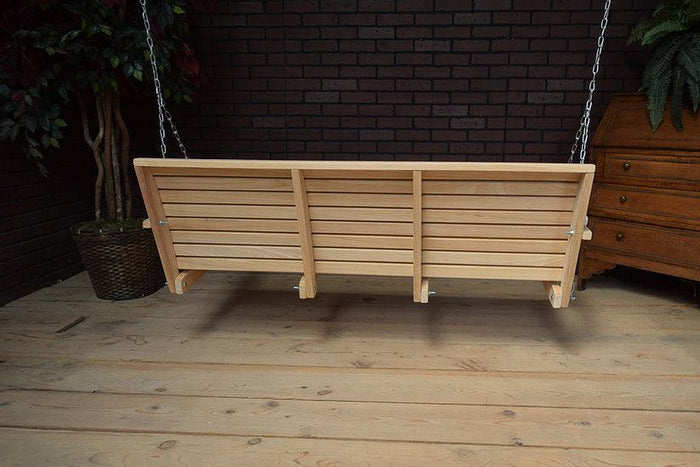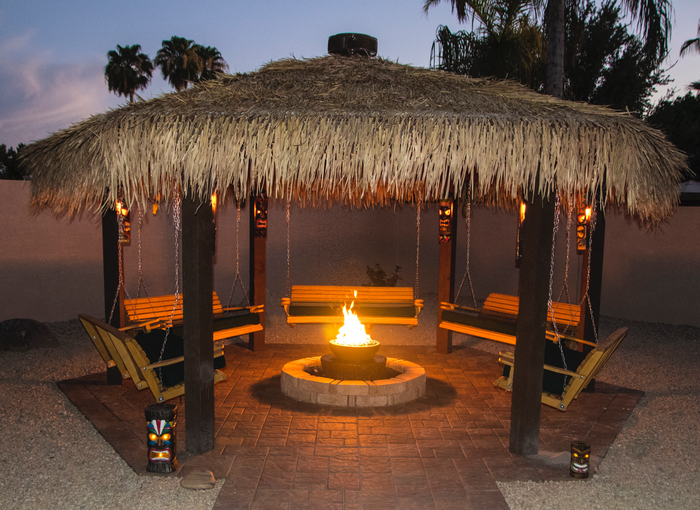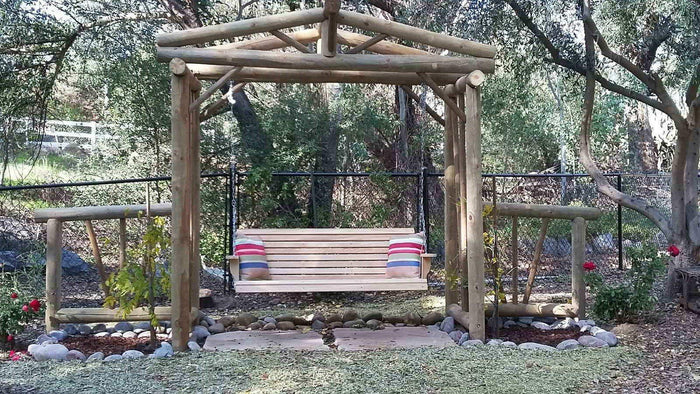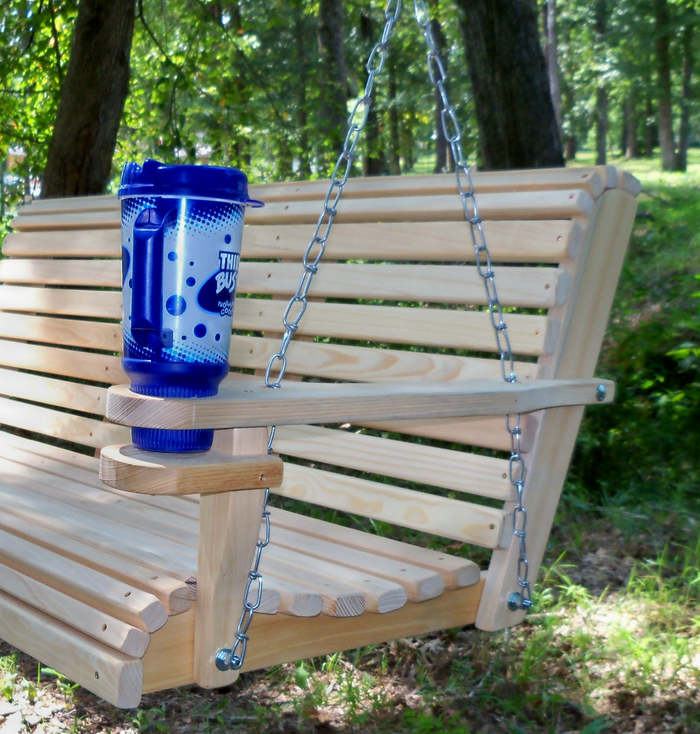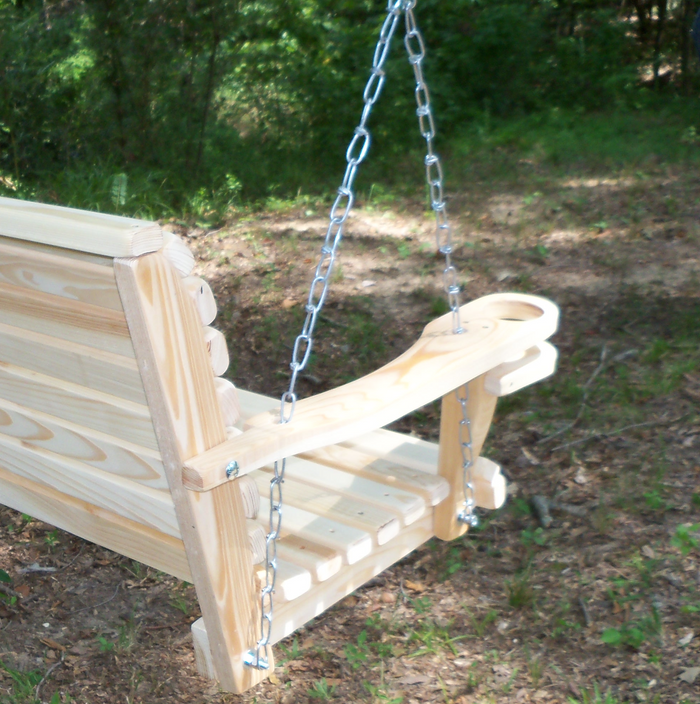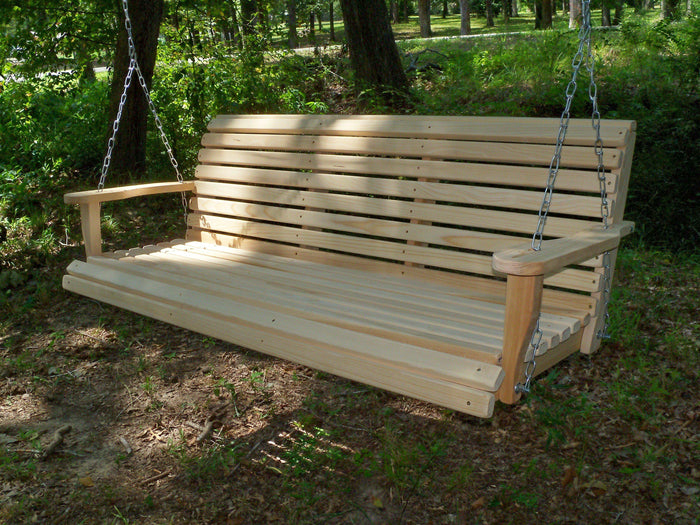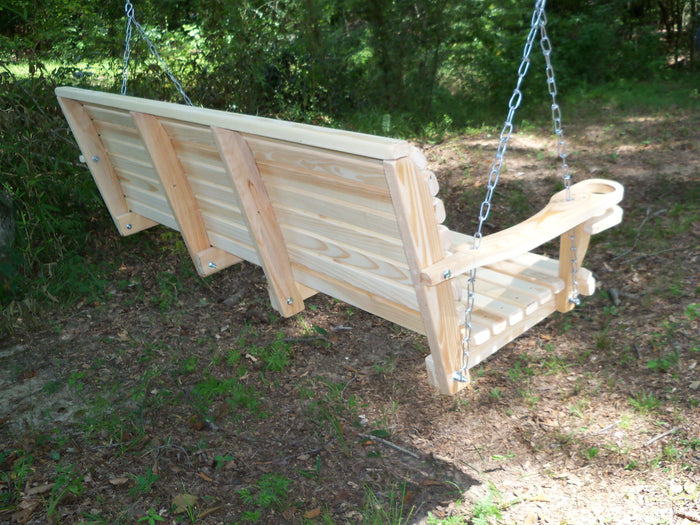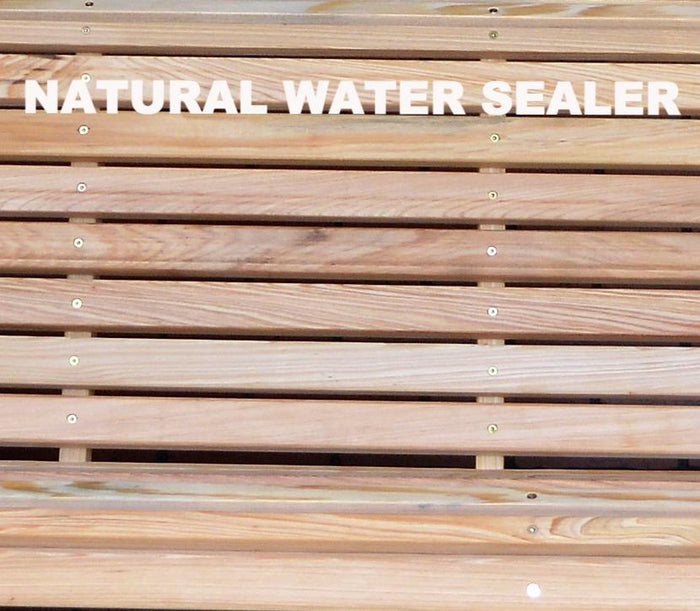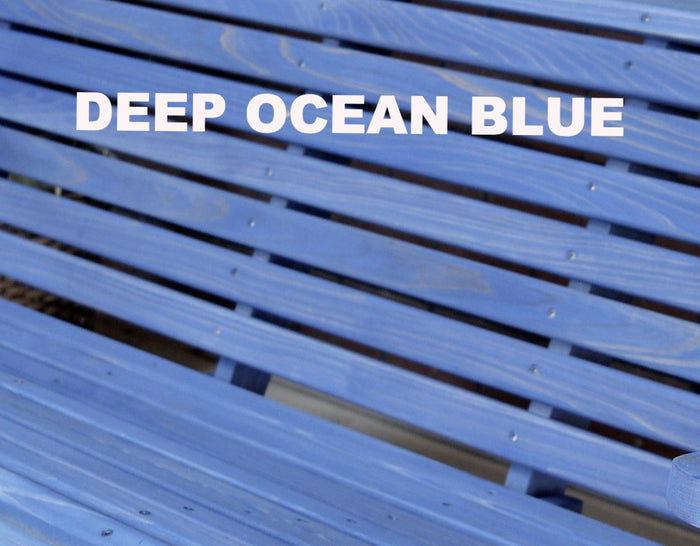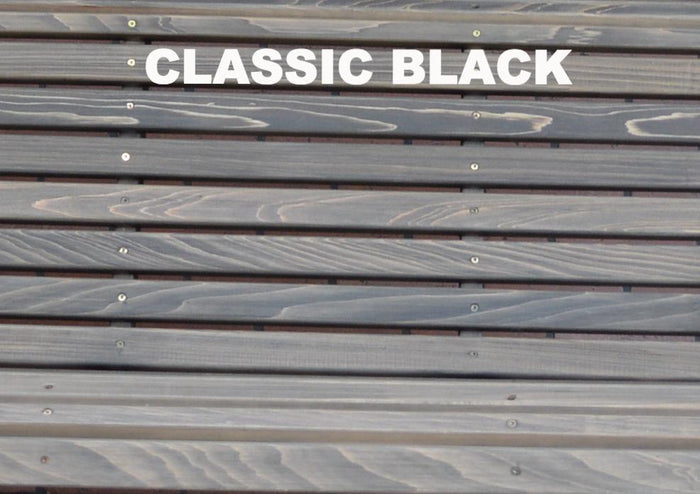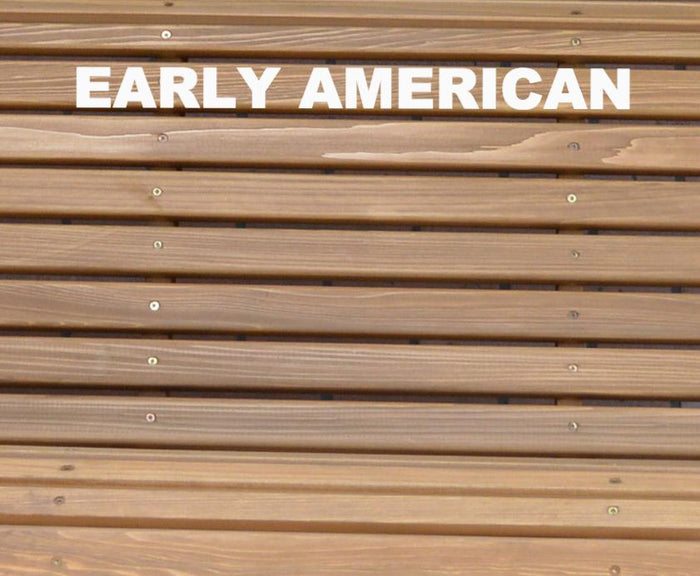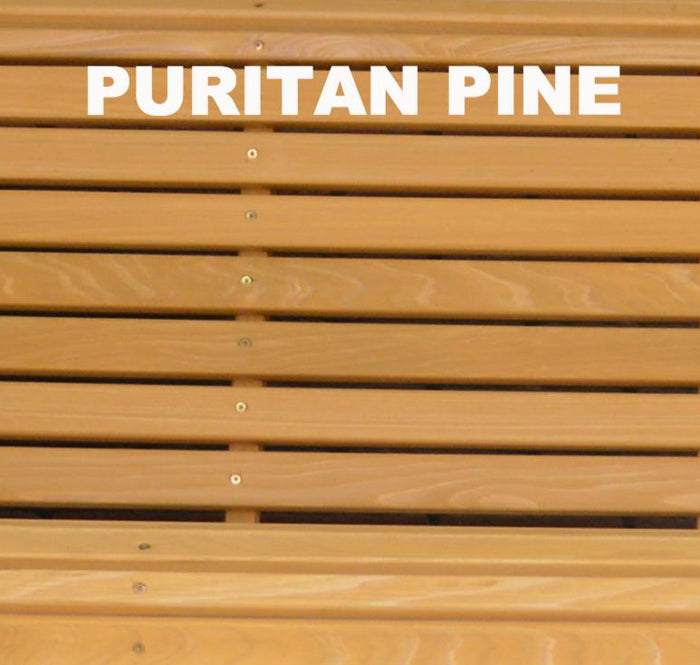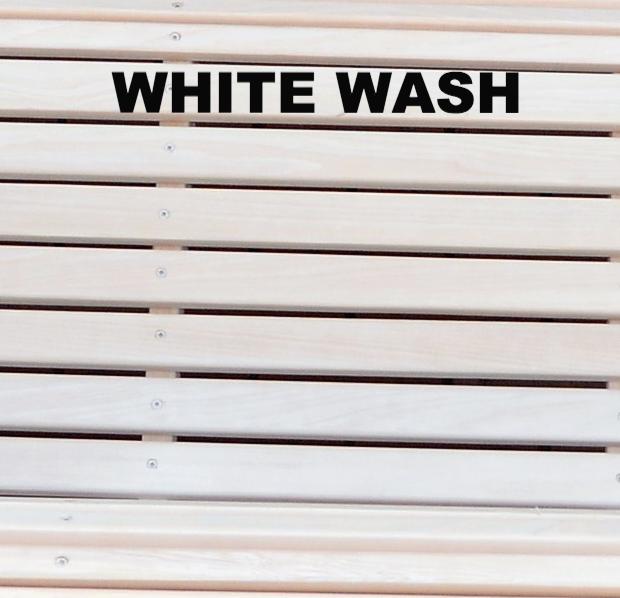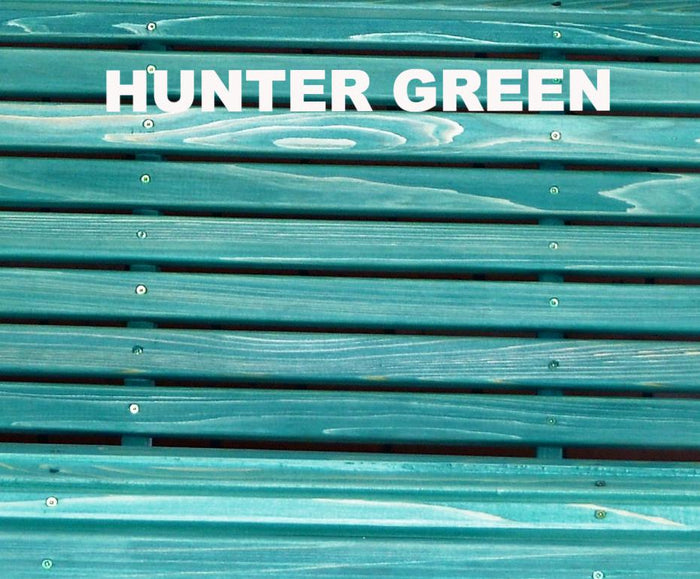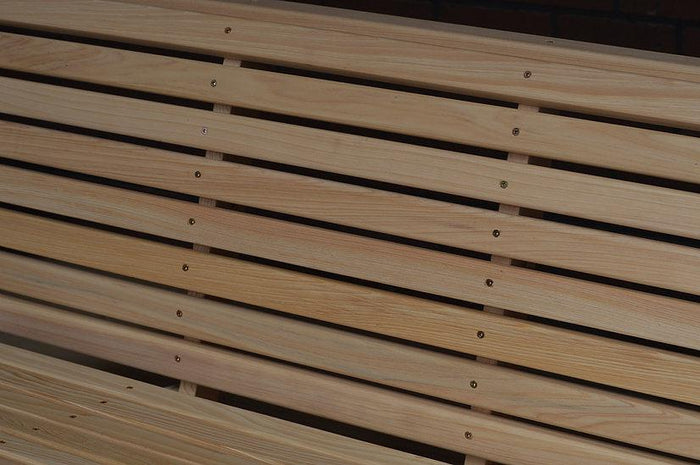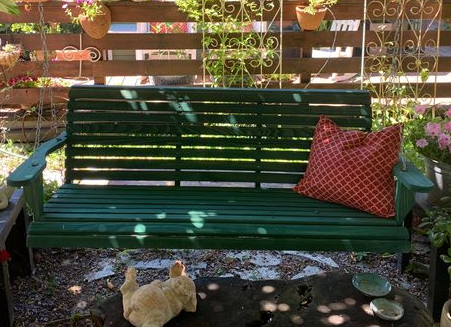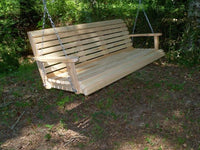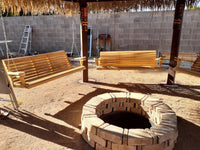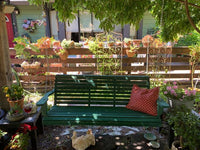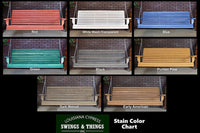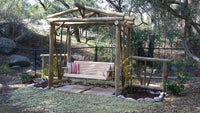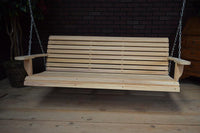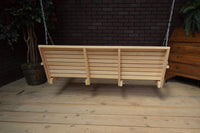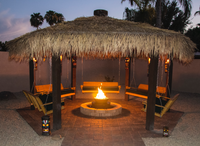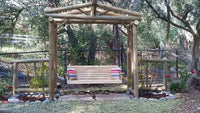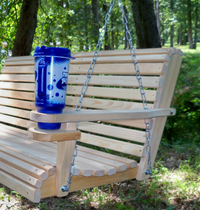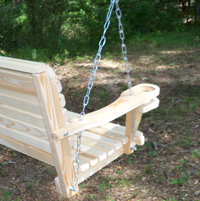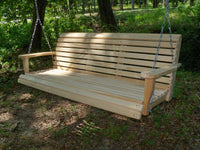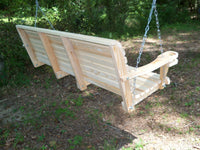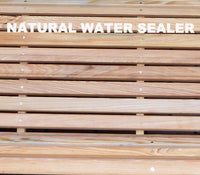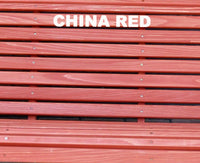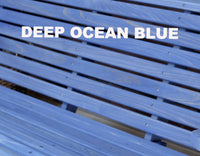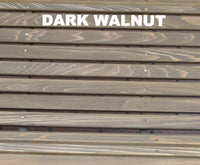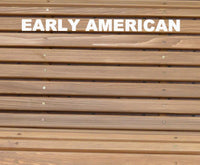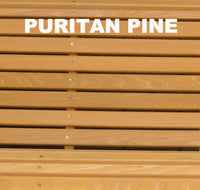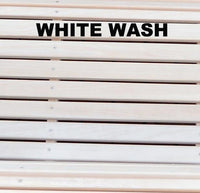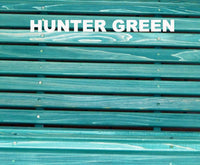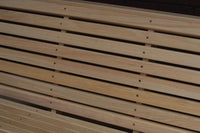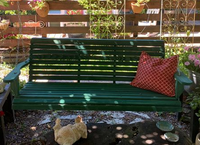 LA Cypress Inc.
CRS5-UNFINISHED
LA Swings Inc 5ft Cypress Regular Porch Swing - LEAD TIME TO SHIP (UNFINISHED 7 BUSINESS DAYS) - (FINISHED 15 BUSINESS DAYS)
Regular price
Sale price
$ 286.40
Unit price
per
Sale
Sold out
Free Shipping on All Products

FreeShipping*

30 DayGuarantee

100%Satisfaction

ExpertStaff
KEY FEATURES

ABOUT LA CYPRESS

Reviews

QUESTIONS & ANSWERS
CLICK HERE For Hanging Hardware
These are beautiful Cypress Porch Swings built to last with quality and pride, hanging chains included. 100% hand crafted from cypress lumber (The Eternal Wood). Our slats are 1 inch thick and 1 3/4 inches wide routered (no sharp edges) and finish sanded on all sides and ends for your safety and comfort . Large very sturdy heavy duty frame. The slats are screwed (NOT STAPLED) to the frame and the frame is bolted together with 5/16 inch bolts the bottom of the swing is beautifully contoured for your sitting pleasure. Our swings come unfinished and may be left unfinished to weather to a beautiful barn wood grey, or decorate as you choose. We use galvanized and zinc plated hardware which are rust resistant. Cypress is known as the "Eternal Wood" it is naturally insect so you do not have to paint, stain or water seal it if you choose not to.
| | |
| --- | --- |
| OVERALL DIMENSIONS: | 60W x 27D x 21H in. |
| INSIDE SEAT DIMENSIONS: | 56"W X 19"D |
| WEIGHT CAPACITY: | 500 lbs |
Contoured seating adds extra comfort

Available in 8 stain finishes

Smoothly sanded & rounded edges

Standard chains and hooks included

Cypress known as "Eternal Wood" - made to last and age with you

Naturally insect repellent

Do not "have" to stain or seal - but always a nice option

Galvanized and zinc plated hardware included

Requires minor assembly - instruction included

Proudly made in the USA!
WHY CYPRESS
Cypress has a natural preservative oil known as cypressene, which gives the wood natural resistance to insects and decay. With a suitable surface treatment, cypress wood offers has superior durability, holding paint well and resisting weather. Cypress is a beautiful, distinctive, and durable wood that assures years of trouble-free satisfaction and its uses reflect that. In addition to rugged outdoor furniture, cypress is regularly used in building construction, posts, beams, decks, docks, porch flooring, greenhouses and siding. Because of its durability, cypress can be used in many of the same products as cedar and redwood. Cypress is all but indestructible. It is a close-grain wood that resists checking and warping, and it is long-lasting as well as weather-resistant. Cypress can be easily painted and holds paint longer than other wood. If you choose to paint this product, you should use an exterior oil-based primer (white or gray) followed by an exterior oil or latex paint of your choice. If you choose to have the product remain natural, you should apply a natural oil-based stain or preservative annually or as needed. Note: Cypress is a dense wood and the drying process may take several days depending on humidity and temperature. Small cracks called weather checking may appear in the wood. This is a natural process and will not affect the useful life of this product.
The Brooks family, officially opened Louisiana Cypress Swings and Things Inc. 2006 years ago, turning our backyard hobby into a full blown business. We have always felt that swings are the perfect way to bring the entire family together. This desire to be together with our family is the reason that we're in business. We want everyone to share this experience of spending quality time relaxing with the family, and this feeling is demonstrated in our motto: "We believe the world would be a kinder, gentler place if more people had a porch swing."
Beautiful and quality built. Highly recommend.
Not the best packing/quality/setup
Box was received in poor condition from the shipper, box warns not to refuse or face fees/charges. Minor damage to some of the parts but we fixed it-could have been packed and protected better. Had to go to Lowe's to buy sufficient chain so the swing wasn't too high. Not too impressed. Wood seems to be of good thickness
Just a swingin
Thank you for making a perfect swing. I'm 78 and was able to complete the assembly and build a frame for it by myself with little effort.
What is the shipping weight on a 6 ft swing ?

Hello ronny
The shippinng weight is 50 lbs

Please let us know if there is anything else we can assist you with.

Happy Thanksgiving
Jeffrey

What is the length of these swings? I measured the distance between the hooks and it is 52 inches.

Hello Deb

Here are the specifications for this swing



Over all Dimensions: Length 60" x Height 19" x Width 18.5
Inside Seat Dimensions: 18 X Deep 19 High Back 56 Wide Back


Please let us know if theree is anythiong else we can assist you with

Have a great Week
Jeffrey

I just bought a unfinished cypress 3seat swing. Is there anything that should be done with the wood before it's painted

Hello Polly

Please find below the answer to your question.  Have a great week

Cypress has a natural preservative oil known as cypressene, which gives the wood natural resistance to insects and decay. With a suitable surface treatment, cypress wood offers has superior durability, holding paint well and resisting weather. Cypress is a beautiful, distinctive, and durable wood that assures years of trouble-free satisfaction and its uses reflect that. In addition to rugged outdoor furniture, cypress is regularly used in building construction, posts, beams, decks, docks, porch flooring, greenhouses and siding. Because of its durability, cypress can be used in many of the same products as cedar and redwood. Cypress is all but indestructible. It is a close-grain wood that resists checking and warping, and it is long-lasting as well as weather-resistant. Cypress can be easily painted and holds paint longer than other wood. If you choose to paint this product, you should use an exterior oil-based primer (white or gray) followed by an exterior oil or latex paint of your choice. If you choose to have the product remain natural, you should apply a natural oil-based stain or preservative annually or as needed. Note: Cypress is a dense wood and the drying process may take several days depending on humidity and temperature. Small cracks called weather checking may appear in the wood. This is a natural process and will not affect the useful life of this product.

What is weight limit and can I pay it out?thanks

Hello Gary

Weight Limit: 500lbs with normal chains and 800lbs with Heavy Duty chain upgrade.

Im not sure what you mean by Pay it out can you clarify?

Have a great week
Jeffrey

Can I get this swing in a 6ft with cup holders ?

Yes you can! Here is a Link to the 6' LA Swings Classic Cypress Porch Swing.
https://www.outdoorsrockingchair.com/products/la-cypress-inc-6ft-cypress-roll-swing-lead-time-5-7-business-days


Please let me know if there is anythiong else I can assist you with

Jeffrey