KEY FEATURES

ABOUT THE MANUFACTURER

Proposition 65

Reviews

QUESTIONS & ANSWERS
PLEASE NOTE: HANGING ROPES ARE COMPATIBLE WITH A&L FURNITURE PORCH SWINGS/SWING BEDS ONLY
CLICK HERE For Hanging Hardware
Weight Capacity 1000 lbs.
Diameter/thickness 3/4" 
100% Polypropylene Film Yarn
Porch Swing Rope is 100% Waterproof, UV Treated & will not get rough on hands
100% Waterproof &UV Treated for Outdoor Use
Last much longer and is softer than Manila Rope
Installation Video
Made in the United States by Amish craftsmen, A&L Furniture is known for its superior quality and durable construction. From the playroom to the patio, its chairs, tables and gliders are meant to have a long-term presence and boast classical designs that are truly timeless. So invest in rustic staples that will provide you with comfortable memories for years to come. For fine-quality furniture, you can't find much better than Amish-made pieces. Using hydraulic- and pneumatic-powered woodworking tools and wood hand-selected for each furniture piece, Amish craftsmen pay great attention to each detail, resulting in beautiful and timeless furniture. Amish woodworkers select each piece of wood for its grain and other individual characteristics, and these characteristics are highlighted so that no two pieces of furniture are ever identical. Made in the heart of Pennsylvania by these dedicated workers, each piece of A and L's furniture is sure to become a treasured heirloom for your family.

A & L Furniture products that are shipped to or sold in California are subject to the Safe Drinking Water and Toxic Enforcement Act of 1986, more commonly known as "Proposition 65". Proposition 65 requires businesses to provide warnings to Californians about significant exposures to chemicals that can cause cancer, birth defects, or other reproductive harm.

Our Poly Furniture is constructed using Stainless Steel hardware, swing chain & hanging hooks which contains nickel which is on the California Prop 65 list. The poly (HDPE) lumber our furniture is built with contains no known regulated toxic or carcinogenic substances.
WARNING:

 This product can expose you to chemicals including tetrafluoroethylene, which is known to the State of California to cause cancer. For more information go to www.P65Warnings.ca.gov/furniture.
Please note that this warning only applies to Cushions and Pillows. This warning does not apply to any other A & L Furniture products. If you have any questions, please refer to www.p65warnings.ca.gov.
Perfect Porch Swing Update
If you are wanting to transition from old rust chains to a truely southern front porch rope swing, then the is rope kit is perfect. I bought the 11' kit and tide it up to my existing swing. I haven't trimmed off the extra just to make sure it's where I want it.
Ordering the kit was perfect, shipping was perfect and the customer service line to make sure I bought the right thing was excellent.
Porch swing ropes
The 3/4" ropes were perfect for hanging the two seat porch swing I made. The adjustable ropes make it easy to perfectly hang the swing. Much easier than I expected.
Great product fast service just what she wanted for our front porch
Perfect for my swing
Made it very simple to hang my swing and looks great! I really love how easy it is to adjust the height.
Just what we needed!
The rope kits we just what we needed to hang our bed swings!
The video states that the ropes for the front and the back of the swing are different lengths. If I am hanging a swing bed, I need all my ropes to be the same length. I have a 9 1/2' ceiling - what should I purchase?

Hello
You can use the rope kit to hang from 4 points as well. You would need to purchase the 10' rope kit

Please give us a call 888-412-2269 if you have anyy other questions on the A&L Furniture Company Rope Kit For Porch Swings and Swingbeds

Have a great week
Jeffreyy

Are the hanging rings Stainless Steel?

Hello Leah

The Rings are steel zinc plated.

Please let us know if there is anythinng else we can assist you with

Have a great week

Jeffrey

I need to hang a bed swing. Will I need one or two of these "kits". Mine is a twin bed size and I envision four anchor points on the ceiling as well as the bed frame.

Hello Greg

You would only need 1 rope kit. This kit can be used to hang from 4 points. 


Please let us know if there is anything else we can assist you with

Have a great week

Jeffrey

A couple questions.... to be clear, this one set for 76.95 comes with all the ropes shown in your video, the ones to attach to the front of the swing and the ones that attach to the back of the swing? Also, does the set include the eye bolts shown in one of the pics to be used on the swing itself ass attachment points?

Paul
Yes The 8' rope kit comes with ropes that attach at the front and the backof the swing just like in the video. The set also includes the 4 eye bolts to attach to the swing itself.   

Please let us know if you have any otheer questions

Have a great week
Jeffrey

How many ropes does your porch swing kit come with

Hello Alex
This ropekit comes with 2 ropes that can be used to hang your swing from 2 points or 4 points.

Here is a link to the installation video so you can see how th rope works
https://www.youtube.com/watch?v=blYoTJaICnI&feature=emb_logo


Please let me know if you havve any otther questions

Have a great week
Jeffrey

Does this come with the hardware to hand it?

Karen
This does not come with hanging hardware.  Here is a link to the hanging hardware we carrry

https://www.outdoorsrockingchair.com/collections/porch-swing-hanging-hardware

Please let us know if we can assist you with anythiong esle

Jeffrey

Do you supply a four rope kit for a 20 foot ceiling?

we do not

This looks like a great kit and I have already bought a daybed swing. Can I not use this if it's not an A&L swing

Angie 

You can use this rope kit on other brands of swings. We have a disclaimer on the product page so to leave it up to the buyers discretion.

Please let us know if there is anything else I can assist you with.

Jeffrey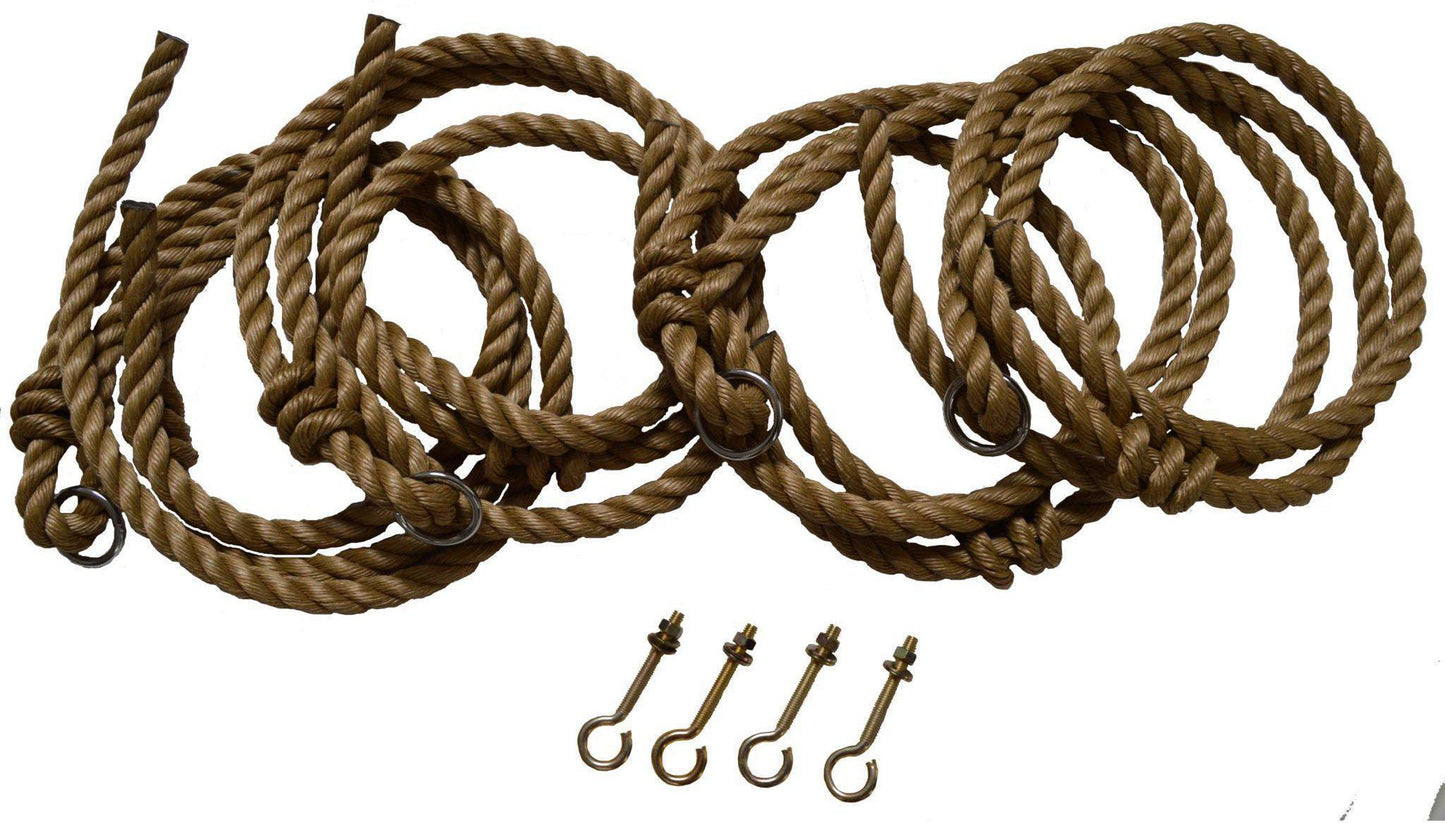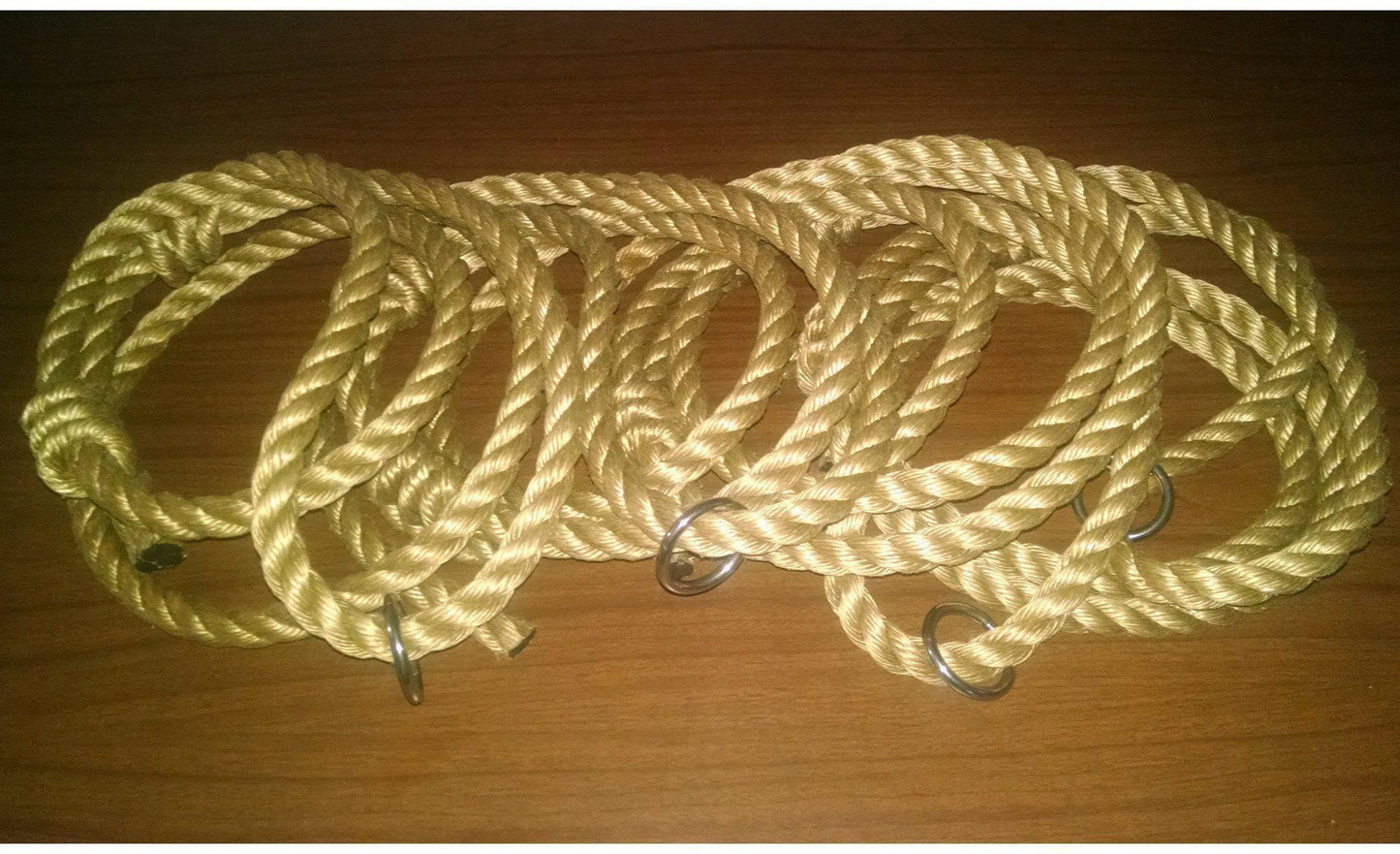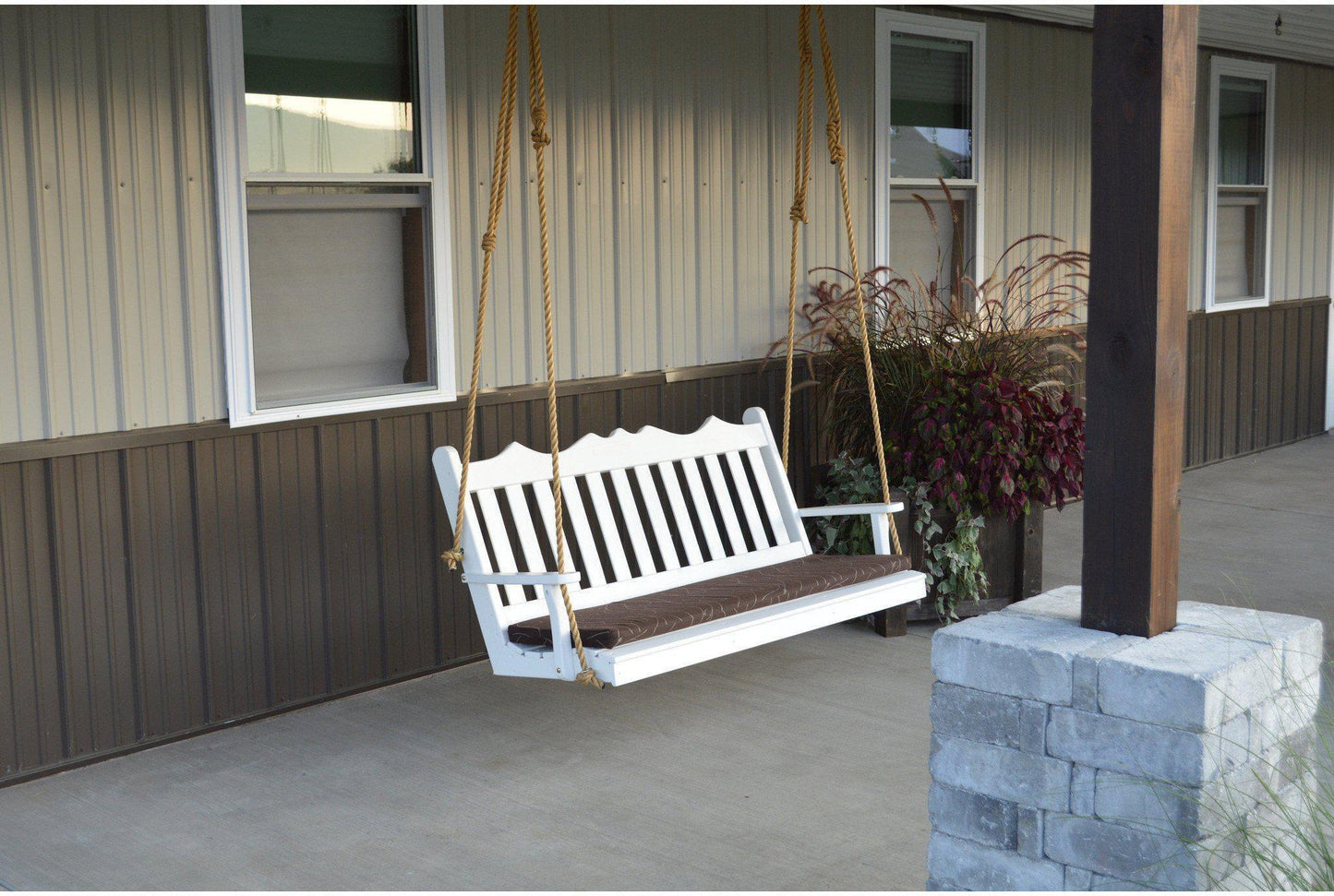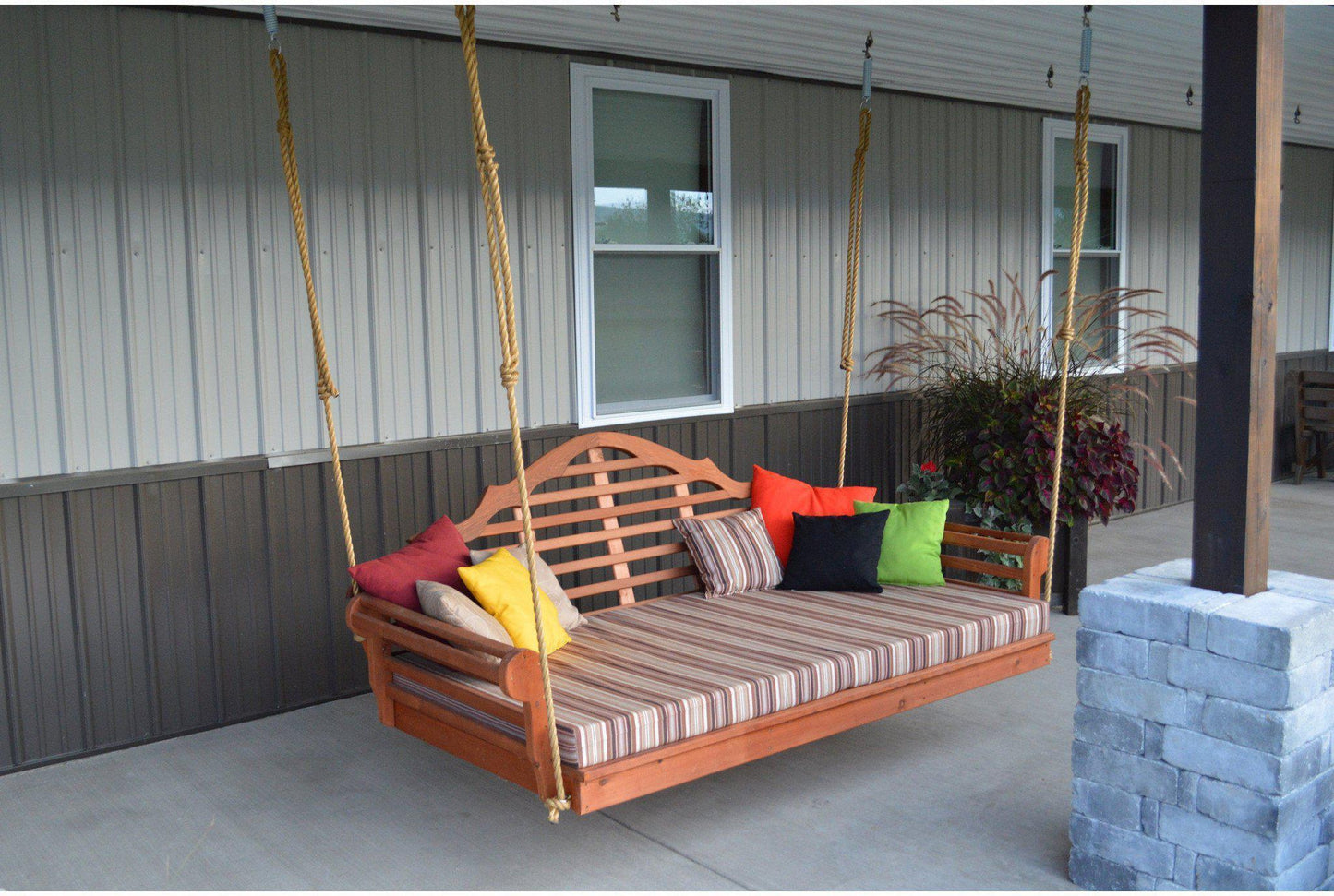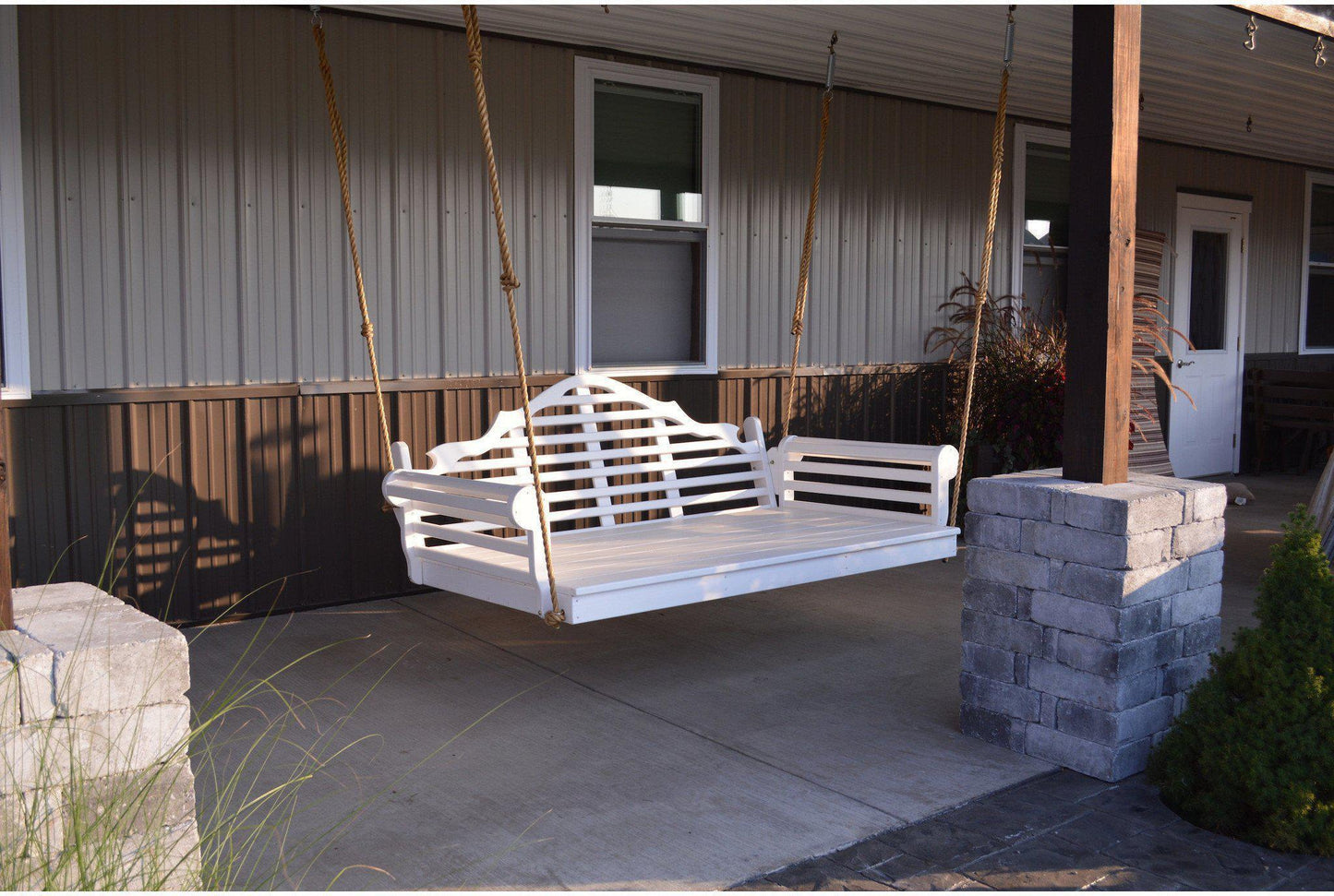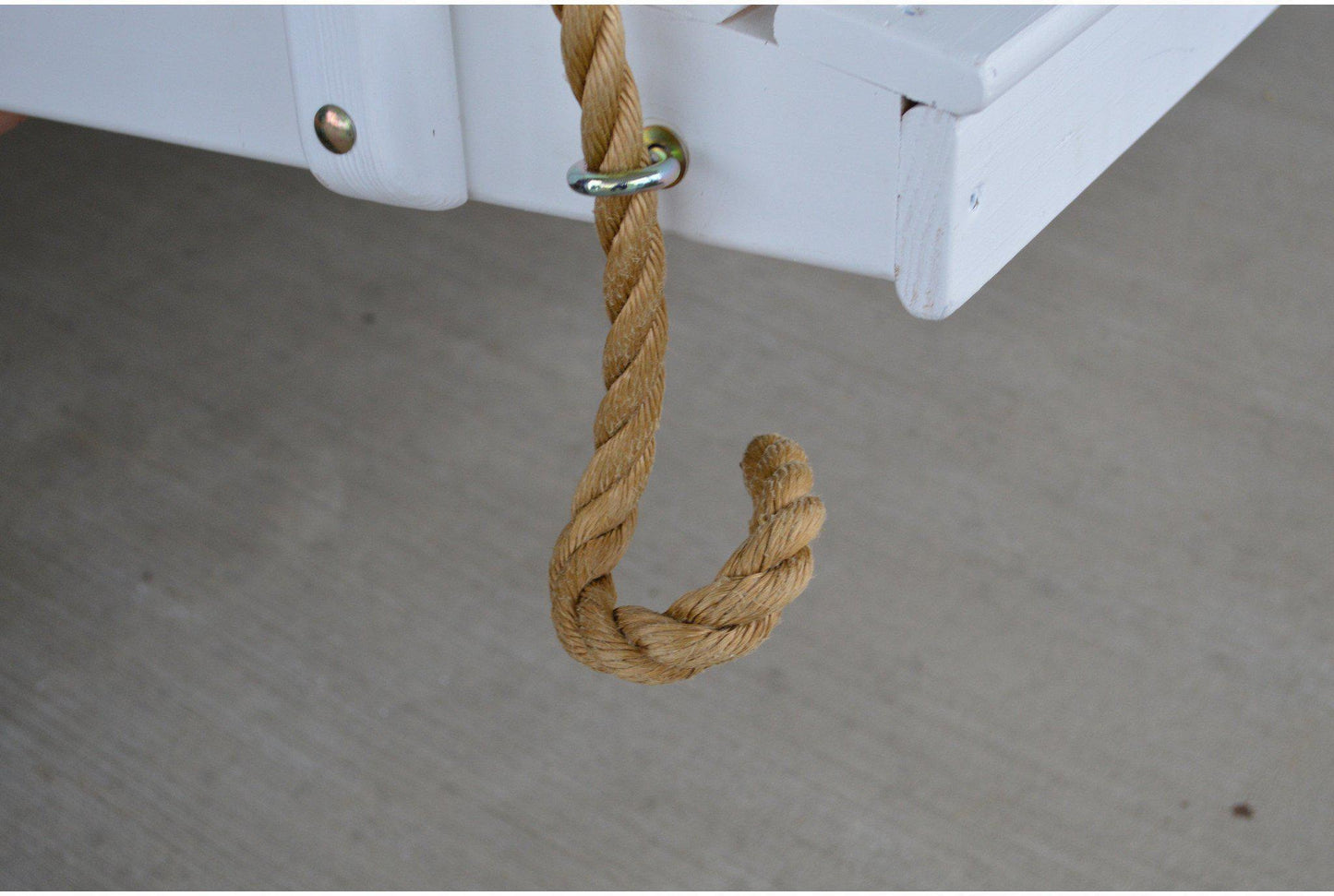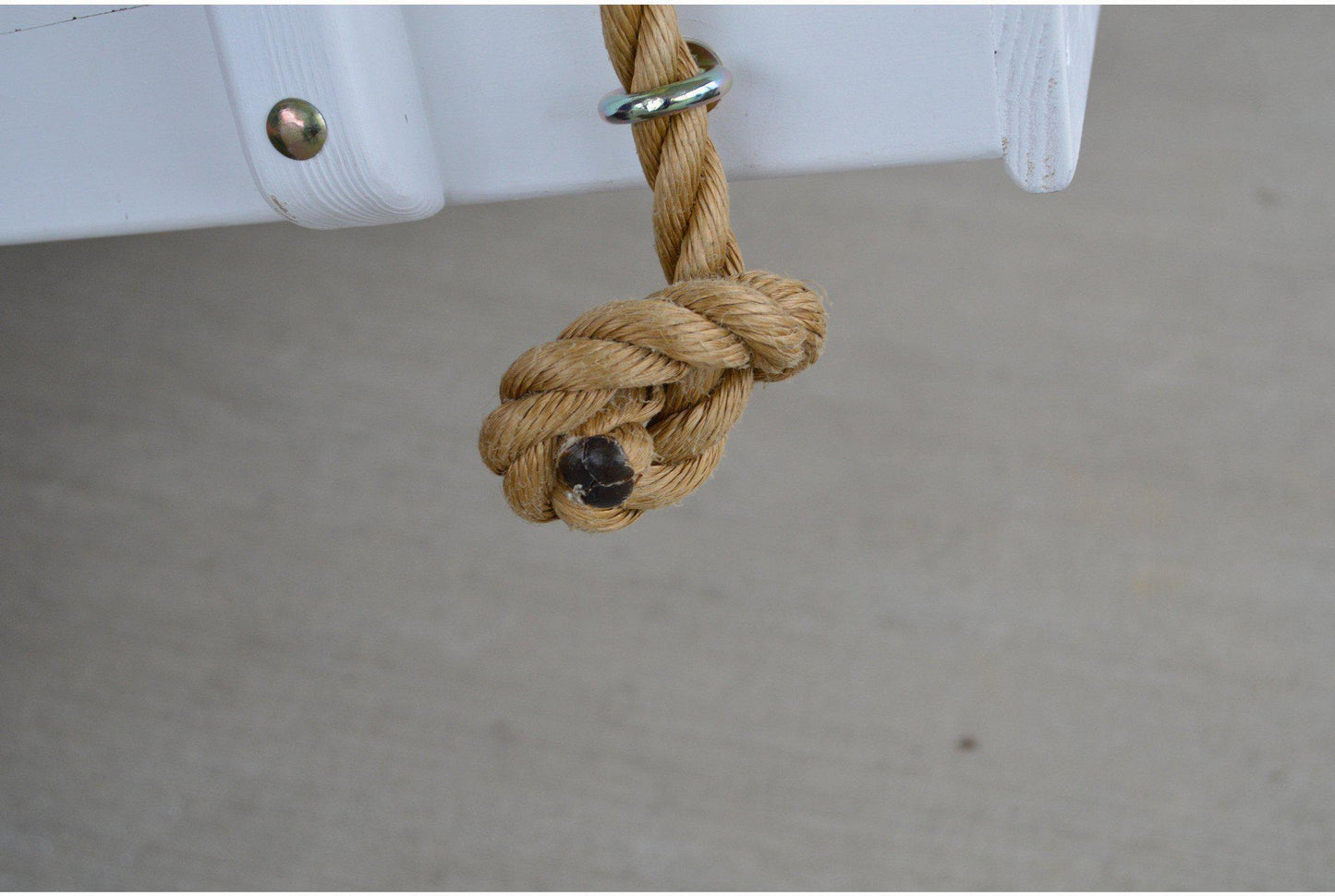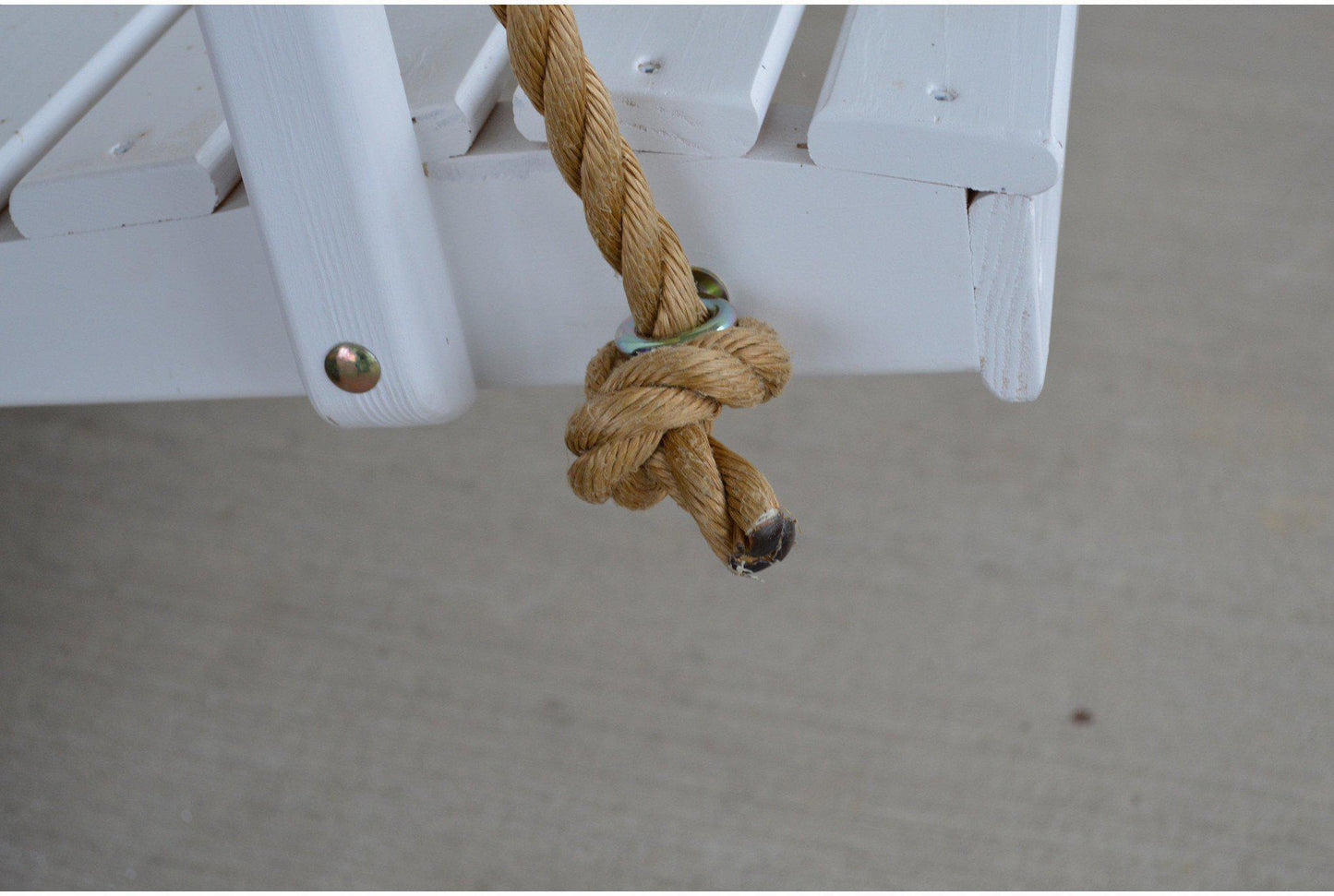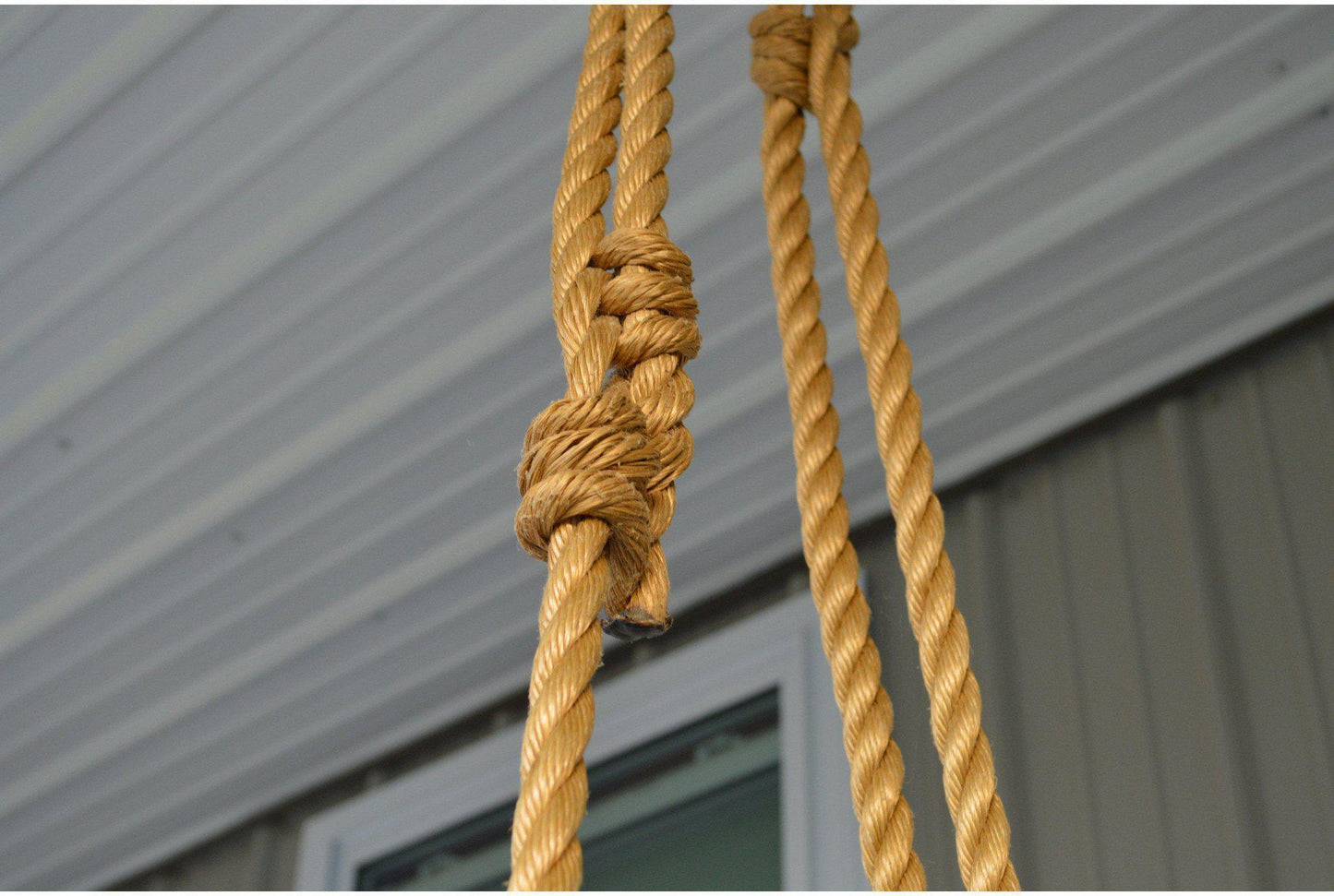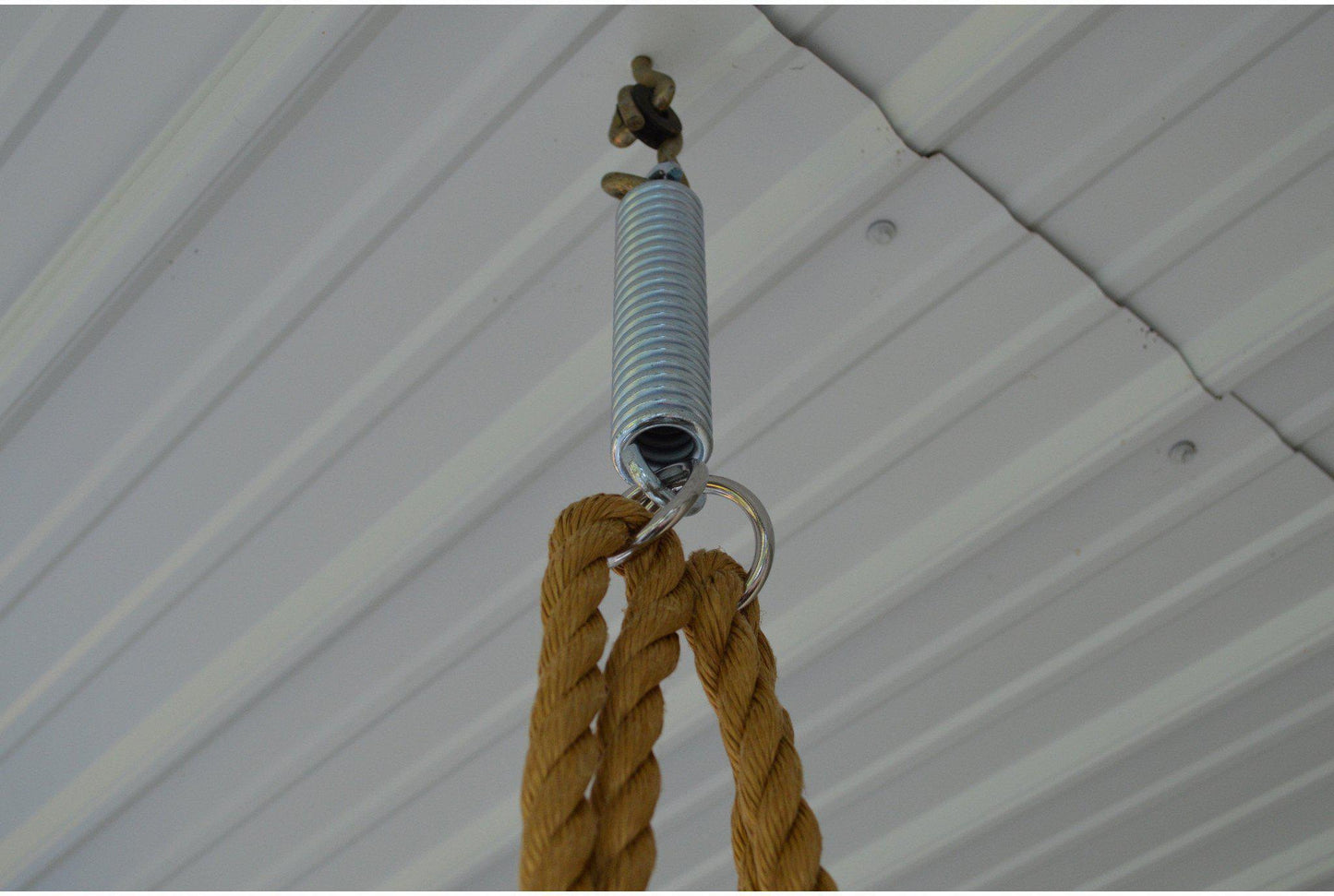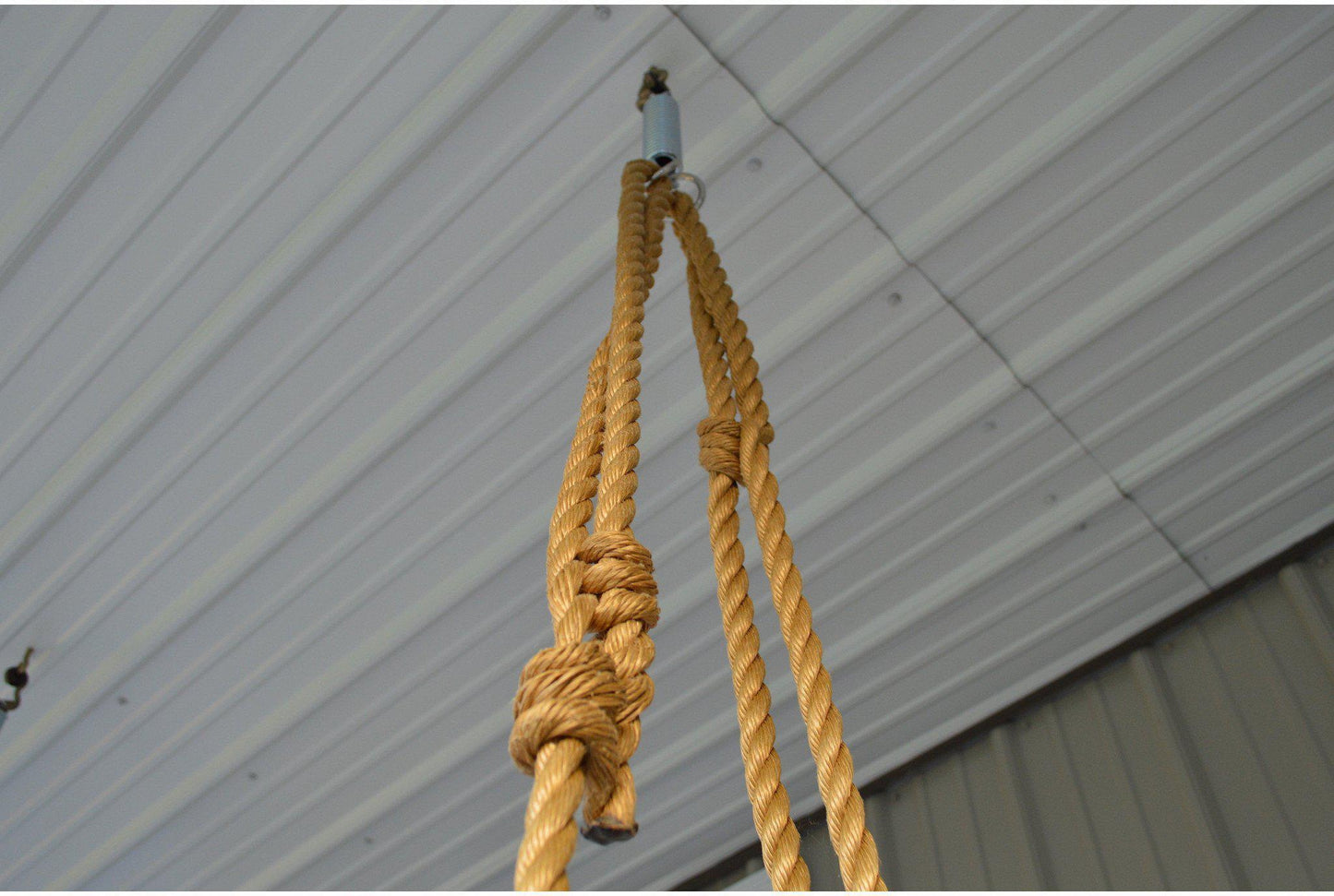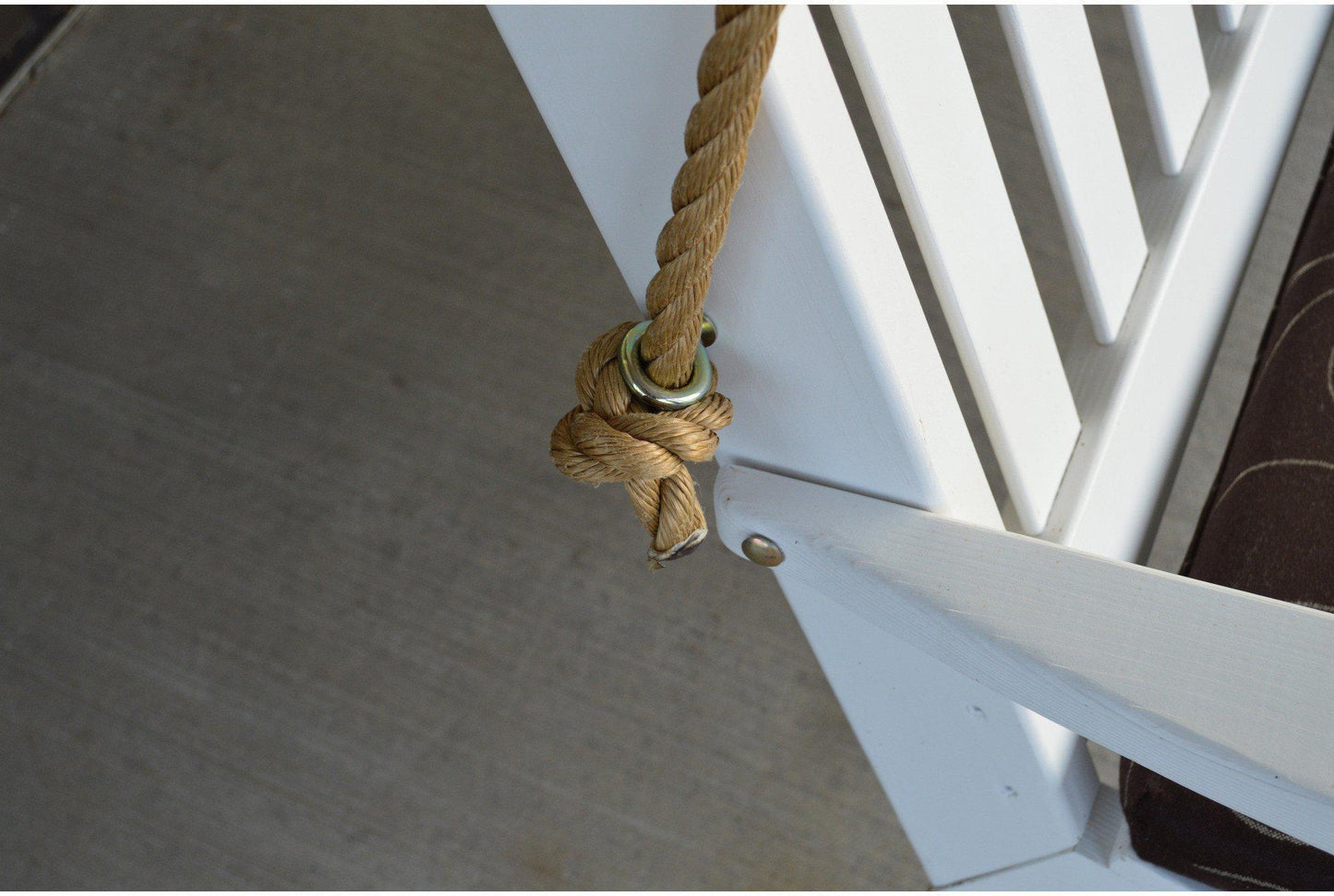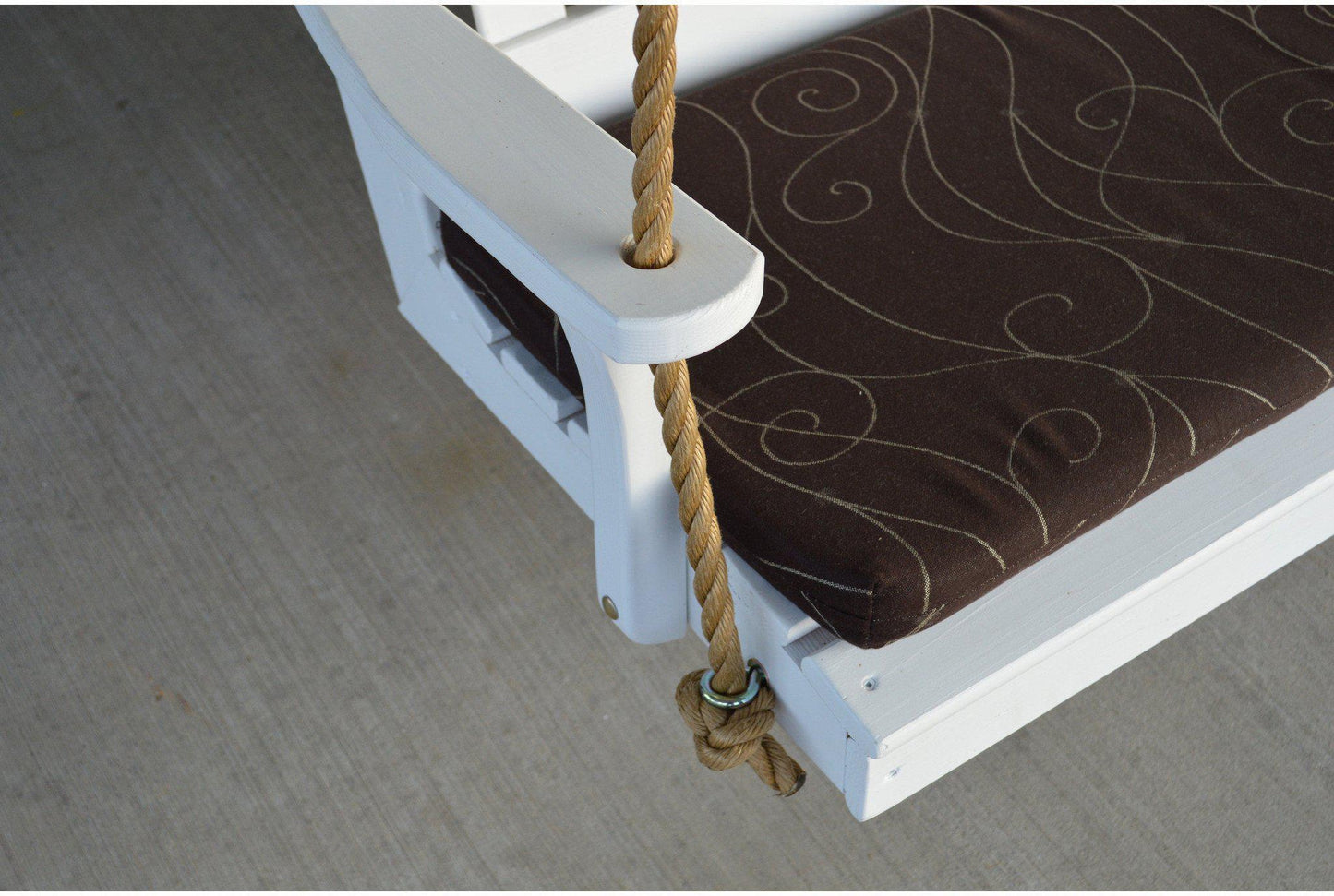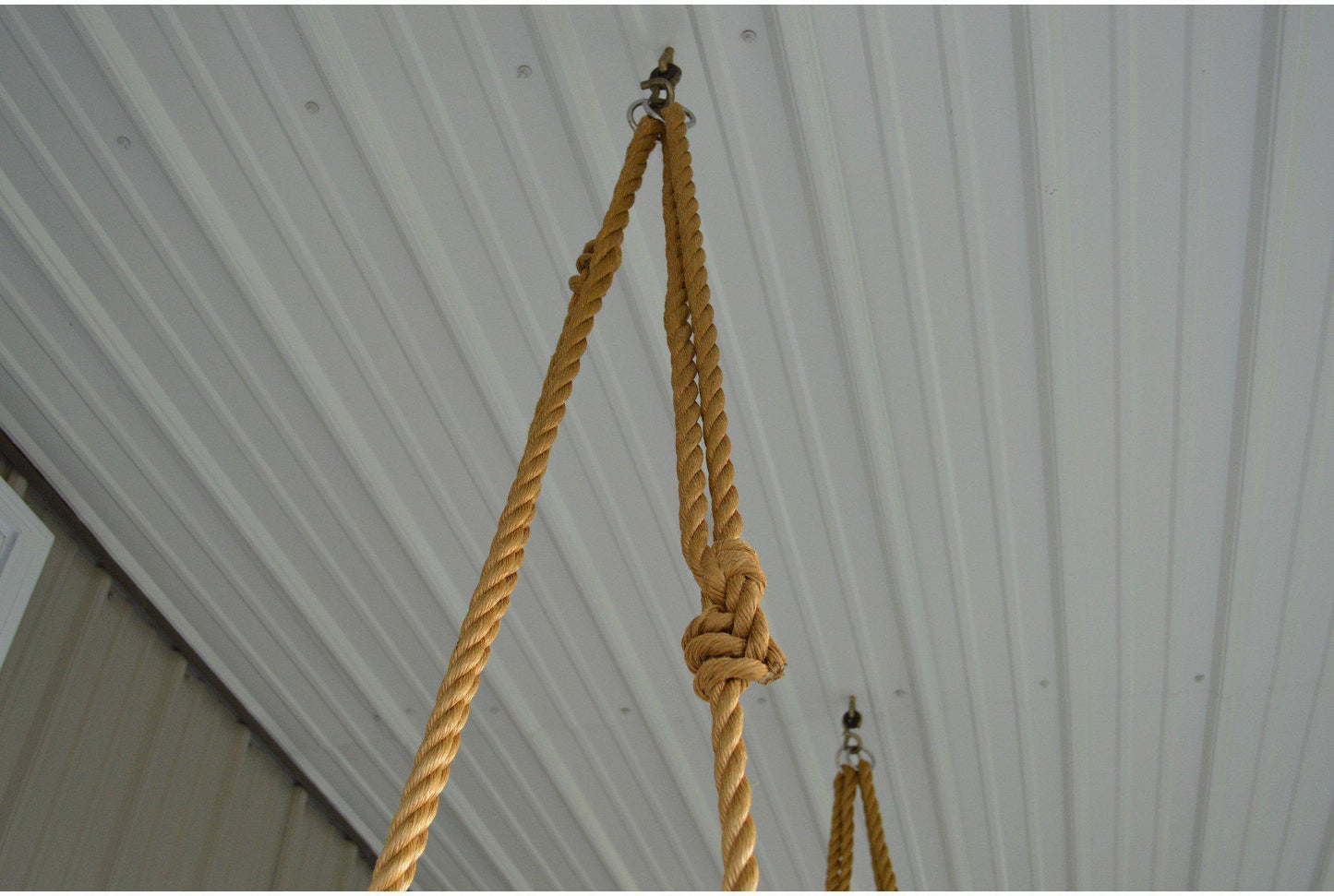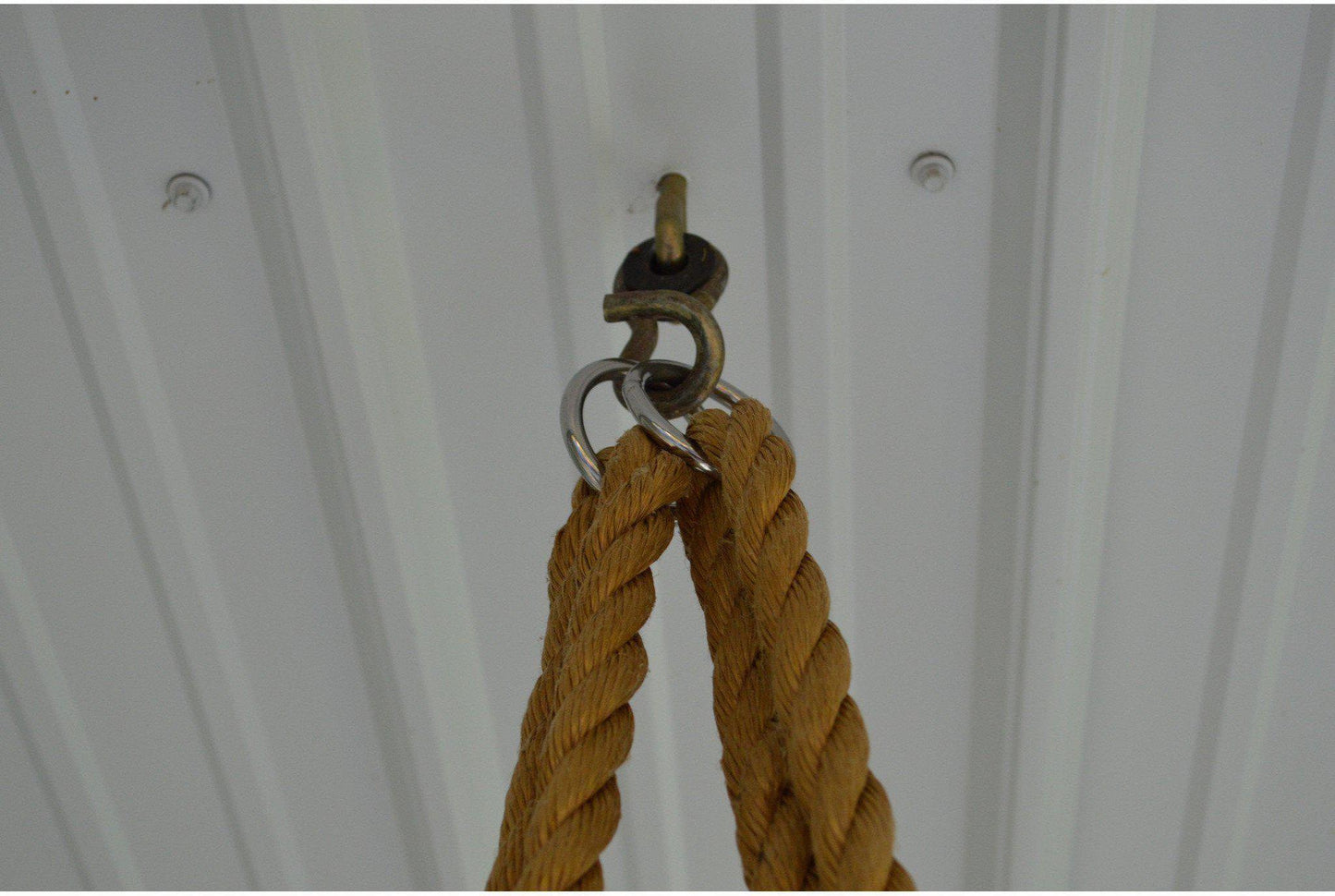 FREQUENTLY ASKED QUESTIONS
What kind of rope should I use for a porch swing?

Use synthetic, especially polypropylene, rope as it is best for swings. It is stronger than natural rope and has better weather resilience.

What size rope do I need for a porch swing?

You will need 3/4″ or 1″ to hang a swing. If your ceilings are very tall, you will need to measure your ceiling and add about 6″ for knotting. 

Can you use a climbing rope for a swing?

It would be a terrible idea to use climbing rope for the porch swing. However, if you mean as an activity, you can add some knots to make the climbing rope thicker and then swing on it. 

How do you keep a rope from rotting?

To prevent a rope from rotting, keep it dry, avoid storing it in a hot car trunk, and keep it away from chemicals. You can also add 10-15% of the required length for the shrinkage.